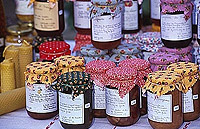 buy_x
Ofertas de venta
Para obtener la identificación de la empresa, haga clic sobre el número de la oferta
Oferta n°
Categoría
Certificación
País de origen
Producto
Validez de la oferta
Fecha de actualización
87508
Cafè, té, chocolate
Instituto Biodinamico
Brasil
Azúcar
2018-01-01
2016-08-18

Descripción

: Our company is a direct partner of Brazilian plants and we sell various types of sugars and guarantee the best prices in the Brazilian market.

SUGAR ICUMSA 45 to 1500;
BROWN SUGAR;
CRYSTAL SUGAR;
ORGANIC SUGAR;
MOLESSES;

Skype: giovanni_alpha

With our office located in Port of Santos, we monitor all our shipments.

Warranty: Our shipments are accompanied by SGS inspectors with Certificates, Weight/Quantity and Quality.
Payment: SBLC; MT103; Letter Credit; T/T (Telegraphic Transfer).
87373
Cafè, té, chocolate
Other
Paraguay
Azúcar
2018-12-31
2016-08-05

Descripción

: Azúcar de cana orgánica con certificaciones sociales y de producción.
70594
Cafè, té, chocolate
Other
La India
Azúcar
2018-03-07
2016-06-15

Descripción

: All our sugar is extracted from sugarcane juice. We produce wide varieties of Organic Sugar right from 40 icumsa to 2300 icumsa i.e. White refined, Extra Light, Golden, Raw and Demarara. The sugar is packed and distributed in 25 kg paper bags and 1 ton jumbo bags.
70595
Cafè, té, chocolate
Other
Turquia
Azúcar
2018-03-23
2016-06-15

Descripción

: Molasses
During the sugar making process, juice extracted from sugarcane is boiled down until the sugar crystallizes. This is then further processed in a centrifugal machine to separate the crystal and the left over liquid. This liquid is referred to as molasses. Our Molasses is rich, viscous and high in vitamins and mineral contents. It offers the best nutrients and has versatile usage in industries like baking, alcohol or sugar.
63784
Cafè, té, chocolate
Ecocert Belgium Sprl / Bvba
Pitcairn
Azúcar
2018-12-21
2016-05-19

Descripción

: What is Suchero?
SUCHERO is a low glycemic all-natural coconut sweetener produced from carefully extracted organic coconut sap.

Current trends of choosing a healthier lifestyle and quality diet is on the rise as our lives today are filled with products leaning on the "instant", "sweetened" and "artificial." So it is refreshing to find a sweetener that is all natural (no aspartame and no sucralose) and fits the requirement for a healthy and nutritious diet.

SUCHERO is a nutrient-rich, low-glycemic crystalline sweetener that looks, tastes, dissolves and melts almost exactly like sugar, but it is completely natural and unrefined. SUCHERO has no additives, no preservatives, no chemicals, and it is unbleached and unfiltered.

SUCHERO is the natural sweetener recommended and trusted by leading hospitals and prominent doctors. This means, SUCHERO is an ideal sweetener substitute for the preparation of low GI diets and can be safely used by diabetic patients or patients with high sugar level. When incorporated in low GI diets, SUCHERO can help in the proper management of diabetes, weight control, prevention of heart disease and obesity.


SUCHERO can be used 1:1 as a substitute for cane sugar. It also rapidly dissolves in liquids without residue. Tests show that SUCHERO is naturally rich in vitamins, minerals, and amino acids. Aside from being a low GI food, SUCHERO also has macronutrients such as potassium and magnesium and micro-nutrients such as zinc and manganese.


How is it processed and made into sugar?
SUCHERO is derived from the nutritious sap of organic coconut trees. The oyster white liquid is collected and cooked on low heat to let the liquid evaporate until SUCHERO granules are formed - 100% natural, no additives, no artificial flavoring, no coloring, no preservatives and no chemicals – unbleached and unrefined.



The glycemic index or GI is a measure of the effects of carbohydrates on blood sugar levels. Carbohydrates that break down easily during digestion and release glucose rapidly into the bloodstream have a high GI; carbohydrates that break down more slowly and release glucose more gradually into the bloodstream, have a low GI. High GI products tax the pancreas as these signal the brain to produce large amounts of insulin. Prolonged use of high GI products can lead to diabetes.

What is the difference between ordinary sugar and Suchero?
Tests have shown that white sugar has a glycemic index of about 65. Suchero on the other hand has a GI of only 35. SUCHERO is being recommended by doctors as a natural sweetener that can be used as a substitute to white sugar for diabetic patients or patients with high sugar level. SUCHERO is the choice for those who just want a healthier and natural alternative to feed their sweet tooth cravings.

Price of other sweeteners vs Suchero?
Suchero is competitively priced with artificial sweeteners, and is more affordable compared to other natural sweeteners.
82861
Cafè, té, chocolate
Other
Perou
Cacao, chocolate
2018-12-30
2016-05-19

Descripción

: Soy proveedor de cacao en Perú, directo desde el campo hacia el cliente. El origen de este producto proviene de la selva peruana. Tenemos una cuidadosa atención a nuestras tierras para proporcionar un buen cacao orgánico. Lo presentamos en granos, nibs y en polvo.