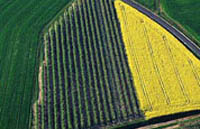 buy_x
Ofertas de venta
Para obtener la identificación de la empresa, haga clic sobre el número de la oferta
Oferta n°
Categoría
Certificación
País de origen
Producto
Validez de la oferta
Fecha de actualización
83258
Productos de cultivo - intrans
Other
Sri Lanka
Fertilizantes , abono
2020-05-27
2018-08-28

Descripción

: Organic fertilizer produce on farm for efficiency and excellency benefits for farm produce. Its has higher nutritious value when incorporate with your land because content of this compost. It will increase the yield with short duration of day after planting and free content of poisonous and harmful material. Now a days,produce from using this kind of organic fertilizer are more demand-able in the world around.
63977
Productos de cultivo - intrans
Other
La India
Fertilizantes , abono
2020-02-10
2018-08-14

Descripción

: We are the largest producer of organic fertilizers in India
Vermicompost plus is the organic manure made by cowdung,organic waste,husk and the most essential thing that is Earthworms
Species of Earthworms is Esiana Fatida
62484
Productos de cultivo - intrans
Ekoagros
Lituania
Fertilizantes , abono
2020-12-01
2018-05-15

Descripción

: Biohumus (vermicompost) – naturally pure organic microbiological fertilizer. It's a manure and biological waste product produced by earthworms Eisenia Fetida. Product contains all the necessary set of macro and micro nutrients, enzymes, soil antibiotics, vitamins, growth hormones and humic substances. Biohumus efficiency: easily absorbed in all plant life cycles; increases productivity, faster-growing and tastier crops, containing more vitamins, protein and sugar; prevents accumulation of nitrates and heavy metals, disease and adverse environmental factor-resistant plants.
82520
Productos de cultivo - intrans
Other
Israel
Fertilizantes , abono
2020-07-07
2018-05-15

Descripción

: Organic fertilization improve the soils structure and save the microorganisms in it, which contribute to the transition of nutrients by making those into materials that agricultural plants can absorb when and as needed .

We offer a new technology for the production of fertilizers on the basis of sewage sludge, which sediment moves procedure of several hours, cleaning and odor elimination and then go to the warehouse.
The quality of the fertilizer complies with international standards. Which gives the ability to export it to anywhere in the world.
83093
Productos de cultivo - intrans
Other
Iran
Fertilizantes , abono
2019-02-02
2018-04-18

Descripción

: Golden Nitro PISHRO Biofertilizer, is used as a soil fertilizer for various types of farm, garden and ornamental products. Each milliliter of Golden Nitro PISHRO Biofertilizer consists of dozens of billions of bacteria for the supply of azote, associate with the root of the plant. It consists of azorhizobium caulinodans, azobacter chroococcum, and azospirillum lipoferum. The existence of sufficient amounts of such bacteriain the environment of plant root, depending on the type of the plant and environmental conditions, causes fixing of 100 to 150 kg of azote in each hectare.
62392
Productos de cultivo - intrans
Blik - Integra Vzw/asbl
Belgica
Fertilizantes , abono
2020-07-20
2018-02-22

Descripción

: Organic fertilizers based on transformed animal proteins : bone meal, feather meal, blood meal
63897
Productos de cultivo - intrans
Other
E.E.U.U.
Fertilizantes , abono
2019-06-30
2018-01-30

Descripción

: Description: Earthworm Castings Highly Pure Organic Fertilizer

Product name: Peaty's – a highly stable black peat humus and organic meal growth medium fed to worms that result in high quality, highly pure earthworm castings fertilizer. This product is listed by the Organic Material Review Institute (OMRI) as 'unrestricted use' and under the U.S. National Organic Program. It is safe around kids, pets, and crops and has the unique property of retaining up to 140% of its weight in water. Will supply 25 metric tons per month in 2012, up to 250 metric tons per month in 2014.

Properties: Peaty's Organic Fertilizer
Excellent medium for plant growth
High moisture retention
Improves physical & biological condition of soil
Improves aeration
Reduces frequency of irrigation
Enhances strong and healthy root system
Contains natural enzymes and plant nutrients
Stimulates the production of phytohormones.

Composition:
Nitrogen: 1.6-2%
Phosphoric Acid .11%
Potassium .10%
Organic carbon 26%
Calcium 1.7%
Magnesium .22%
Sulfate .13%
Iron 1.1%
Moisture content 50%
pH 4.89
94198
Productos de cultivo - intrans
Other
Iran
Semillas
2019-01-29
2018-01-22

Descripción

: Iran saffron , cumin seed factory
73965
Productos de cultivo - intrans
Other
Paquistan
Fertilizantes , abono
2019-10-01
2018-01-18

Descripción

: We are Certified manufacturer of Organic Fertilizer named Heera Organic Fertilizer.
93786
Productos de cultivo - intrans
Other
La India
Fertilizantes , abono
0000-00-00
2018-01-18

Descripción

: we are the manufacturers of completely organic plant promoters and veterinary products/ feeds. Our products are the mixtures of herbs and minerals , and the bio fertilizers are from plant extracts.we supply to the clients as per their requirements in kg formats and unit wise.please allow us to provide you your required organic bio-fertilizer and veterinary products and contact on aashanayak@novarc.co.in.
94146
Productos de cultivo - intrans
Other
E.E.U.U.
Fertilizantes , abono
2019-02-15
2018-01-10

Descripción

: Sustane organic fertilizers are granulated aerobic compost based fertilizers allowed for organic production and available in over 60 countries worldwide. Standard products include Sustane 4-6-4, 3-7-4, 5-2-4, 8-2-4 and 8-4-4. Tested and developed since 1988. High performance, low odor, low dust, uniform granulation available in different particle sizes. Packaged in 2.27 kg., 9.07 kg., 22.67 kg weather resistant bags; 907 kg. super sacks and available in bulk.
93286
Productos de cultivo - intrans
Other
La India
Fertilizantes , abono
2019-01-01
2017-11-06

Descripción

: GreeNeem Neem Cake-Slow Release Organic Fertilizer- OMRI Listed (Organic Materials Review Institute)
Neem Cake/Neem seed meal – an excellent bio degradable slow release organic fertilizer with pest repellent and nematicide property. Has rich plant nutrients and also slows the Nitrogen intake from the soil and thus the plant gets a prolonged supply of nitrogen from the soil. Can be well applied as itself or along with the other Organic or Inorganic fertilizers. Rightly called as Bio Soil Fumigant.
80288
Productos de cultivo - intrans
Ekoagros
Lituania
Fertilizantes , abono
2019-04-25
2017-11-06

Descripción

: bio-organic input, extract of vermicompost tea with prolonged expiry date, suitable for industrial applications
87380
Productos de cultivo - intrans
Other
La India
Semillas
2019-12-31
2017-11-06

Descripción

: We are a leading suppliers of organic products and herbal seeds and powder. You can contact us through delightimpex2@gmail.com, Mobile no (91) 044 9884303071.
81525
Productos de cultivo - intrans
Other
Filipinas
Fertilizantes , abono
2019-02-15
2017-10-10

Descripción

: What's the difference between humic acid and fertilizers?
There is a lot of confusion out there when it comes to Humic Acids; people always wonder if it is a fertilizer, and if not a fertilizer - what is it?
Humic Acids are best known as a soil conditioner which makes poor soils good and good soils great. Humic Acids work best when applied with fertilizers to create optimum growing conditions. They work as a compliment to the fertilizer and the benefit is a more efficient use of your fertilizer and the money you spent to add it.

Humics Work in Conjunction with Fertilizers
Humic Acids are not fertilizers, but can be added to any fertilizer prescription as a compliment to it. Fertilizers are analyzed on the basis of their value of Nitrogen, Phosphorus and Potassium or Potash (N-P-K). Humic Acids are analyzed on the basis of their content of humus and in the case of Black Earth that value is over 80%.

Humic Acids can Increase the Effectiveness of Fertilizer
Humic Acids have the ability to make your soil perform better even if it is a marginal soil condition. Fertilizers provide a nutrient source for the plant, but rarely have any benefit to the soil. When applied to sandy soils, Humic Acids can provide organic matter and help retain water, which is essential to plant growth. Some fertilizers are mobile in the soil and have the potential to leach out of the root zone in sandy soils. Granular Humic Acids can help hold these fertilizers in the root zone for longer periods of time and allow the plant to take up more nutrients. In hard pan or compacted soils, an addition of Humic Acid can break up these soils and allow nutrients to penetrate deeper down to the root zone.

We all know fertilizers are essential inputs in any cropping system. With Humic Acids, you are able to increase the efficiency of those fertilizers by increasing the nutrient uptake and retention. Along with that, Humic Acids can add organic matter to deficient soils, increase root vitality, increase chlorophyll synthesis, have better seed germination, stimulate beneficial microbial activity and have overall healthier plants and improved yields. They also work to unlock nutrients like phosphorus that are tied up in the soil.

Use Humic Acid to Restore the Health of Your Soil
Most people are quick to say Humic Acids are fertilizers, but in fact, it is more of a soil conditioner. The benefits far outweigh the costs and with so many soils being depleted around the world today, Humic Acids are an effective product to reverse the depletion trend. In a world where we are seeing world population grow at an exponential rate, and are losing arable acres on which to grow crops, we need to fertilize crops to maximize production and feed the hungry.

To keep your soil healthy, vibrant and productive, look towards a fertilization program with Humic Acids to help you achieve that. In turn, you will prosper with higher yields, a healthier soil and a sustainable future.