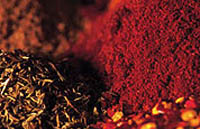 buy_x
Ofertas de venta
Para obtener la identificación de la empresa, haga clic sobre el número de la oferta
Oferta n°
Categoría
Certificación
País de origen
Producto
Validez de la oferta
Fecha de actualización
77231
Especias condimentos
Other
Perou
Otras especias condimentos
2020-10-10
2018-09-19

Descripción

: Jengibre organico fresco
68531
Especias condimentos
Other
Espana
Otras especias condimentos
2020-12-30
2018-09-19

Descripción

: We grow organic potatoes of excellent flavour. We've fried our potatoes into a simmering vessel of pure extra virgin olive oil adding a bit of Mediterranean sea salt.

We're happy to share with you the unique taste of this hand cooked potato CRISPS.

PRODUCT TECHNICAL INFO

1. PRODUCT NAME
Bio chips gourmet

2. INGREDIENTS
Potatoes, Olive extra virgin (nativ extra), salt.

Ingredients written in: Spanish, English, German, French, Dutch, Italian,
Portuguese, Danish, Swedish and Norwegian

3. CERTIFICATE
Organism: ECOCERT-SOHISCERT (ES-CM-01-AE)
Operator: Productos Biológicos de Daimiel, S.L.
Eco Industry Register Number: CM-156-I
Sanitation Register (food safety) Number: 26.01370/CR
Printed in the bag UE seal and German seal (BioSiegel)

4. TRACKABILITY
Beside to the bar code it is printed the geographic coordinates of the land where
the potatoes and oil were grown, With an Internet map program it can be seen
the area in your computer screen.

5. PACKAGES
Pack type: Aluminum metal/plastic bags
Weight per bag: 100 grm
Best before period: 180 days

6. PACKING
Cardboard boxes: 30x40x25 cm
Units per box: 12
Net weight per box: 1,2 Kgs
Pallet type: 1,20x0,80 cm (European)
Boxes per level: 8
Levels: 8 (4 in a 1/2 pallet)
Total boxes per pallet: 64 (32 in 1/2 pallet case)
82448
Especias condimentos
Ccpb Consorzio Per Il Controllo Dei Prodotti Biologici
Turquia
Vinagre
2020-02-10
2018-08-28

Descripción

: We will produce organic certified apple,grape and hawthorn cider vinegar.
This is a pure product entirely produced organic apples,grapes or hawthorns by traditional natural fermentation.Especially when a bottle is opened,color may change,sedimentation may occur,and transparent layer (called mother of vinegar) may form.Mother of vinegar is true of sign of unfiltered vinegar and forms naturally.Moreover it is an indication that the fermentation is continued and the product is not pasteur?zed and filtered.
64290
Especias condimentos
Other
Egipto
Otras especias condimentos
2020-05-02
2018-08-14

Descripción

: LOTUS, was originally founded in 1977. It was the first company of Dr. Ibrahim Abouleish and started with the name of SEKEM. The company processes all kinds of organic herbs and spices from biodynamical cultivated plants. LOTUS Upper Egypt, established in 2007, is mainly concerned with drying the herbs and spices of the SEKEM farms in Upper Egypt.

It produces, imports and exports organic and biodynamic and thus natural and chemical free, herbs, spices and seeds for its sister companies ISIS and ATOS, as well as for the export market according to International Demeter Processing Guidelines. Taste, aroma and their natural medicinal effectiveness are the highest priorities.

Applied standards
•Fairtrade criteria by FLO
•International Demeter Standard
•Kosher
•Hand-in-Hand by Rapunzel
•Bio Suisse
•National Organic Program of the USA
•EU regulation on organic farming
•Quality management standard ISO 9001
•Environment management standard ISO 14001
•Health and safty management standard OHSAS 18001
56830
Especias condimentos
Other
La India
Especias, pimienta
2020-07-31
2018-08-14

Descripción

: Certified organic by ONECERT

Our line of spices captures flavours and sensation from all parts of India and bring them straight to your kitchen to guarantee the perfect intense, and pesticide free seasoning of your meal.

Our Spices and Herbs available as 'Whole','Flakes' or 'Ground', as per specifications. Vibrant in Colour, Flavour and Aroma. These Organic Spices and Herbs are amongst the best in the world,cleaned, graded and packed for retail or bulk sales. Our bulk supply comes in vacuum packed bags.
Chilly
Cumin Seed
Fennel Seeds
Coriander
Cardamom
Curry Leaf
Nutmeg
Turmeric
Black / White Pepper
Ajwain
Mace
Cinnamon
Cloves
Yellow/Black Mustard Seeds
82675
Especias condimentos
Other
Panama
Especias, pimienta
2019-02-02
2018-05-15

Descripción

: Organic habanero peppers (red & yellow), dried & fresh
83136
Especias condimentos
Other
La India
Especias, pimienta
2019-02-02
2018-04-18

Descripción

: We provide premium quality spices and herbs from India all our 100% organic certified and of premium quality.

We give total assurance on
1. Quality
2. Timely delivery
3. Competitive Prices
4. Complete Transparency
94843
Especias condimentos
Other
Kenya
Ajos, cebollas
2019-10-10
2018-04-09

Descripción

: Fresh from the farm garlic,rosemary,basil leaves.highly maintained Eiropean standards
82680
Especias condimentos
Other
La India
Especias, pimienta
2019-12-31
2018-03-28

Descripción

: ORGANIC TURMERIC FINGER & FRESH VEGETABLES
44726
Especias condimentos
Comité Andaluz De Agricultura Ecologica (caae)
Espana
Conservas en vinagre
2020-07-20
2018-02-22

Descripción

: Conservas ecológicas de zanahoria rallada ( carrot ), remolacha en tiras, pepinillos en vinagre, judias verdes, ajos al limón, aceitunas aliñadas,

salsa de tomate frito a las finas hierbas, tomate frito al estilo casero, tomete triturado, pisto manchego, pisto de calabacín,

diferentes formatos
73800
Especias condimentos
Other
China
Especias, pimienta
2020-07-20
2018-02-22

Descripción

: Cold Frozen pepper
82849
Especias condimentos
Ecocert
Marruecos
Especias, pimienta
0000-00-00
2018-02-22

Descripción

: Safran AOP de Taliouine
83090
Especias condimentos
Other
La India
Otras especias condimentos
2019-02-15
2018-01-30

Descripción

: fare trade certified and from organic cultutre
64236
Especias condimentos
Other
La India
Otras especias condimentos
2020-02-10
2018-01-10

Descripción

: Organic Spice & Herbs

Onion - Flakes
Onion - Minced
Onion - Powder
Henna Black
Henna Natural
Henna Red
Psyllium Husk
Psyllium Husk - Powder
Psyllium Seed
Psyllium Seed - Powder
Senna Leaves
Senna Pods
Ajwain - Whole
Arrowroot Powder
Bird's Eye Chilli - Whole
Black Pepper - Cracked
Black Pepper - Ground
Black Pepper - Whole
Cardamom
Cinnamon - Whole (4" Cut)
Cinnamon - Powder
Cloves - Handpicked
Cloves - Powder
Coriander
Coriander - Powder
Cumin
Cumin - Powder
Fennel
Fennel - Powder
Fenugreek - Yellow
Fenugreek - Yellow - Powder
Ginger - Dried Slices
Ginger - Powder
Green Pepper
Mace - Powder
Nutmeg - Shelled
Nutmeg - Powder
Red Chilli - Flakes - Hot
Red Chilli - Flakes - Mild
Red Chilli - Powder - Hot
Red Chilli - Powder - Mild
Red Chilli - Whole - Hot
Red Chilli - Whole - Mild
Turmeric - Fingers
Turmeric - Powder
Vanilla Beans
White Pepper - Ground
White Pepper - Whole
76248
Especias condimentos
Imo
Uganda
Especias, pimienta
2019-07-05
2018-01-10

Descripción

: Fresh Chillies - Habanero (hot), But Yolokhia (very very hot), Dry Birdseye chilli (very hot), Jalapeno, Scotch bonnet.