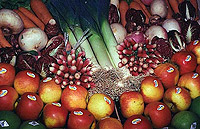 buy_x
Ofertas de venta
Para obtener la identificación de la empresa, haga clic sobre el número de la oferta
Oferta n°
Categoría
Certificación
País de origen
Producto
Validez de la oferta
Fecha de actualización
88847
Frutas y verduras
Other
Armenia
Frutas frescas
2019-07-01
2017-11-06

Descripción

: Armenian Organic Fresh and Dried Apricots

Varieties: yerevanian and Sateni

Yerevanian: Fruits of this variety of apricots are big, weighting 60 – 70 g (can reach up to 110 g), have oval form. Fruits are fleshy, fragrant, juicy, sour-sweetish, contain 11, 3% sugar on average, acidity is about 0, 63%. Stones are easily separable from flesh and are sweet. Ripening period is late June to early July. Fresh - 400 Tones

Sateni: Fruits weight 40 – 50 g, they are round, a little bit dented from sides, asymmetric, amber yellowish or little bit darker, with pale pink tinge on the side most exposed to the light. Flesh is firm, not very juicy and fragrant but very sweet and contain about 14-15% sugar on average and only 0,3% acids. The stone is easily separable from flesh. Kernel is sweet. Ripening is mid of July. Fresh 100 Tones, Dried - 20 Tones
82156
Frutas y verduras
Other
Polonia
Frutas frescas
2019-02-15
2017-10-10

Descripción

: We are a organic farm located in Poland.WE grow organic blackcurrant berries , raspberry and apples in Poland EVERYTHING IS 100% ORGANIC
we are reliable and very honesty in our
bussines if have undastand with us we can go long term bussines purpes we can supply
good quality and very competitive price.We are flexcible on buyer requirement so you can
express your self what ever, our main products fruits
These berries and fruits are very large and suitable for the production of dried fruit, juice or production of pharmaceuticals.
The fruits start to grow in July
the Raspberries :Specifications: whole, crumbles, puree, whole + crumbles Certificate: QS Can
1) Color: natural color of raspberry
2)Flavor/odor: typical raspberry natural flavor, free from foreign flavor and odor
3)Texture: uniformly tender and fresh Brix: 9.0 to 10.0
4)Package: 1 x 10kg/carton, PE bag or customized
5) Product season: middle of August to early November

Each of the fruits is hand picked everything is ecological and fresh- It's a farm
82274
Frutas y verduras
Other
La India
Agrumos
2019-02-15
2017-10-10

Descripción

: We are selling organic vegetables and Fruits
64780
Frutas y verduras
Other
La India
Frutas y verduras exóticas
2019-01-20
2017-10-10

Descripción

: Fresh Indian Organic Okra ,Availability Year round.Delivered in europe Airports within 16Hrs of harvesting
82262
Frutas y verduras
Other
Lebano
Verduras frescas
2019-08-01
2017-10-10

Descripción

: All fresh 100% certified organic vegetables
82304
Frutas y verduras
Other
Italia
Frutas frescas
2019-10-10
2017-10-10

Descripción

: We produce and sell biological grapes (uva italia)
We provide to pack according to your request the fruit.
We offer certified fruit organic table grapes, and peaches.
75276
Frutas y verduras
Other
La India
Otras frutas y verduras
2019-06-30
2017-10-10

Descripción

: P&A Industries Pvt. Ltd. exports fresh organics vegetables from India.
62785
Frutas y verduras
Other
La India
Frutas y verduras exóticas
2019-12-15
2017-10-10

Descripción

: We have Organic Mangos
92805
Frutas y verduras
Other
Bulgaria
Frutas o verduras congeladas
2019-01-01
2017-10-10

Descripción

: Milfruti doo from Serbia is producer of frozen berry fruits conventional and organic ( www.milfruti.rs ). With our partner www.laki.rs we export fruits in Europe.We can offer you best price for highest quality.
If you are interesting for cooperation please contact us.
P.S. In the Arilje city (the world capital of raspberry production),we produce raspberry sort
WILLAMET - best sweetness and flavours.
We can offer you IQF raspberry sort willamet, crumble, whole&broken,blackberry,plums,...

Thank you!

Milfruti"doo

+381604433240
82042
Frutas y verduras
Other
Perou
Frutas frescas
2018-02-15
2017-10-04

Descripción

: Season high production of Camu Camu of excellent quality is in the months of June, July, August and September of every year.Pice $34 per box
82043
Frutas y verduras
Other
Perou
Frutas frescas
2018-02-10
2017-10-04

Descripción

: The production of excellent quality Lucuma season is in the months of January, February, March, April, May, July per year. Pice $34 per box
73712
Frutas y verduras
Other
Vietnam
Verduras frescas
2019-03-10
2017-10-04

Descripción

: VIET with our main industry are production, supply of organic vegetables and fruits which are fresh, natural and clean. We commit about the product quality and the reputation of service, with our purpose is sustainable development in a long term.

CABBAGE
RADICCHIO
CAULIFLOWER
BROCCOLI
TOMATO
SPINACH
CHOY SUM
CHINESE CABBAGE
BOK CHOY
MUSTARD GREEN
CURCUMBER
OKRA
FRENCH BEAN
GINGER
SPRING ONION
BITTER MELON
LONG CORIANDER
CORIANDER
CHILLY
MORINGA LEAVES
GREEN-LEAVED AMARANTH
MINT
SPEARMINT
VIETNAMESE BALM (ELSHOLTZIA CILIATA)
VINE SPINACH
WATER CONVOLVULUS
ASIAN BASIL
PERILLA LEAF
DILL
LEMON GRASS
KOHLRABI
FRESH PEPPER
GARLIC
CARROL LETTUCE
LETTUCE
66135
Frutas y verduras
Sativa, Desenvolvimento Rural Lda
Portugal
Otras frutas y verduras
2018-07-01
2017-10-04

Descripción

: Organic Fresh Fruits and vegetables.
62931
Frutas y verduras
Consejo De Agricultura Ecológica De La Región De Murcia
Espana
Frutas o verduras congeladas
2019-04-02
2017-10-04

Descripción

: We are IQF organic vegetables processors.
Pepper, brocolli, cherry tomato, tomato, aubergine, cucumber and courgette are some of our products.

We also have a line of CRAFT ORGANIC PRODUCTS.
. Pepper bottoms
. calibrated pepper halves
. halves courgettes
. empty peppers
62269
Frutas y verduras
Control Union
Tailandia
Frutas o verduras congeladas
2019-12-31
2017-10-04

Descripción

: Young Thai coconut meat. Vacuum packed and frozen. No additives, no chemicals and certified organic. Ideal for further processing for dairy free ice cream or baby food company.