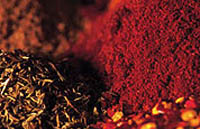 buy_x
Ofertas de venta
Para obtener la identificación de la empresa, haga clic sobre el número de la oferta
Oferta n°
Categoría
Certificación
País de origen
Producto
Validez de la oferta
Fecha de actualización
92447
Especias condimentos
Other
Camboya
Especias, pimienta
2019-10-10
2017-09-19

Descripción

: Certified organic wild harvested Black pepper seeds, Powder.
92177
Especias condimentos
Ecocert
Mauritius
Especias, pimienta
2019-05-03
2017-08-28

Descripción

: Clous de girofle
Griffes de girofle
92163
Especias condimentos
Other
Myanmar
Especias, pimienta
2019-06-02
2017-08-25

Descripción

: This cardamom seed is grow naturally in Karen state, Myanmar. It harvest two times a year. It is used for herbal products, traditional medicines. Normally it is export to China through border trade. As it is one of main livelihood of Karen ethnic group, I am now trying to export through normal trade.
76550
Especias condimentos
Other
Egipto
Otras especias condimentos
2019-05-06
2017-07-26

Descripción

: Dear Sir or Madam:
Please allow me to introduce myself. My name is Abdelrahman Shalaby Import &Export Manager in Valley Herbs for import and export (S.A.E). We would like to take the time to introduce our company to you. We have been in business for more than Seven years under Al Fares for export (LLC) and we have opened Valley Herbs for import and export (S.A.E) as a new company by more liabilities and obligations. We are experts in export wide range of herbs, spices and vegetables .We grow both of organic and conventional products .Our organic products are supervised by Egyptian Centre of Organic Agriculture ECOA.We depend on our farms with great team of professionals in growing herbs and spices so we can offer the best quality of products with suitable prices.
We are regularly Selling: hibiscus, chamomile, calendula, lemon grass, marjuram, spermint, pepermint, cumin, black cumin,Black Cumin Seeds
Black Pepper ,Celery ,Coriander seeds , Dill Seeds
Fennel Seeds , Fenugreek Seeds ,Sesame ,Caraway seeds
Anise seeds ,Sunflower seeds
Just you have a small inquiry or need a quotation for any product, you contact us and we promise you that you will be completely satisfied .
80157
Especias condimentos
Other
La India
Otras especias condimentos
2018-01-05
2017-07-26

Descripción

: All spices, Oleoresins, EssentialOils
79878
Especias condimentos
Other
La India
Otras especias condimentos
2018-04-15
2017-03-30

Descripción

: Organic Coriander Powder
Organic Turmeric Powder
Organic Chili Powder HOT
Organic Black Pepper Powder
Organic Garam Masala Powder
Organic Rasam Powder
Organic Sambar Powder
Organic Pulav Masala
Organic Channa Masala
1Organic Pav Bhaji Masala
1Organic Bisibelebath Powder
1Organic Vangibath Powder
1Organic Chili Whole
1Organic Black Pepper Whole
1Organic Cinnamon Bark
1Organic Cardamom Whole
Organic Cumin Whole
Organic Fennel Seeds
Organic Tamarind Whole
89767
Especias condimentos
Other
Nigeria
Otras especias condimentos
2018-01-31
2017-02-02

Descripción

: Our Company Elohay-Wills Ltd. is sitiuted at the South East region of Nigeria.

We have a large plantation of the finest grade of Picralima Nitida Trees and we sell Seeds and ripen fruits of Picralima Nitida.

As you may be aware this is the harvesting season of Picralima Nitida seeds and we harvest over 3 metric tons of Picralima Nitida seeds rich in high Akuammine and Akuammigine alkaloids every month.

We sell both retail and wholesale.

Our minimum retail order is: 20 Kilos

Our retail order price is: USD$30 per kilo (Excluding the cost of freight)

Our Minimum wholesale order is: 100

Our Wholesale price is: USD$18 per kilo (Excluding the cost of freight).

We ship immediately payment terms are met.
89494
Especias condimentos
Other
La India
Otras especias condimentos
2018-11-21
2017-01-09

Descripción

: Dear Sir,
I would like to introduce our company VICHU EXPORTS that has been in business with Indian spices items and Departmental store items for the past years.
We have been established a popular company with an excellent track record for the best customer satisfaction. We have never compromised on the quality and the services.
And also we are the main dealer of Agro Company with certificates of:
NPOP organic Standards, NOP/USDA Organic Standards, EU organic Standards, Rainforest Alliance Certified, JAS Certified.


Our product ; Turmeric, Turmeric powder, Red chilli, Red chilli powder, Tamarind, All kind of Indian Seeds and Nuts, pepper, Pepper powder, Pulses, Pickles, Papads, Grains, All type of Masala powder, Tapioca (Food grade Industrial grade starch) Coir fiber &product, Honey product, Millets, etc
67016
Especias condimentos
Other
Papua New
Otras especias condimentos
2018-01-31
2017-01-09

Descripción

: We supply in bulk and retail packs for spices grown organically. Pepper, Turmeric, Ginger, Nutmeg, Cinnamon, Vanilla, and many more. We currently export to Asia, USA, New Zealand and Australia.
78411
Especias condimentos
Ecocert
Marruecos
Vinagre
2019-12-12
2017-01-09

Descripción

: Vinaigre de pomme 100% BIO
68165
Especias condimentos
Other
La India
Otras especias condimentos
2018-12-12
2017-01-05

Descripción

: Based out of India, we are experts in bulk trading, contract farming & processing of more than 242 organic products (Herbs, Spices, and Grains). Carmel Organics has more than 500 registered farmers involved in certified organic farming practices, with an average experience level of 5 years. The total certified land area looked after by our company is around 1500 hectares. What it means to you as a customer is unmatched quality with highly competitive prices backed by a sustainable and robust supply chain.


Needless to say, our produce comes with certifications such as India's National Programme for Organic Produce (NPOP), National Organic Program Technical Standards by United States Department of Agriculture (USDA) among others.
89293
Especias condimentos
Other
Iran
Especias, pimienta
2019-01-01
2016-12-21

Descripción

: Saffron is called reddish gold because every 10,000 square meter of saffron corp, gives 2500 grams of the final product. After harvesting, the threads should be gently separated and dried. There is lots of work before delivering 1 gram of this extra ordinary product.
We have experienced farmers in the native habitat of saffron flowers. We deliver A-grade saffron to our clients.
For those who want 50 grams or more, we express mail this product for free. Moreover, costumers can select man-made and designed containers for this product.
89288
Especias condimentos
Other
Turquia
Otras especias condimentos
2019-01-01
2016-12-21

Descripción

: Organic Dried Lemon Verbena

0.4-6.0 mm cut size
89193
Especias condimentos
Other
Paises Bajos
Otras especias condimentos
2019-01-01
2016-12-15

Descripción

: Now Organic in Dalian has started to develop with certifying own organic fields in 2006, in total now around 42 hectares. Through the years we focused more and more towards growing organic ginger and managing several ginger projects in the same region.


In order to get full control in the whole process we established our own ginger processing factory. The ginger processing factory is operational since the autumn of 2014. The total storage capacity is around 3.000 MT in three separate cold stores. The washing line is full automatic and can process two MT an hour. Fifty percent of the water usage is saved because of the installation of a water recycling system. All the installed equipment is brand new and sustainable in terms energy and water consumption.

Processed fresh ginger is mainly exported to Europe to provide our customers with pallets or full container loads. The juice industry has more and more demand for organic ginger juice. A lot of new drinks are mixed with ginger juice so the demand is growing rapidly. The fresh ginger is processed into juice in a specialized factory in the Netherlands. After processing the juice is bottled in drums and 20 KG bag in box packaging for the industry to make blends. Pure organic ginger juice is bottled in jars for the retail and food service market.

From our storage in The Netherlands we are able to serve our customers worldwide.

In the near future we will also start with organic ginger puree and frozen dices.
78582
Especias condimentos
Other
Canada
Otras especias condimentos
2018-03-07
2016-12-12

Descripción

: Moroccan Harmony Spice Blend
Other Common Names: -

Spice Sanctuary Grade: Recent harvest blend that is our exclusive recipe

Tasting Notes: Strong floral notes with secondary earthiness and finish of heat

Recommended Spice Pairing: Garlic Powder

Use Everyday In: dips, tagines, as a BBQ rub, salad dressings, in rice or grain dishes, vegetable bakes, soups, kale chips, red meat dishes, eggplant.