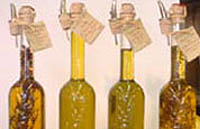 buy_x
Ofertas de venta
Para obtener la identificación de la empresa, haga clic sobre el número de la oferta
Oferta n°
Categoría
Certificación
País de origen
Producto
Validez de la oferta
Fecha de actualización
50612
Aceites
Associazione Italiana Per L'agricoltura Biologica
Italia
Oliva
2014-02-10
2013-04-17

Descripción

: Excellent olive oil extravierge typical of Monti Iblei with a special flavour, green+yellow color, in bottled of 50 cl. E.
Derived from secular tree with a natural cultivation, no chemical applied, harvest with hand directly to the tree and immediately processed. Oil without treatment only phisical extraction and perfect conservation without plastic contenitor. Only iron and glass. Availability of only 2.000 bottled of 50 cl. Hig quality certified. Please send me a request for free sample of 25 cl. to taste the better quality oil of Sicily. From Ragusa.
68535
Aceites
Other
Espana
Oliva
2014-03-20
2013-01-10

Descripción

: Extra Virgin Organic olive oil
66935
Aceites
Ecocert
Marruecos
Otras aceites
0000-00-00
2012-10-08

Descripción

: Hola,

Somos una empresa experta marroquí especializada en la producción y exportación de aceite de argán prensado en frío y puro para uso cosmético.

Nuestro aceite de argán es orgánico certificado por ECOCERT y agencias del USDA.

Esperamos poder ampliar nuestro negocio a otros mercados y estamos buscando un socio serio para promover nuestro producto.

Estamos interesados ??en la exportación a granel y estamos muy abiertos a una relación de negocios sólida en serio.