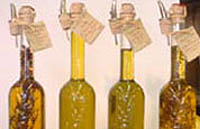 buy_x
Ofertas de venta
Para obtener la identificación de la empresa, haga clic sobre el número de la oferta
Oferta n°
Categoría
Certificación
País de origen
Producto
Validez de la oferta
Fecha de actualización
59672
Aceites
Ecocert
Francia
Otras aceites
2015-06-12
2013-05-21

Descripción

: Huile Vierge de Colza Biologique (Certifié Ecocert)

L'huile vierge de colza est issue de graines provenant de l'agriculture Biologique.
Notre agrément Ecocert vous certifie l'authenticité de l'appelation Bio.
Cette belle huile de couleur jaune offre un goût prononcé de céréales. Elle s'accommode
particulièrement bien avec les salades de pommes de terre et les crudités. Elle est naturellement très riche en Oméga 3.
70316
Aceites
Other
Tunez
Otras aceites
0000-00-00
2013-05-10

Descripción

: nous produisons l'huile de pépin de figue de barbarie BIO
70035
Aceites
Organic Crop Improvement Association (ocia)
Canada
Otras aceites
2015-02-23
2013-04-22

Descripción

: Fats :
Shortening, margarine, palm shortening, cacao butter, mango butter (in development), shea butter ( in development) ...
Vegetable oils :
Olive (Morocco, Tunisia, Greece, Argentina, Spain, Italy, California, ...), canola, corn, avocado, soy, flax seed, palm kernel, castor, rice bran, hempseed, safflower, borage seed, ...

Nut oils :
Sunflower, sesame, almond, pumpkin, peanut, macadamia, rapeseed, walnut, wheat germ, apricot kernel, argan, sweet almond, cashew, kukui (in development), brazil nut, hazelnut, neem, pistachio nut, ...

Tropical Oils :
Jojoba, coconut, palm, ...

Format :
250 ml, 750 ml, 1,5, 20 or 220 liters, totes, drum, tank ...

Availability :
Annual, in season, upon contract,...

Certification :
OCIA, Oregon Tilth, QAI, Ecocert, Kosher,...
59071
Aceites
Comité De Agricultura Ecológica De La Comunidad De Madrid
Espana
Oliva
2014-12-31
2013-04-22

Descripción

: Aceite de Oliva Virgen Extra Ecologico y Convencional procedente de Los Montes de Toledo. Uno de los mejores de España según las últimas ferias y catas realizadas. Mejor calidad-precio del mercado.
Envasamos en cristal 250, 500 y 750 ml.
Envasamos en PETS de 2 litros y 5 litros.
Tambien a granel.
50612
Aceites
Associazione Italiana Per L'agricoltura Biologica
Italia
Oliva
2014-02-10
2013-04-17

Descripción

: Excellent olive oil extravierge typical of Monti Iblei with a special flavour, green+yellow color, in bottled of 50 cl. E.
Derived from secular tree with a natural cultivation, no chemical applied, harvest with hand directly to the tree and immediately processed. Oil without treatment only phisical extraction and perfect conservation without plastic contenitor. Only iron and glass. Availability of only 2.000 bottled of 50 cl. Hig quality certified. Please send me a request for free sample of 25 cl. to taste the better quality oil of Sicily. From Ragusa.