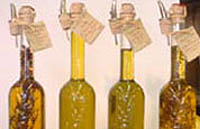 buy_x
Ofertas de venta
Para obtener la identificación de la empresa, haga clic sobre el número de la oferta
Oferta n°
Categoría
Certificación
País de origen
Producto
Validez de la oferta
Fecha de actualización
62311
Aceites
Ecocert
Tunez
Oliva
2013-12-01
2011-09-22

Descripción

: Art Huile Carthage is certified by ECOCERT; the inspection and certification body accredited to verify the conformity of organic products against the organic regulations of Europe, Japan and the United States. The ECOCERT mark is one of the leading international organic certification marks, enjoying a good reputation and trusted by both consumers and the organic industry.
We welcome your requirements to serve you the best olive oil available at the most competitive pricing that will leave your customers satisfied for years to come.
62089
Aceites
Ecocert
Marruecos
Otras aceites
2020-12-31
2011-08-29

Descripción

: We are a company specialized in the production and the commercialization of cosmetic and food argan oil. We are looking for serious wholesalers or distributors.

Of exceptional quality, our oil, certified Ecocert and NOP, is obtained by cold pressure from argan almonds carefully selected from organic farming.
Depending in your choice, our oils can be sold in bulk or conditioned by our own care in our production units.

Specific in its composition exceptionally rich in oleic and linoleic fatty acids (45%), argan oil is beneficial and can be used in dietetic cosmetic and medicinal product.

A complete range of cosmetic based on argan oil including slimming capsules will be available soon.

Observing a strict laboratory charter our production units fully meet international standards in terms of safety.
60834
Aceites
Other
Paquistan
Sésamo
0000-00-00
2011-04-18

Descripción

: 100% Pure Cold Pressed Organic & Non-Organic Oils for Cooking, Cosmetics, Medicines & Spice Industry.