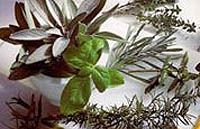 Plantes aromatiques medicinales bio
Offres de vente
Pour identifier la société, cliquer sur le numéro de l'offre
Offre N°
Catégorie
Certification
Origine
Produit
Validité de l'offre
Date de l'offre
93612
Plantes aromatiques medicinales
Other
Chine
Plantes médicinales
2019-12-12
2017-11-20

Description

: ECO-CERT,CERES

YESHERB factory has passed QS authentication and ISO9001 verification, our products have passed organic cert by EU and USDA. Our planting base is located in Shaanxi province, and we have sales company in Guangzhou city and after service & storage branch in New Jersey America. We control quality of our Plant Extracts from raw material. Our lab have advanced equipments such as HPLC,UV, AAS and GC instruments. we have cooperations with Northwestern University, which guarantee our products can fully comply your needs. Our main product scope including Plant Extracts,Mushroom Extract,Fruit Powder,Vegetable Powder,Super Foods.
92802
Plantes aromatiques medicinales
Demeter Standards Ltd (dsl) Bio-dynamic Agricultural Association In Ireland (bdaal)
Portugal
Plantes aromatiques
2019-11-10
2017-11-20

Description

: We are a company working in the field of producing and exporting Medicinal and Aromatic Herbs such as : Calendula, Cornflower, Lemon Grass, Lemon-verbena, Bay Laureal, Common Thyme, Peppermin leaves, Spearmint, Sage,Centaurea Cyanus, Mint. For further information please contact us by email or phone.
93602
Plantes aromatiques medicinales
Other
Algérie
Huiles essentielles
0000-00-00
2017-11-19

Description

: Entreprise Algérienne de fabrication/production des huiles essentielles pures à 100%, naturelles et de qualité: non modifiées ou diluées garanties et certifiée
une gamme importante des huiles essentielles avec la meilleure qualité/prix :
-huile essentielle d'orange.
-huile essentielle de romarin.
-huile essentielle de clémentine.
-huile essentielle de bigaradier
-huile essentielle de citron
-huile essentielle de cyprès
-huile essentielle d'eucalyptus
-huile essentielle de genévrier
-huile essentielle de lentisque
-huile essentielle de pin d'alep
-huile essentielle de néroli
-huile essentielle de mandarine
-huile essentielle de myrte
-huile essentielle de sauge sclarée
-huile essentielle de fenouil doux
-huile essentielle de fenouil sauvage
-huile essentielle de lavande
-huile essentielle de géranium
-huile essentielle de Menthe verte
-huile essentielle de Menthe poivrée
-huile essentielle d'origan
Pour toute information complémentaire, veuillez prendre contact par e-mail ou message privée
ou par téléphone aux heures de travail.
44900
Plantes aromatiques medicinales
Imo
Bulgarie
Huiles essentielles
2019-12-30
2017-11-17

Description

: We are producer of Organic Rose water, received by steam distilation in concentrations 0.025% up to 0.1%, certified by IMO (BalkanBioCert branch).
Can offer up to 20 tons yearly in metal or plastic barrels.
60016
Plantes aromatiques medicinales
Other
Bulgarie
Huiles essentielles
2019-03-27
2017-11-17

Description

: Armina is a producer of Organik Rose water
0.025% up to 0.1% oil by direct steam distilation of fresh Rose petals.
No preservatives.
77751
Plantes aromatiques medicinales
Other
Dominican Republic
Autres plantes aromatiques medicinales
2019-10-12
2017-11-17

Description

: ORGANIC OREGANO OIL
93293
Plantes aromatiques medicinales
Other
Iran
Plantes médicinales
0000-00-00
2017-11-06

Description

: Tragacanth is a natural gum obtained from the dried sap of several species of Middle Eastern legumes of the genus Astragalus, including A.adscenders , A.gummifer, A.barchycalys and A tragantha
93288
Plantes aromatiques medicinales
Ecocert
France
Plantes aromatiques
2019-01-01
2017-11-06

Description

: Gentiane bio
quantité souhaitée
93284
Plantes aromatiques medicinales
Other
Macedonia
Plantes médicinales
2019-01-01
2017-11-06

Description

: Silybum marianum (L.) Gaertn or Milk Thistle seeds organic certificated production from Macedonia.
92954
Plantes aromatiques medicinales
Ceres
Macedonia
Plantes médicinales
2018-07-01
2017-10-16

Description

: We sell high quality Silybum Marianum seeds, Ceres certified, packaged at the request of the buyer.
92779
Plantes aromatiques medicinales
Other
Egypte
Plantes médicinales
2019-01-01
2017-10-04

Description

: Dear Purchasing manager
Hallo and hope all go right
We are glad to present our company to join your suppliers list if possible .
Our company under name PURESPICE CO. as Egyptian producer & exporter of herbs and spices all over the year.
Have ISO 9001 , FDA 14095592890 ,Organic (EOCA) certificates .
Our most products as following :
Spearmint - Peppermint - Basil - Sag - Parsley sundry & machine dry -Dill sundry& machine dry - Coriander machine dry - Thyme- Chamomile -Calendula - Lemongrass- Marjoram-Rosemary Fennel seeds- Anise seeds Caraway seeds Coriander seeds .
We ready to deliver several forms for green leaves cargo as
- Large cut ( 4-5 mm)
- Middle cut( 3-4 mm)
- Fine cut ( 1-2 mm)
- Powder
We ready to deliver several forms & purity for seeds
- Whole seeds purity up to 99.9%
- Fine cut seeds( TBC)
- Powder
For more details about Packing, container capacity, our farms ,.. kindly visit our web site below.
We assuring you very good services for your requests and your cooperation to open new business term with our company will appreciated
Looking to your near inquiry
Sincerely
Mr Osama Zaher
57078
Plantes aromatiques medicinales
Control Union
Inde
Autres plantes aromatiques medicinales
2019-07-10
2017-10-04

Description

: Amla Dehydrated
Centella Asiatica
Curry Leaves
Henna Black
Henna Natural
Henna Red
Jaggery
Psyllium Husk
Psyllium Husk - Powder
Psyllium Seed
Psyllium Seed - Powder
Senna - Tea Bag Cuts
Senna Leaves
Senna Pods
Stevia Leaves
Stevia - Powder
Thyme
Oregano
Dill
Tarragon and Basil
73809
Plantes aromatiques medicinales
Other
Serbie
Autres plantes aromatiques medicinales
2019-02-10
2017-10-04

Description

: -Freezing plant in the southern part of Serbia
-specialized for organic fruits
-storing capacity: 900 t
-certificates:HCCP, FSSC 22000
81791
Plantes aromatiques medicinales
Other
Grêce
Autres plantes aromatiques medicinales
2019-12-12
2017-10-04

Description

: Agrothen – Lefkas Organic Herbs is a small family business based in Alexandros, a traditional mountain village on the Greek island of Lefkada. We started growing aromatic plants and herbs organically in the beautiful Lefkadian hills in 2013. At the moment, we are a small concern producing oregano, thyme and sage. Our goal is to extend our business to include a greater variety of aromatic plants. We aim to provide you with the finest quality products by ensuring they comply with organic standards and by using traditional techniques combined with some limited technological methods both in the growing and further management of the herbs (in harvesting, drying and standardization).
92457
Plantes aromatiques medicinales
Other
Australie
Autres plantes aromatiques medicinales
0000-00-00
2017-09-19

Description

: Various aromatic and medicinal plants, buds, flowers, roots.Origin EU and North Africa.