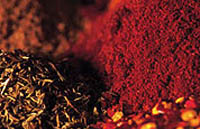 Epices condiments bio
Offres de vente
Pour identifier la société, cliquer sur le numéro de l'offre
Offre N°
Catégorie
Certification
Origine
Produit
Validité de l'offre
Date de l'offre
92455
Epices condiments
Other
Perou
Autres epices condiments
2019-01-01
2017-09-19

Description

: Organic Ginger
Zingiber Officinale

Ginger contains high levels of nutrients; It is composed mainly of carbohydrates, rich in fiber, but also has some protein and minerals such as calcium, magnesium, phosphorus and iron, low in calories.

Presentations:
Fresh ginger
Dried ginger slices
Raw ginger powder

Packing:
5 kg -10 kg bag
13.6 kg box


Certification:
USDA and EU Organic certification.
92451
Epices condiments
Other
Perou
Épices, poivres
2019-10-10
2017-09-19

Description

: Organic chia
Salvia Hispanica L.

Chia has high nutritional value, gives great potential for food. It is a natural source of Omega- 3, antioxidants, proteins, vitamins, minerals and dietary fiber.


Presentations:
Chia seeds

Packing:
25 Lb - 25 kg -50 kg Paper bag.

Certification:
USDA and EU Organic certification.
76043
Epices condiments
Other
Inde
Épices, poivres
2018-01-01
2017-09-19

Description

: We can supply organically cultivated black pepper
92447
Epices condiments
Other
Cambodge
Épices, poivres
2019-10-10
2017-09-19

Description

: Certified organic wild harvested Black pepper seeds, Powder.
92177
Epices condiments
Ecocert
Mauritius
Épices, poivres
2019-05-03
2017-08-28

Description

: Clous de girofle
Griffes de girofle
92163
Epices condiments
Other
Myanmar
Épices, poivres
2019-06-02
2017-08-25

Description

: This cardamom seed is grow naturally in Karen state, Myanmar. It harvest two times a year. It is used for herbal products, traditional medicines. Normally it is export to China through border trade. As it is one of main livelihood of Karen ethnic group, I am now trying to export through normal trade.
76550
Epices condiments
Other
Egypte
Autres epices condiments
2019-05-06
2017-07-26

Description

: Dear Sir or Madam:
Please allow me to introduce myself. My name is Abdelrahman Shalaby Import &Export Manager in Valley Herbs for import and export (S.A.E). We would like to take the time to introduce our company to you. We have been in business for more than Seven years under Al Fares for export (LLC) and we have opened Valley Herbs for import and export (S.A.E) as a new company by more liabilities and obligations. We are experts in export wide range of herbs, spices and vegetables .We grow both of organic and conventional products .Our organic products are supervised by Egyptian Centre of Organic Agriculture ECOA.We depend on our farms with great team of professionals in growing herbs and spices so we can offer the best quality of products with suitable prices.
We are regularly Selling: hibiscus, chamomile, calendula, lemon grass, marjuram, spermint, pepermint, cumin, black cumin,Black Cumin Seeds
Black Pepper ,Celery ,Coriander seeds , Dill Seeds
Fennel Seeds , Fenugreek Seeds ,Sesame ,Caraway seeds
Anise seeds ,Sunflower seeds
Just you have a small inquiry or need a quotation for any product, you contact us and we promise you that you will be completely satisfied .
80157
Epices condiments
Other
Inde
Autres epices condiments
2018-01-05
2017-07-26

Description

: All spices, Oleoresins, EssentialOils
79878
Epices condiments
Other
Inde
Autres epices condiments
2018-04-15
2017-03-30

Description

: Organic Coriander Powder
Organic Turmeric Powder
Organic Chili Powder HOT
Organic Black Pepper Powder
Organic Garam Masala Powder
Organic Rasam Powder
Organic Sambar Powder
Organic Pulav Masala
Organic Channa Masala
1Organic Pav Bhaji Masala
1Organic Bisibelebath Powder
1Organic Vangibath Powder
1Organic Chili Whole
1Organic Black Pepper Whole
1Organic Cinnamon Bark
1Organic Cardamom Whole
Organic Cumin Whole
Organic Fennel Seeds
Organic Tamarind Whole
89767
Epices condiments
Other
Nigeria
Autres epices condiments
2018-01-31
2017-02-02

Description

: Our Company Elohay-Wills Ltd. is sitiuted at the South East region of Nigeria.

We have a large plantation of the finest grade of Picralima Nitida Trees and we sell Seeds and ripen fruits of Picralima Nitida.

As you may be aware this is the harvesting season of Picralima Nitida seeds and we harvest over 3 metric tons of Picralima Nitida seeds rich in high Akuammine and Akuammigine alkaloids every month.

We sell both retail and wholesale.

Our minimum retail order is: 20 Kilos

Our retail order price is: USD$30 per kilo (Excluding the cost of freight)

Our Minimum wholesale order is: 100

Our Wholesale price is: USD$18 per kilo (Excluding the cost of freight).

We ship immediately payment terms are met.
89494
Epices condiments
Other
Inde
Autres epices condiments
2018-11-21
2017-01-09

Description

: Dear Sir,
I would like to introduce our company VICHU EXPORTS that has been in business with Indian spices items and Departmental store items for the past years.
We have been established a popular company with an excellent track record for the best customer satisfaction. We have never compromised on the quality and the services.
And also we are the main dealer of Agro Company with certificates of:
NPOP organic Standards, NOP/USDA Organic Standards, EU organic Standards, Rainforest Alliance Certified, JAS Certified.


Our product ; Turmeric, Turmeric powder, Red chilli, Red chilli powder, Tamarind, All kind of Indian Seeds and Nuts, pepper, Pepper powder, Pulses, Pickles, Papads, Grains, All type of Masala powder, Tapioca (Food grade Industrial grade starch) Coir fiber &product, Honey product, Millets, etc
67016
Epices condiments
Other
Papua New
Autres epices condiments
2018-01-31
2017-01-09

Description

: We supply in bulk and retail packs for spices grown organically. Pepper, Turmeric, Ginger, Nutmeg, Cinnamon, Vanilla, and many more. We currently export to Asia, USA, New Zealand and Australia.
78411
Epices condiments
Ecocert
Maroc
Vinaigre
2019-12-12
2017-01-09

Description

: Vinaigre de pomme 100% BIO
68165
Epices condiments
Other
Inde
Autres epices condiments
2018-12-12
2017-01-05

Description

: Based out of India, we are experts in bulk trading, contract farming & processing of more than 242 organic products (Herbs, Spices, and Grains). Carmel Organics has more than 500 registered farmers involved in certified organic farming practices, with an average experience level of 5 years. The total certified land area looked after by our company is around 1500 hectares. What it means to you as a customer is unmatched quality with highly competitive prices backed by a sustainable and robust supply chain.


Needless to say, our produce comes with certifications such as India's National Programme for Organic Produce (NPOP), National Organic Program Technical Standards by United States Department of Agriculture (USDA) among others.
89293
Epices condiments
Other
Iran
Épices, poivres
2019-01-01
2016-12-21

Description

: Saffron is called reddish gold because every 10,000 square meter of saffron corp, gives 2500 grams of the final product. After harvesting, the threads should be gently separated and dried. There is lots of work before delivering 1 gram of this extra ordinary product.
We have experienced farmers in the native habitat of saffron flowers. We deliver A-grade saffron to our clients.
For those who want 50 grams or more, we express mail this product for free. Moreover, costumers can select man-made and designed containers for this product.