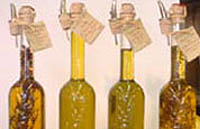 Huiles bio
Offres de vente
Pour identifier la société, cliquer sur le numéro de l'offre
Offre N°
Catégorie
Certification
Origine
Produit
Validité de l'offre
Date de l'offre
73135
Huiles
Ecocert
Pays-Bas
Palme
2017-07-10
2015-09-14

Description

: Crude palm oil
RBD palm oil
Palm oil stearin
Palm oil olein
76464
Huiles
Other
Pakistan
Noix
2017-07-20
2015-09-08

Description

: Certified Organic Cold Pressed Walnut Oil
82037
Huiles
Other
Tunisie
Olive
2018-02-02
2015-07-15

Description

: Organic Extra Virgin Olive Oil

Quantity 30 tons
Packaging in bulk or in buttles
Delivery time, 3 to 5 days
Mode of transport, container
Departure Price
81373
Huiles
Other
Maroc
Autres huiles
2017-02-15
2015-05-11

Description

: We are an oil marketing company certified organic argan southern Morocco on the world market, we sell also the prickly pear oil in bulk or bottled will adapt to your needs . do not hesitate to contact us for more information.
81372
Huiles
Other
Tunisie
Olive
2017-01-29
2015-05-11

Description

: Nous produisons, fournissons et exportons de l'huile d'olive 100%, pure et cultivé biologiquement.
Nous offrons nos produits à l'export selon les quantités souhaitées par nos clients, à l'avance.
81371
Huiles
Other
Tunisie
Autres huiles
2017-01-29
2015-05-11

Description

: Nous produisons et exportons de l'huile de figue de barbarie, à partir de plantations locales, en Tunisie. Notre huile est 100% naturelle, et bio.
Nos offrons les quantités souhaitées par nos clients, car nous bénéficions d'un grand accès aux cultures de figues de barbarie en Tunisie (mis à part notre propre production).
81282
Huiles
Other
Maroc
Autres huiles
2017-01-29
2015-04-29

Description

: SETRAGAL is a company located in MOROCCO, specialized in the production of the rare oil of prickly pear seeds produced by organic farming according to the European Regulation (CE) No 834/2007 and the NOP Regulation (National Organic Program) of the United States.

By choosing partners who are mainly women's cooperatives, our company hopes to contribute to the promotion of rural women and the sustainable development for this form of social economy that is the foundation of social progress in rural areas.

Whether the target is to achieve energy savings or to preserve nature, our company has a clear vision of its responsibility to actively participate in this process, to understand its stakes and to offer our customers products that are eco-efficient.
81124
Huiles
Ecocert
Maroc
Autres huiles
2017-04-15
2015-04-14

Description

: producteur de l'huile de pépins de figue de barbarie
71175
Huiles
Sativa, Desenvolvimento Rural Lda
Portugal
Olive
2017-03-10
2015-04-08

Description

: Organic Olive Oil PDO - Acushla:
- Bottle 250ml - Box of 12 units
- Can 500ml - Box of 24 units
- Bag in a Box 5L - Box of 4 units

The olive oil Acushla presents a yellowish-green color, smell and fruity aromas with notes of fresh grass, green spike and almond, enveloped by the feeling bitter and spicy, with its long and persistent end.

Year:2012
Processing type: First Cold Crushing
Olive Varieties:Cobrançosa, Cordovil, Madural, Negrinha, Verdeal
Origin: Alto Douro - Vila Flor, Trás-os-Montes - Portugal
Cultivation type: Organic
Classification:Protected Designation of Origin Beira Interior Region
Flavor & Fragance: Olive oil greenish yellow color, smell and taste fruity and spicy. Presents an end of mouth elegant and persistent
Validity: 2 years
Acidity level (% oleic acid < 0.8 ): 0.1%
Peroxides index (mEq O2/kg) Max 20 : 3 meq O2/Kg
80656
Huiles
Other
Chypre
Olive
2018-12-10
2015-03-26

Description

: Olive Oil extra vergin, Kalamta (P.D.O.), variety Koroneiki, single farm product (S.&.E. Kotrotsis)
59672
Huiles
Ecocert
France
Autres huiles
2018-06-12
2015-02-17

Description

: Huile Vierge de Colza Biologique (Certifié Ecocert)

L'huile vierge de colza est issue de graines provenant de l'agriculture Biologique.
Notre agrément Ecocert vous certifie l'authenticité de l'appelation Bio.
Cette belle huile de couleur jaune offre un goût prononcé de céréales. Elle s'accommode
particulièrement bien avec les salades de pommes de terre et les crudités. Elle est naturellement très riche en Oméga 3.
62454
Huiles
Other
Allemagne
Autres huiles
2017-12-01
2014-05-19

Description

: All Organic Trading GmbH offers a wide range of organic vegetable oils and fats as well as waxes and extracts in organic quality. We trade, produce and attend to many of our products from the plant to the high quality oil or extract. To us holistic value creation means acting according to the values of organic agriculture and with fair prices for raw material.