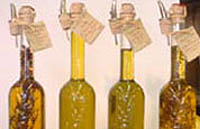 Huiles bio
Offres de vente
Pour identifier la société, cliquer sur le numéro de l'offre
Offre N°
Catégorie
Certification
Origine
Produit
Validité de l'offre
Date de l'offre
86181
Huiles
Other
Maroc
Amande
0000-00-00
2016-05-18

Description

: Nous sommes une entreprise exportatrice des huiles végétales et essentielles et produits agroalimentaires implantée au Maroc, nous exportons en vrac ou en bouteille, principalement l'huile d'olive l'Huile d'Argan (50 et 100ml), huile de figue de barbarie (15 et 30ml), huile de sésame (50ml) et huile de nigelle (50ml), les savons noires, etc.
Tous nos produits sont certifiés ECOCERT et ONSSA, 100% BIO, de très bonne qualité et sans additifs chimiques.
86074
Huiles
Ecocert
Maroc
Autres huiles
0000-00-00
2016-05-10

Description

: Nous sommes une coopérative spécialisée dans la production et l'exportation d'Huile d' Argan alimentaire et cosmétique certifié et 100 % Bio

Nous sommes à votre entière disposition pour plus d'information et même pour effectuer des commandes soit qu'il est la quantité.

Très Cordialement
82034
Huiles
Other
Maroc
Autres huiles
2018-03-10
2016-04-25

Description

: huile d'argan bio cosmétique et alimentaire.
Certifié par ECOCERT et USDA.
85151
Huiles
Bioellas Sa
Grêce
Olive
2018-12-31
2016-03-30

Description

: Huile d'olive biologique extra vierge BIO CRETAN MYRON

L'Huile d'Olive Biologique Extra Vierge Bio Cretan Myron est produite conformément aux règles strictes d'Agriculture biologique qui suivent strictement le règlement communautaire (2092/91). L'usage de tout fertilisant chimique ou de pesticide toxique y est interdit. La fertilisation des arbres n'est autorisée que par le biais de fertilisants biologiques, la lutte contre la mouche étant uniquement effectuée par des pièges. L'oléiculture biologique nous offre de l'huile d'olive de qualité plus assurée, appelée B?? CRETAN MYRON. Bio Cretan Myron résulte de la coopération de notre société avec les cultivateurs biologiques des régions les plus fertiles de Crète. Bio Cretan Myron est un produit de qualité supérieure produit directement par écrasement des olives, appartenant toujours à la variété « de Koroni », reine des variétés helléniques, et se fait uniquement au moyen de méthodes mécaniques. D'ordinaire, la récolte a lieu entre novembre et fin février. Le produit est entreposé dans des réservoirs inoxydables où se fait un filtrage naturel écartant les matières étrangères et l'humidité.


L'acidité moyenne de ??? CRETAN MYRON varie entre 0,3 % et 0,4 % max.


Goût: Caractérisé comme léger avec un goût médian fruité et épicé, et une couleur vert foncé.


Usage: Elle accompagne parfaitement les fruits de mer, les viandes blanches, les légumes bouillis et les salades crues, en enrichissant leur goût et arôme.
84822
Huiles
Ecocert
Belgique
Olive
2018-11-21
2016-02-08

Description

: Huile d'olive vierge extra BIO
Nouvelle récolte 2015
Certificat ECOCERT
Bouteille en verre de 250ml et 500ml
Possibilité personnaliser l'étiquette
Produit en Tunisie
83874
Huiles
Other
Tanzanie
Sésame
2017-02-15
2015-12-17

Description

: We are a supplier of Sesame Seeds Our Seeds originate from Tanzania.
62990
Huiles
Other
Inde
Autres huiles
2017-07-20
2015-12-09

Description

: Organic Soy Oil
73549
Huiles
Ecocert
Maroc
Autres huiles
2017-12-31
2015-12-01

Description

: Mybio is a companyspecialized in the production of organiccosmetic and culinary argan oil, it's obtained by cold pressure from argan almonds carefully selected from organic farming.

specific in its composition exceptionallyrich in oleic and linoleicfattyacids (80%), argan oilisbeneficial and canbeused in dieteticcosmetic and medicinalproduct.

For your information, we are certified Ecocert, EcocertOrganiccosmetic, Greenlife, Usda (Nop), ourproductswereselected as innovativeproductsat the IFE fair 2011, we won the International Crown Quality 2011 at London, Wewerenominatedat the MoroccoAwards 2011, and thisyear, we won the MoroccoAwards 2012 with a special distinction from the jury. We have a FDA number.

Wecan propose an innovativeproduct: Aromaticculinary Argan oil.

Our aromatic argan oil ranges "Argalight" and "Argadiet" waselaboredwith passion by an artist chef in collaboration with a foodengineer and itsincluded
11 différents flavorsreferences (lemon, pomegranateflower, cinnamon, clove, cumin ,thyme, fennel, rosemary, garlic, coriander, nature ...).

"Argabio" isour nature organic argan oilproduct

"Argalift" ourorganic argan oil for skin and hair care
63893
Huiles
Comité Andaluz De Agricultura Ecologica (caae)
Espagne
Olive
2017-07-01
2015-11-26

Description

: Excelente aceite de oliva virgen extra ecológico, procedente una de las mejores zonas de España, la comarca de "La Sierra del Segura", famosa por la excelencia de su olivar de secano y montaña. También se comercializa almendra de las variedades; marcona y largueta ecológicas. Y en proceso de elaboración, aceite de esencia para cosmética: romero, tomillo, hisopo.
63901
Huiles
Comité Andaluz De Agricultura Ecologica (caae)
Espagne
Olive
2017-07-01
2015-11-26

Description

: Excellent oil organic extra virgin olive,from the best area of Spain.Wonderfull product for the palate and health. Sold in containers of 5 liters, and at a price of 23 €.
83379
Huiles
Other
Pays-Bas
Palme
2018-10-10
2015-11-26

Description

: Organic palm oil
83378
Huiles
Other
Pays-Bas
Autres huiles
2018-05-27
2015-11-26

Description

: Organic coconut oil
78913
Huiles
Other
France
Autres huiles
2017-03-01
2015-11-18

Description

: Ever since it was founded in 1989, we have been tirelessly asserting its position as a major player in the organic oils sector.

'The Basics' : your day-to-day oils. Includes some well-known flavours (olive, sunflower, rapeseed), some lesser-known (safflower, marrow seed) but all of them providing specific supplements, all of which are essentials ...

The Gourmet Series

Since our oils are so tasty, check out our 'Gourmet Series' range. Original, flavourful oils that will provide all of your meals with a whimsical touch ...


The Balanced Diet Specials

To help you enjoy the benefits of every one of our oils with no fuss, BIOPRESS has developped a full range of blends, the Balanced Diet Specials, for use in seasoning.


The Cooking Specials

BIOPRESS provides you with its range of oils devoted to cooking and frying. For your comfort and in order to preserve the flavour of your recipes, these oils have been deodorised using water steam. They have neither taste nor smell, and will allow you to cook 'healthy'.


The Practical Series

With its "Pratical Series", Biopress invites you to rediscover its flagship products in greater packaging, for a more practical and more economical use.
72050
Huiles
Other
Philippines
Autres huiles
2017-07-15
2015-11-12

Description

: Organic virgin coconut oil - cold pressed
83032
Huiles
Comité Andaluz De Agricultura Ecologica (caae)
Espagne
Olive
0000-00-00
2015-10-28

Description

: Somos productores y envasadores de aceite de oliva virgen extra ecologico.
Somos una empresa familiar y toda nuestra producción de aceite ecologico es de nuestra propia finca.
Nos adaptamos a sus necesidades, podemos trabajar con diferentes formatos, envases, idiomas, capacidades

EStamos buscando distribuidores/ importadores, en diferentes paises, si estas interesado no dudes en contactar con nosotros.