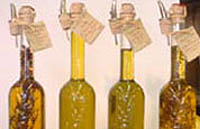 Huiles bio
Offres de vente
Pour identifier la société, cliquer sur le numéro de l'offre
Offre N°
Catégorie
Certification
Origine
Produit
Validité de l'offre
Date de l'offre
91388
Huiles
Other
Canada
Tournesol
2019-12-12
2017-06-13

Description

: NOP/COR/EU Certified Organic (Certifier: Pro-Cert) High Oleic Sunflower Oil

ORIGIN: Canada

Contact us for full specifications.
91389
Huiles
Other
Canada
Colza
2019-10-09
2017-06-13

Description

: NOP/COR/EU Certified Organic (Certifier: Pro-Cert) Canola / LEER Rapeseed Oil

ORIGIN: Canada

FFA: 0.5%
Phosphorus: <3PPM
PV: <0.1 meq./kg

Contact us for full specifications.
91243
Huiles
Control Union
Ukraine
Tournesol
2019-12-31
2017-05-25

Description

: 100% Expeller Pressed High Oleic Sunflower Oil (RBWD/Crude). Oleic Accid - 75-85%. Ukrainian origin. The best decision for frying and cooking. The shipment is possible as in bulk, so in 1,3,5L PET bottles, bag-in-boxes, IBC's totes, Drums etc.
76990
Huiles
Other
Grêce
Noix
2020-10-10
2017-03-30

Description

: Extra virgin olive oil of certified organic production from mountainous and semi-mountainous low yield olive groves of exceptional biodiversity.

Extremely low acidity and very low peroxide value.

AGIOLIA organic extra virgin olive oil is a single varietal olive oil from the famous "Koroneiki" olive variety. The fruit is hand-picked from the cultivators we collaborate with from our chosen "Mountainous olive groves of exceptional biodiversity".

The pressing of the olives takes place within 24 hours, at a temperature below 27 °C, at a contemporary two phase oil mill of low environmental burden. Laboratory qualitative tests are immediately carried out by an independent accredited laboratory in Athens, to verify that the specific batch can be labelled as AGIOLIA organic ultra premium olive oil.

Once the analysis attest to the quality, the olive oil batch is stored in stainless steel tanks, in a cool and dry environment, in a collaborating certified bottling plant of the region. The bottling takes place within 30 days, under strict supervision from the Production Engineers office with which we collaborate.

The strict specifications for harvesting, milling, storing and bottling guarantee that the AGIOLIA extra virgin olive oil has a very low acidity, which reaches below 0.30%. Furthermore, the low peroxide value, below 8 mEqO2/kg, proves that the AGIOLIA extra virgin olive oil has not undergone oxidation or other alterations.
90134
Huiles
Control Union
France
Autres huiles
2019-01-01
2017-03-06

Description

: Coconut oil
Packaging 150/250/500/720/1000
Cold pressed high-grade oil
Oil from Sri Lanka
Certified organic coconut oil
Unrefined virgin coconut oil not deodorized
89979
Huiles
Other
Turquie
Olive
2019-02-02
2017-02-21

Description

: Simyadoga is a big olive oil producing company in Aegean Region in Turkey. We export our products with high quality virgin, extra virgin, early harvest organic extra virgin etc… and competitive price and also we would like to have long term and fru?tful business with you. If you interest, please feel free for further information.
Sincerely
Simyadoga Corporation Company
Mrs Gülden Cerit
Sales Manager
Chamber of Commerce Registration Record:45534
Trade Register number:38530
contact phone(mobile and whatsapp):00905358849967
skype:gldn20
66607
Huiles
Ecocert
Maroc
Autres huiles
2019-07-02
2017-02-01

Description

: Huile d'argan ( Zwity et Tamgharte)

Notre mission est la qualité dédiée par les femmes rurales de la perle du Sud

la principale mission des femmes rurales de la perle du Sud est de vous offrir l'or liquide de qualité incomparable.
89651
Huiles
Ecocert
Maroc
Olive
2019-01-01
2017-01-23

Description

: Nous somme une societe marocaine dexportation et comercialisation des produits naturel : huile d'argan bio saffran bio huile de graine de figue de barbarie bio
78417
Huiles
Other
Tunisie
Noix
2018-01-01
2017-01-16

Description

: Je suis interessé par un partenaire pour la productin d huile d olive Bio
89495
Huiles
Other
Singapour
Autres huiles
2018-11-21
2017-01-09

Description

: VIRGIN COCONUT OIL ORGANI
77753
Huiles
Ecocert
France
Olive
2019-10-10
2017-01-09

Description

: Aspect liquide huileux fluide
Couleur jaune doré à verte
Odeur caractéristique d'olive
Toucher gras.
Si vous souhaitez améliorer sa pénétration dans la
peau, mélangez-la avec une huile plus pénétrante
( Kukui, Macadamia, Noisette,... )
66935
Huiles
Ecocert
Maroc
Autres huiles
2019-10-01
2017-01-09

Description

: Bonjour,

Nous sommes une entreprise marocaine experte spécialisée dans la production et l'exportation de l'huile d'Argan pure et pressée à froid pour usage cosmétique.

Notre huile d'Argan est certifiée biologique par des organismes ECOCERT et USDA.

Nous sommes impatients d'étendre notre activité sur d'autres marchés et nous recherchons un partenaire sérieux pour la promotion de notre produit.

Nous sommes intéressés par l'exportation en vrac et nous sommes très ouverts à un partenariat d'affaires solide et sérieux.
76466
Huiles
Other
Inde
Autres huiles
2018-10-10
2017-01-09

Description

: Your search ends here… professional services in custom sourcing of all natural and organic products and ingredients to the pharma, nutraceutical, cosmoceutical, distributors, retailers etc.
At GrassRoots we are attempting to impact lives of consumers , farmers and the eco system as a whole.
78549
Huiles
Other
Espagne
Olive
2018-12-12
2017-01-05

Description

: Andalucian factory, we provide Extra Virgin Olive Oil, including Organic EVOO. First Cold pressed. Certified organically grown olives. Personal control upon the olives because the product is local. Bottling option : glass bottles, PET, tin. We are able to provide EVOO in bulk as well.
Quality and excellent taste guarantee.
78761
Huiles
Other
Sri Lanka
Autres huiles
2018-03-01
2017-01-05

Description

: Organic Virgin Coconut Oil: As the name has it. It is Organic and you will just feel it with the nice aroma, the moment you open the bottle. It definitely indulges you. It is ideal for cooking specially good to control the level of cholesterol. Not only that it will give nourishment to your hair and protects your scalp. For skin it will do wonders to make it wrinkle free soft supple skin.