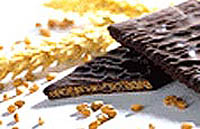 Trouver un vendeur de Produits diététiques bio
L'annuaire Greentrade
Cliquer sur le numéro de l'offre pour obtenir les coordonnées de la société.
Pour obtenir les adresses emails, abonnez-vous ou contactez-nous au : Tél. : +33 1 47 50 02 73
Fax : 33 1 47 50 28 67
Offre N°
Categorie
Certification
Produit
77003
Produits diététiques
Organic Crop Improvement Association (ocia)
Compléments alimentaires

Description

: Organic Chia seeds - Organic chia flour - organic chia defatted flour- organic chia oil -Organic Hemp seeds- Organic hemp oil - Xylitol sugar-Maqui
76615
Produits diététiques
Ceres
Compléments alimentaires

Description

: BioGreens is a 100% organic, vegan superfood with greens, algae and sprouts. It is an excelent source of antioxidants, proteins, fibers and enzymes.

Product formula: wheatgrass, bio (EU); barley grass, bio (EU); Chlorella algae, bio (EU); Spirulina algae, bio (EU); peppermint leaves, bio (EU); wheat sprouts, bio (non-EU); broccoli sprouts, bio (non-EU); barley sprouts, bio (non-EU); dry extract of Acerola fruit, bio (EU);
76518
Produits diététiques
Other
Autres produits dietetiques

Description

: We are certified under India's National Programme for Organic Production Standards - considered equivalent to Council Regulation (EC) No.834/2007 and Swiss Organic Farming Ordinance for plant products originating in India.

We have Amla Powder which is a natural supplement for Vitamin C

Amla is:-
Species: Emblica officinalis Gaertn.
Syn.: Phyllanthus emblica L.
Family: Euphorbiaceae
75201
Produits diététiques
Other
Extraits de plantes fraîches

Description

: Garcinia cambogia extract
coleus root forskholin extract
75200
Produits diététiques
Other
Compléments alimentaires

Description

: salt food grade
75077
Produits diététiques
Instituto Mediterraneo Certificazione
Autres produits dietetiques

Description

: vinaigre de figue de barbarie bio
74544
Produits diététiques
Other
Compléments alimentaires

Description

: Harina de : Sesamo, Garbanzo, Chia, Quinoa, Amaranto

Aceite de : Sesamo, Chia, Almendra amazonica, Cusi
74426
Produits diététiques
Other
Compléments alimentaires

Description

: Dear/Dearest,
Green herb is proud to present you with its newest products.
Total Elimination
This dietary supplement was researched and produced by European Master Herbalists for Green Herb inc. to clean parasites and yeast out of the human body the natural, safe way.
Eliminies
Like elimination, eliminies cleanses children from parasites. Children are especially prone to intestinal parasites like pinworms, tapeworm, hookworms and threadworms. Eliminies includes a 30 day parasite elimination strategy.
Replenish Probiotics
A maximum strength whole food active probiotic for adults and children.
Green Herb Replenish uses a proprietary blend of 14 active probiotics.
72527
Produits diététiques
Other
Compléments alimentaires

Description

: Ayurvedic herbs
72041
Produits diététiques
Other
Autres produits dietetiques

Description

: We offer a wide variety of eating options to suit all dietary requirements. Choose from hot or cold food, coffee carts and snacks, platters and buffets, formal dinners or BBQ's, with full service and equipment available
71733
Produits diététiques
Other
Autres produits dietetiques

Description

: Amaranth contains calcium, iron, magnesium, phosphorus, and potassium. Unlike grains Amaranth is documented to contain Vitamin C. It is rich in amino acids, which are essential for human growth, the well-being of bone tissue, and provides energy for breaking down fats.

Studies have shown that the protein levels of Amaranth seeds are higher than that of grains and cereals, therefore making it a super food and potentially a staple that may help to improve nutrition throughout the world. A study in Canada showed that Amaranth contains phytosterols that may help to maintain normal cholesterol levels.

Importantly, Amaranth is gluten-free, making it a perfect addition to flour blends, sauces, soups and stews.
71732
Produits diététiques
Other
Compléments alimentaires

Description

: Maitake Mushroom is native to Japan but is now also cultivated in other temperate regions of the world. This mushroom has been prized for centuries in Japan for its therapeutic qualities and delicious woody flavor. In feudal times, Maitakes were extremely valuable, and to this day they are hunted in the wild. It is said that Maitake lovers jealously keep locations a secret until their dying day.

Mai means dance and take means mushroom. Legend has it that Maitake hunters would dance for joy when they finally came across this elusive King of Mushrooms. It is only since the 1980s that they have been cultivated, to satisfy a growing demand in the culinary industry and for their well researched medicinal reputation.

Recent studies have shown that the presence of the polysaccharide beta glucan in Maitake Mushrooms support its traditional therapeutic use to enhance a healthy immune system Preliminary studies have shown that Maitake extract has positive effects in maintaining healthy blood sugar levels, supporting bone health and blood pressure in the normal range.
Maitake contains potassium, calcium and magnesium that are essential for a healthy body. Present are the vitamins riboflavin, D and niacin that supports metabolism and a healthy blood system. Maitakes contain fibers that support digestive health and amino acids, which is essential in the human diet for sustaining the body.

Maitake Mushrooms thrive on the forest floor, clustered in the dark among leaf litter, at the foot of oak or similar trees. Maitake is indigenous to temperate hardwood forests, feeding on the dead roots of aging trees and thriving in conditions that have a limited range in temperature, moisture and humidity. They surface from dark grey mounds beneath the soil at the base of the tree, emerging with frond-like fruiting bodies of fungi overlapping each other.

In the United States they are known as hen of the woods, because of their grey to brown color, occasionally with a tint of orange, which apparently resembles hen feathers. Beneath the fruit are spores that sprinkle the forest floor or are carried away by the wind. Maitakes have been known to grow up to a weight of 50 pounds. They can also be found in the northern temperate forests of Europe and other parts of Asia.

Maitake Mushrooms are a good source of protein and are especially succulent, making them a perfect ingredient in a tasty vegetarian recipe.
71731
Produits diététiques
Other
Compléments alimentaires

Description

: Kale is a very good source of Vitamin K, as well as Vitamin A, Vitamin C, Vitamin B6, Calcium, Potassium, Copper and Manganese. This nutritious leafy green also contains Dietary Fiber, Thiamin, Riboflavin, Folate, Iron, Magnesium and Phosphorus. As is common in cruciferous vegetables, Kale has numerous compounds contained in its curly leaves that may be beneficial to one's health. One such compound is indole-3-carbinol, which may support colon health, and also sulforaphane, which has been shown to be beneficial for cardiovascular health. Kale also has the 3,3'-Diindolylmethane compound, which research shows may support the health of the pancreas. Studies have also shown that Kale may also be beneficial to the cardiovascular system as well as the bladder.*

FDA Disclaimer
71730
Produits diététiques
Other
Compléments alimentaires

Description

: Applications:
Our Ashwagandha products have a wide variety of applications including:
Supplements, capsules, tablets, nutritional powders

Specifications for our Ashwagandha Powder:
Product Name: Ashwagandha Powder
Botanical Source: Withania Somnifera, Cherry powder, Indian ginseng
Part used: Root
Ingredients: Pure powder only, no carriers added
Appearance: Brownish free flowing powder
Mesh size: 100% through 60 mesh
Origin: India
Certification: GMO and Food Grade
Treatment method: Untreated
Minimum quantity: 25 kg
Solubility: Partly soluble
Supply Ability: 25 kg to 5000kg plus
Port: LA
Packaging: 25 kg drums
71729
Produits diététiques
Other
Compléments alimentaires

Description

: Purple Corn (Zea mays), often referred to as purple maize, grows in much the same manner as the common sweet yellow or white corn available at your local supermarket. The plant consists of tall, thick, sturdy stalks which have internodes similar to those of bamboo canes. The ancient cultivation of Purple Corn is unique in that it is grown on pristine family farms which do not use any types of pesticides, chemical fertilizers, GMOs or any forms of hybridization.

The corn is pollinated via the silk strands that emerge from the top of the ear, which are actually long stigmas. Each strand of silk that is pollinated produces one kernel of corn, which is considered the fruit of the plant. Each ear of corn can have up to 600 kernels on a cob up to seven inches long.

Purple Maize kernels are a deep violet hue and were used for centuries by the Mayans and Aztecs as a natural dye and food coloring. Purple Maize is a key ingredient in a popular Peruvian drink called chicha morada.
The more you find out about the benefits of Purple Maize, the more a-maiz-ed you will be! Containing higher levels of anthocyanins than what is typically present in most purple fruits and vegetables, Purple Corn has been shown to support kidney health in certain individuals and promote a healthy body weight.

The anthocyanins present in Purple Corn are specifically Cyanidin-3-Glucoside, Pelargonidin and Peonidin. These powerful components have been linked to the management of blood sugar levels already in normal range and may even promote colon health.

As is common in all brightly colored fare, the phenolic acids in Purple Corn have incredible abilities to ease the oxidative stress caused by an excess of free radicals in the body.