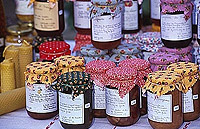 Trouver un vendeur de Epicerie bio
L'annuaire Greentrade
Cliquer sur le numéro de l'offre pour obtenir les coordonnées de la société.
Pour obtenir les adresses emails, abonnez-vous ou contactez-nous au : Tél. : +33 1 47 50 02 73
Fax : 33 1 47 50 28 67
Offre N°
Categorie
Certification
Produit
76958
Epicerie
Other
Autres epicerie

Description

: Dears,

We are pleased to contact you.
We are an International Trade Services Company in Buenos Aires, Argentina.
This time, we want to offer Organic Sugar, from a group of farmers .The sugar meets the requirements and certifications of international markets, and it is ready to be exported.

Product: Organic Sugar
Packing: 25 kg bags
Quantity: 600 ton Now. On July/August 1000 tn plus.
Fob Buenos Aires: USD 1200 x ton
Payment: Negotiable

We can send by email the product specifications. Please, ask us about any question.
75114
Epicerie
Other
Autres epicerie

Description

: Any kind of organic foods
74707
Epicerie
Other
Soja et dérivés (graines, germes, sauces, desserts, galettes)

Description

: Soybeans are an important global crop, providing oil and protein. The bulk of the crop is solvent-extracted for vegetable oil and then defatted soy meal is used for animal feed. A small proportion of the crop is consumed directly by humans. Soybean products do appear in a large variety of processed foods. The oil and protein content together account for about 60% of dry soybeans by weight; protein at 40% and oil at 20%. The remainder consists of 35% carbohydrate and about 5% ash. Soybean cultivars comprise approximately 8% seed coat or hull, 90% cotyledons and 2% hypocotyl axis or germ. The majority of soy protein is a relatively heat-stable storage protein. This heat stability enables soy food products requiring high temperature cooking, such as tofu, soymilk and textured vegetable protein (soy flour) to be made.
Organic Soybeans
74539
Epicerie
Other
Aliments pour bébé

Description

:
Papillas con Quinoa y Amaranto bajo en Alergenos.
Unidades de 125 gr

VARIEDADES:
Código
AAAMz Arroz, arveja, amaranto, manzana
VPCQ Vainita, papaya, camote, quinua
AZQ Arveja, zanahoria, quinua
ZZQ Zapallo, zanahoria, quinua
PA Papaya, Amaranto
BNQ Banano, quinua
MZA Manzana, Amaranto
MGQ Mango, quinua

70 000 Unidades/mes
72803
Epicerie
Other
Pâtes à tartiner

Description

: Four delicious original recipes now offered in attractive 130g boxes :
green olive tapenade
black olive tapenade
red pepper and green olive tapenade
candied garlic tapenade
These traditional purées from the south of France are hand-made in Sète, in Languedoc.
71924
Epicerie
Other
Autres epicerie

Description

: Market place for organic products
59950
Epicerie
Other
Autres epicerie

Description

: Bio happy propose une gamme de produits biologiques de haute qualité: Sirop d'agave, inuline d'agave et graines de chia.
69684
Epicerie
Bcs-oko Garantie Gmbh
Sauce tomate

Description

: we process your ripe tomatoes on the farm
69523
Epicerie
Other
Autres epicerie

Description

: We have all kind of organic certified products like vegetables and fruits.
68808
Epicerie
Quality Assurance International (qai)
Soja et dérivés (graines, germes, sauces, desserts, galettes)

Description

: organic soy beans bulk
68530
Epicerie
Other
Autres epicerie

Description

: We grow organic potatoes of excellent flavour. We've fried our potatoes into a simmering vessel of pure extra virgin olive oil adding a bit of Mediterranean sea salt.

We're happy to share with you the unique taste of this hand cooked potato CRISPS.

PRODUCT TECHNICAL INFO

1. PRODUCT NAME
Bio chips gourmet

2. INGREDIENTS
Potatoes, Olive extra virgin (nativ extra), salt.

Ingredients written in: Spanish, English, German, French, Dutch, Italian,
Portuguese, Danish, Swedish and Norwegian

3. CERTIFICATE
Organism: ECOCERT-SOHISCERT (ES-CM-01-AE)
Operator: Productos Biológicos de Daimiel, S.L.
Eco Industry Register Number: CM-156-I
Sanitation Register (food safety) Number: 26.01370/CR
Printed in the bag UE seal and German seal (BioSiegel)

4. TRACKABILITY
Beside to the bar code it is printed the geographic coordinates of the land where
the potatoes and oil were grown, With an Internet map program it can be seen
the area in your computer screen.

5. PACKAGES
Pack type: Aluminum metal/plastic bags
Weight per bag: 100 grm
Best before period: 180 days

6. PACKING
Cardboard boxes: 30x40x25 cm
Units per box: 12
Net weight per box: 1,2 Kgs
Pallet type: 1,20x0,80 cm (European)
Boxes per level: 8
Levels: 8 (4 in a 1/2 pallet)
Total boxes per pallet: 64 (32 in 1/2 pallet case)
67128
Epicerie
Other
Autres epicerie

Description

: wide range of certified organic products
65987
Epicerie
Other
Autres epicerie

Description

: Somos un pequeño negocio familiar y no una gran empresa. Nos dedicamos a la venta y distribución de todo tipo de productos procedentes de cultivos ecológicos y de nuestro País. Nuestro deseo es ofrecer productos de alta calidad con un servicio adecuado para cada cliente.

Puede comprar a través de nuestra tienda virtual o puede pasarse por nuestro almacén y beneficiarse de nuestros descuentos especiales. También disponemos de reparto a domicilio. Si tiene tienda no dude en solicitar nuestros precios de tienda y su etiquetado personalizado.

Productos


Aceites
Arroces
Bebidas vegetales
Cereales y derivados
Complementos Naturales
Conservas
Copos y desayunos
Fruta y Verdura
Frutos Secos
Harinas
Infusiones
Legumbres
Miel y edulcorantes
Pan y repostería
Pasta
Sal artesanal
Salsas
Semillas
Siropes
Snacks
Vinagres
Yerba Mate
65723
Epicerie
Other
Courts bouillons sauces

Description

: Fabrication et commercialisation de préparations culinaires déshydratées et/ou lyophilisées bio
65719
Epicerie
Other
Courts bouillons sauces

Description

: Relevez vos soupes, poissons, riz, soja ou sauce avec ce bouillon de légumes contenant plus de 58% de légumes !