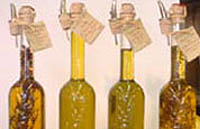 Huiles bio
Offres de vente
Pour identifier la société, cliquer sur le numéro de l'offre
Offre N°
Catégorie
Certification
Origine
Produit
Validité de l'offre
Date de l'offre
85151
Huiles
Bioellas Sa
Grêce
Olive
2022-12-31
2020-02-03

Description

: Huile d'olive biologique extra vierge BIO CRETAN MYRON

L'Huile d'Olive Biologique Extra Vierge Bio Cretan Myron est produite conformément aux règles strictes d'Agriculture biologique qui suivent strictement le règlement communautaire (2092/91). L'usage de tout fertilisant chimique ou de pesticide toxique y est interdit. La fertilisation des arbres n'est autorisée que par le biais de fertilisants biologiques, la lutte contre la mouche étant uniquement effectuée par des pièges. L'oléiculture biologique nous offre de l'huile d'olive de qualité plus assurée, appelée B?? CRETAN MYRON. Bio Cretan Myron résulte de la coopération de notre société avec les cultivateurs biologiques des régions les plus fertiles de Crète. Bio Cretan Myron est un produit de qualité supérieure produit directement par écrasement des olives, appartenant toujours à la variété « de Koroni », reine des variétés helléniques, et se fait uniquement au moyen de méthodes mécaniques. D'ordinaire, la récolte a lieu entre novembre et fin février. Le produit est entreposé dans des réservoirs inoxydables où se fait un filtrage naturel écartant les matières étrangères et l'humidité.


L'acidité moyenne de ??? CRETAN MYRON varie entre 0,3 % et 0,4 % max.


Goût: Caractérisé comme léger avec un goût médian fruité et épicé, et une couleur vert foncé.


Usage: Elle accompagne parfaitement les fruits de mer, les viandes blanches, les légumes bouillis et les salades crues, en enrichissant leur goût et arôme.
98508
Huiles
Other
Italie
Olive
2022-10-10
2019-12-12

Description

: JOE & CO. SRL
Brands: CRUDOLIO / YES ORGANIC

COMPANY PROFILE
Joe & Co. was set up by managers who have always been present in the world of the production of extra virgin olive oils and seed oils cold-pressed. The passion for the organic world and for cold pressed oils leads the company to become the landmark in the organic oil market. This helped to conquer valuable customers in Italy and abroad within the first years of activity. The core business is focused on the distribution of their brands, the trademark present in more than 24 countries in the world with steady growth, that exceeds more than 50% of turnover.
Joe & Co. implements an integrated management concept whereby the traceability of our products is guaranteed starting from the olive groves. The traceability continues through all the stages of production and processing, including pressing, filtering, storage and subsequent packaging in bottles. The safety of our organic oils relies on the gas-chromatography, that analyzes the content of a sample of every batch by measuring and therefore assuring the absence of pesticides. Analysis of each batch is carried out by the multi residual, SINAL accredited laboratory. Organic certification of BIOAGRICERT IFOAM accredited.
The Company is also certificated IFS, KOSHER, OFDC (Chinese organic certification). The company mainly produces their own brands but it also produces in private label for leading companies in the organic field, Italian and European supermarket chains.


EXTRAVIRGIN OLIVE OILS
• Extra-Virgin Olive Oil – Origin Italy
• Extra-Virgin Olive Oil – Origin Greek
• Extra-Virgin Olive Oil – Origin Spain
• Extra-Virgin Olive Oil – Origin Tunisia
• Extra Virgin Olive Oil infused with Chili Pepper – Origin Italy
• Extra Virgin Olive Oil infused with Lemon – Origin Italy
SEED OIL
• Sunflower Seed Oil (cold pressed/ deodorised)
• Corn Oil (deodorised)
• WOK "Frying Oil" (H.O. Sunflower deodorised & Sesame oil)
• Canola Oil (cold pressed)
OMEGA OILS
• Flaxseed Oil (cold pressed/ Flax crude oil naturally infused with orange/ Flax crude oil naturally infused with lemon)
• Omega 3+6 Oil (Flax crude oil & sunflower crude oil)
SPECIAL SEED OILS
• Hemp Seed Oil (cold pressed)
• Argan Oil (cold pressed)
• Pumpkin Seed Oil (cold pressed)
• Camelina Seed Oil (cold pressed)
• Safflower Seed Oil (cold pressed)
• Extra Virgin Coconut Oil (cold pressed)
• Olio di Vinacciolo - Grapeseed Oil * Non Organic
• Olio di Riso - Rice Oil * Non Organic
SAUCES AND DRESSINGS
• Shoyu & Tamari Soy Sauce
• Balsamic Vinegar & White Wine Vinegar
• Organic Lemon juice dressings
98477
Huiles
Other
Ukraine
Tournesol
2021-11-21
2019-12-12

Description

: Organic refined sunflower oil deodorized oil – 250 mt;

Organic crude sunflower oil – 690 mt.
90134
Huiles
Control Union
France
Autres huiles
2021-01-01
2019-11-04

Description

: Coconut oil
Packaging 150/250/500/720/1000
Cold pressed high-grade oil
Oil from Sri Lanka
Certified organic coconut oil
Unrefined virgin coconut oil not deodorized
76466
Huiles
Other
Inde
Autres huiles
2020-10-10
2019-10-10

Description

: Your search ends here… professional services in custom sourcing of all natural and organic products and ingredients to the pharma, nutraceutical, cosmoceutical, distributors, retailers etc.
At GrassRoots we are attempting to impact lives of consumers , farmers and the eco system as a whole.
98252
Huiles
Other
Mexique
Autres huiles
2020-01-01
2019-10-01

Description

: aceite similar al Organic Refined Coconut Oil, en este momento estamos en proceso de certificación
89651
Huiles
Ecocert
Maroc
Olive
2021-01-01
2019-09-12

Description

: Nous somme une societe marocaine dexportation et comercialisation des produits naturel : huile d'argan bio saffran bio huile de graine de figue de barbarie bio
66607
Huiles
Ecocert
Maroc
Autres huiles
2020-07-02
2019-09-12

Description

: Huile d'argan ( Zwity et Tamgharte)

Notre mission est la qualité dédiée par les femmes rurales de la perle du Sud

la principale mission des femmes rurales de la perle du Sud est de vous offrir l'or liquide de qualité incomparable.
89979
Huiles
Other
Turquie
Olive
2020-02-02
2019-09-12

Description

: Simyadoga is a big olive oil producing company in Aegean Region in Turkey. We export our products with high quality virgin, extra virgin, early harvest organic extra virgin etc… and competitive price and also we would like to have long term and fru?tful business with you. If you interest, please feel free for further information.
Sincerely
Simyadoga Corporation Company
Mrs Gülden Cerit
Sales Manager
Chamber of Commerce Registration Record:45534
Trade Register number:38530
contact phone(mobile and whatsapp):00905358849967
skype:gldn20
80567
Huiles
Ecocert
Maroc
Autres huiles
2020-10-04
2019-08-13

Description

: We are a Moroccan Supplier of Organic Pure Beauty Line located in Morocco with offices in Hong Kong and USA.
Moroccan Organic Beauty products are in fashion all around the world because of their miraculous results on Hair, Face, Skin and Body.
Be beyond the first to offer it to your customer.
We sell in Bulk and Private label and we offer competitive price for top grade High quality products.
Certified Organic with all documentations on hand.

ARGAN OIL : An all-in-one solution for all types of skins renowned for its ability to keep skin and hair looking its best due to its naturally high content of vitamin E, antioxidants and aminoacids. Argan oil's unique characteristics help to fight signs of aging, hydrate skin, neutralize free radicals, protect skin and hair from damaging environmental factors, restore health to hair, tame frizz and give hair the boost of extra shine.
(Also for Eczema/Psoriasis/Urticaria)
76990
Huiles
Other
Grêce
Noix
2020-11-10
2019-06-05

Description

: Extra virgin olive oil of certified organic production from mountainous and semi-mountainous low yield olive groves of exceptional biodiversity.

Extremely low acidity and very low peroxide value.

AGIOLIA organic extra virgin olive oil is a single varietal olive oil from the famous "Koroneiki" olive variety. The fruit is hand-picked from the cultivators we collaborate with from our chosen "Mountainous olive groves of exceptional biodiversity".

The pressing of the olives takes place within 24 hours, at a temperature below 27 °C, at a contemporary two phase oil mill of low environmental burden. Laboratory qualitative tests are immediately carried out by an independent accredited laboratory in Athens, to verify that the specific batch can be labelled as AGIOLIA organic ultra premium olive oil.

Once the analysis attest to the quality, the olive oil batch is stored in stainless steel tanks, in a cool and dry environment, in a collaborating certified bottling plant of the region. The bottling takes place within 30 days, under strict supervision from the Production Engineers office with which we collaborate.

The strict specifications for harvesting, milling, storing and bottling guarantee that the AGIOLIA extra virgin olive oil has a very low acidity, which reaches below 0.30%. Furthermore, the low peroxide value, below 8 mEqO2/kg, proves that the AGIOLIA extra virgin olive oil has not undergone oxidation or other alterations.
60461
Huiles
Ecocert
Espagne
Olive
2020-02-10
2019-05-21

Description

: Aceite de oliva virgen extra ecológico, disponible en botella de 500 ml. y garrafa de 5 litros.
91243
Huiles
Control Union
Ukraine
Tournesol
2020-12-31
2019-05-14

Description

: 100% Expeller Pressed High Oleic Sunflower Oil (RBWD/Crude). Oleic Accid - 75-85%. Ukrainian origin. The best decision for frying and cooking. The shipment is possible as in bulk, so in 1,3,5L PET bottles, bag-in-boxes, IBC's totes, Drums etc.
91388
Huiles
Other
Canada
Tournesol
2020-12-12
2019-05-14

Description

: NOP/COR/EU Certified Organic (Certifier: Pro-Cert) High Oleic Sunflower Oil

ORIGIN: Canada

Contact us for full specifications.
91389
Huiles
Other
Canada
Colza
2020-10-09
2019-05-14

Description

: NOP/COR/EU Certified Organic (Certifier: Pro-Cert) Canola / LEER Rapeseed Oil

ORIGIN: Canada

FFA: 0.5%
Phosphorus: <3PPM
PV: <0.1 meq./kg

Contact us for full specifications.