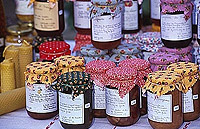 Find sellers of organic Commodities
The Greentrade Directory
Click on the offer number to view the company's information.
To obtain the company's e-mail addresses you need to subscribe our services or please contact us at Tel.: +33 1 47 50 02 73
Fax : 33 1 47 50 28 67
Offer N°
Category
Certification
Product
8762
Commodities
Other
Sugar

Description

: organic sugar
8750
Commodities
Other
Sugar

Description

: Our Organic Whole Cane Sugar is a pure, wholesome, unrefined and unbleached sugar. The sugar is obtained through the evaporation and the concentration of the cane juice which gives it a golden brown color. It contains essential minerals and vitamins such as Calcium, Potassium and Magnesium. It's after all a very healthy alternative as a source of energy.
8729
Commodities
Other
Coffee & substitutes

Description

: Siamo una piccola realtà artigiana che si preoccupa di selezionare e tostare caffè da oltre 55 anni. Mio nonno cominciò nel 1948 e da allora non abbiamo mai interrotto questa tradizione giunta alla terza generazione...siamo quelli che vengono chiamati caffettari e ne siamo orgogliosi. In 55 anni di storia non abbiamo mai voluto aumentare le nostre dimensioni, produciamo qualità ampiamente descritta, non vogliamo conformarci all'attuale inflazionato mercato del caffè....forse siamo dei teorici, dei cultori. Offriamo selezioni di caffè miscelati ed in singola origine, offerta che varia mensilmente per poter dare una proposta alternativa alla clientela mantenendo sempre un prodotto fresco. La freschezza è una delle nostre armi migliori: il caffè esprime il meglio di sè tra i 7 ed i 20 giorni dalla tostatura e noi ne siamo sempre dentro. A noi non è mai interessato diffondere il nostro marchio, noi preferiamo essere riconoscuiuti ed apprezzati dalla nostra clientela, è la soddisfazione che cerchiamo. Noi crediamo nel giusto valore delle cose, amiamo dire di avere una politica di prezzo trasparente, garantiamo alla nostra clientela prezzi costanti nel tempo (attualmente garantiamo il prezzo fino al dicembre del 2004). Detto questo, ci offriamo come potenziali fornitori. Siamo certificati da ICEA, la nostra miscela biologica si chiama Biodoro: Abbiamo studiato una miscela che possa offrire una raffinata bevanda ad un consumatore esigente. Rivolta ad un pubblico che non è soddisfatto nel bere un caffè biologico solo perché tale, ma che cerca un prodotto che possa soddisfare le esigenze gustative e olfattive tipiche di un ottimo espresso italiano. Riteniamo che Biodoro abbia centrato in pieno il nostro obiettivo: un caffè biologico è anche un ottimo caffè!
8661
Commodities
Argencert
Tea

Description

: organic tea (blends)
8592
Commodities
Control Union
Sugar

Description

: ORGANIC BROWN CANE SUGAR SOFT ORGANIC BROWN CANE SUGAR CRYSTAL
8556
Commodities
Soil Association Certification Ltd
Sugar

Description

: We are importing Organic Cane Sugar direct from Cuba and Colombia. It is very pale in colour, and a small granule. This makes it ideal for manufacturers, as it dissolves easily without colouring the product. We also offer Organic Icing Sugar, which is produced from the Organic Cane Sugar.
8445
Commodities
Bcs-oko Garantie Gmbh
Cocoa, chocolate

Description

: Cocoa beans, Cocoa butter, Cocoa licor, Cocoa powder in organic and biodynamic certification quality
8406
Commodities
Ecocert
Tea

Description

: Lemon Grass Tea/ Oil Citonella Oil Rosemary Oil Geranium Oil Chanomile Tea/oil
8381
Commodities
Other
Tea

Description

: FOR THE FIRST TIME IN THE WORLD SUCH A BIG ORGANIC TEA MOVEMENT HAS TAKEN PLACE (single estate 1millionkg., also we have already started converting another of our Assam T.E., Belseri towards Organic which produces at present also approx. 1million kgs of black tea) SECONDLY FIRST TIME ORGANIC TEA IS PRICED AT PARITY WITH CONVENTIONAL TEA PRICES TO GENERATE VOLUME BUSINESS & SPREAD THE AWARENESS FOR PURE PESTICIDE FREE TEA. our company goal is to take this product to the masses. We have successfully converted this whole garden to organic farming, meaning no usage of pesticides, chemicals, weedicides etc. & simultaneously NOT LOST CROP & NEITHER HAVE WE INCREASED OUR COSTS. This has been a tremendous finding in the world of agriculture. Basically we use various herbal extracts in liquid form diluted with water, which are sprayed on the tea bushes. We also tried it in tobacco fields & wheat crop, barley, spices, flowers etc. & there also the yield has increased & the size of the crop has drastically increased. For this reason we can price our Organic Tea at the same level as non-organic teas. We guarantee the best offer price for organic tea in the world. We can offer consumer pack of 100gm, 250gm & 25tea bags & 100gm. (handmade paper/100% recyclable) gift boxes also. We are also open to private labels & are looking for partners worldwide to market this new product. In the same Organic Methodology we have already started converting another of our Assam Tea garden, Belseri T.E. which also annually produces 1million kgs. We have tested our Jalinga Organic Teas for pesticide residue at Eurofins Laboratory in Germany & it complies with the EU norms for Organic Teas. We can offer Bulk Loose Organic Assam Tea at USD 2.00/kg. FOB Calcutta, India. We can also submit the Eurofins Lab. Testing report for Organic Tea. We do Private Labels also. Hope to hear from you soon on your inquiry of Organic Tea supply. Please visit us at www.naturorganictea.com for organic tea inquiries Also you can look up our company site www.kmanibhai.com for our business profile. Best Regards Ketan Patel For K. Manibhai & Co. 229 A.J.C. Bose Road, 3rd Floor Crescent Towers Calcutta-700020 West Bengal, INDIA Ph: +91-33-22808294/95/80, 22808524/22874048 FAX : +91-33 22808525 Email: kmco@vsnl.com Website: www.kmanibhai.com www.naturorganictea.com info@naturorganictea.com
8278
Commodities
Imo
Tea

Description

: We represent an IMO Germany certified Organic Tea Factory in India that produces CTC Organic Tea. The Tea is cultivated organically by a group of growers, without using chemical or hazardous materials as per IMO Germany specifications. The Tea brewed of these Organic Tea leaves is refreshingly tasty. We are in a position to supply Organic Tea.
8277
Commodities
Imo
Tea

Description

: Our company is an enterprice involving tea growing, processing and marketing.It is one of the earliest and leading organic tea producer in China, with 530 hectares of tea plantaitons and 6 processing factories.Gotten the IMO,USDA,OFDC and OFRDC certification,our products have been exported far USA,Australia and other tea- consuming countries.
8275
Commodities
Ecocert
Coffee & substitutes

Description

: Organic coffee produced under shade, 1550 m over the sea level. Washed Arabic Coffee
8244
Commodities
Instituto Biodinamico
Coffee & substitutes

Description

: arabica coffee
8209
Commodities
Organic Crop Improvement Association (ocia)
Coffee & substitutes

Description

: ORGANIC GENUINE GALAPAGOS COFFEE Cantidad 400 bags of 46 kilos net Origen : Islas Galapagos
8208
Commodities
Control Union
Coffee & substitutes

Description

: We offer SKAL certified orgainc Coffee both ARACICA and ROBUSTA. we can supply any required quantity based on your requirement. Thanks and please write us for more information.