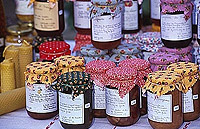 Find sellers of organic Commodities
The Greentrade Directory
Click on the offer number to view the company's information.
To obtain the company's e-mail addresses you need to subscribe our services or please contact us at Tel.: +33 1 47 50 02 73
Fax : 33 1 47 50 28 67
Offer N°
Category
Certification
Product
8724
Commodities
Control Union
Tea

Description

: Our Brand name OPLINC- Nature's Cup tea is Fair Trade Certified by Transfair Canada and 100% Organic Tea from (Ceylon) Sri Lanka. Our tea is certified organic and has the following International Certifications: a) SKAL - Netherlands NOP Certification and carries the USDA Logo. b) SKAL - Netherlands EU Logo. c) NASAA - Australia for JS - Japanese Certification, d) IMO - Switzerland and
e) OF & G - U.K. f) Bio Terrorism Certification for USA. Our tea comes in enveloped tea bag packs in the following varieties Earl Grey Tea, English Breakfast Tea, Pure Ceylon Tea (Black) and Green Tea. We offer Enveloped Tea bags in pack sizes of 10 tea bags, 25 tea bags and 50 tea bags. We also have Loose Leaf tea Black Tea and Green Tea in 125g pack. Our enveloped string and tag tea bags do not have the Metal Staple. To guarantee 100% Pure Ceylon Tea to our customers, our tea packs are "Tear Tape Sealed" and packed at an ISO 9001:2000 certified factory. We can also supply certified organic black tea and green tea Chinese method and the Japanese Sencha method, in bulk. We also pack under your own private label and can supply Single Estate Teas. We can supply 100% organic tea with Organic Flavor or Natural Flavors - 95/5 rule. Please visit our website: www.organicteacup.com or write to info@organicteacup.com
9412
Commodities
Control Union
Cocoa, chocolate

Description

: cocoa in bulk
9378
Commodities
Instituto Biodinamico
Coffee & substitutes

Description

: The Gourmet Splendidus Coffee is 100% Arabic Biodinamic. It is produced in the region of Alta Mogiana( Rural area of Sao Paulo State), well-known for its high quality coffee, wich is appreciated throughout the world.
9314
Commodities
Organic Crop Improvement Association (ocia)
Coffee & substitutes

Description

: Developer and importer of certified organic and fair trade coffees from Central Amerca, South America, Caribbean, Indonesia,Africa Swiss Water Decaf.
9288
Commodities
Imo
Tea

Description

: We are producer and exporters of Darjeeling and Assam Teas both conventional as well as Organic. Orthodox Black Tea / Green Tea / CTC Tea / OOLONG Tea / WHITE TEA
9262
Commodities
Nasaa
Tea

Description

: Nepal organic Green Tea Nepal Organic Black Tea Nepal Organic Tea Bags Nepal Organic Additives/Spices Tea/Tea Bags Nepal Organic Gift Packets
9188
Commodities
Instituto Biodinamico
Coffee & substitutes

Description

: The IAO is a 100% arabic coffee produced in the Alta Mogiana region, in the North of São Paulo state/ Brazil. This is a privilegied region for coffee cultivation thanks to the ideial climate, height and soil conditions, wich results in a worldwide coffee recognized for its speciallly unique flavor. IAO coffee is totally free of agrotoxics and made only with the best selected beans. It has more vitality than conventional coffee, besides a great respect for the environment, and human health.
9004
Commodities
Letis S.a.
Sugar

Description

: Organic Granulated Dehidrated Raw Brwoun Sugar
8963
Commodities
Instituto Biodinamico
Coffee & substitutes

Description

: I am a productor/dealer interested in selling organic coffee to EU.
8928
Commodities
Ecocert Belgium Sprl / Bvba
Coffee & substitutes

Description

: Organic coffee Jas miembro de la Association organic standart
8895
Commodities
Bio Inspecta Ag
Sugar

Description

: Raw cane sugar Unrefined whole cane sugar
8764
Commodities
O.i.a.
Sugar

Description

: Argentbio is exclusive commercial agent for Santa Lucia mills offering a high quality organic sugar for international markets
8762
Commodities
Other
Sugar

Description

: organic sugar
8750
Commodities
Other
Sugar

Description

: Our Organic Whole Cane Sugar is a pure, wholesome, unrefined and unbleached sugar. The sugar is obtained through the evaporation and the concentration of the cane juice which gives it a golden brown color. It contains essential minerals and vitamins such as Calcium, Potassium and Magnesium. It's after all a very healthy alternative as a source of energy.
8729
Commodities
Other
Coffee & substitutes

Description

: Siamo una piccola realtà artigiana che si preoccupa di selezionare e tostare caffè da oltre 55 anni. Mio nonno cominciò nel 1948 e da allora non abbiamo mai interrotto questa tradizione giunta alla terza generazione...siamo quelli che vengono chiamati caffettari e ne siamo orgogliosi. In 55 anni di storia non abbiamo mai voluto aumentare le nostre dimensioni, produciamo qualità ampiamente descritta, non vogliamo conformarci all'attuale inflazionato mercato del caffè....forse siamo dei teorici, dei cultori. Offriamo selezioni di caffè miscelati ed in singola origine, offerta che varia mensilmente per poter dare una proposta alternativa alla clientela mantenendo sempre un prodotto fresco. La freschezza è una delle nostre armi migliori: il caffè esprime il meglio di sè tra i 7 ed i 20 giorni dalla tostatura e noi ne siamo sempre dentro. A noi non è mai interessato diffondere il nostro marchio, noi preferiamo essere riconoscuiuti ed apprezzati dalla nostra clientela, è la soddisfazione che cerchiamo. Noi crediamo nel giusto valore delle cose, amiamo dire di avere una politica di prezzo trasparente, garantiamo alla nostra clientela prezzi costanti nel tempo (attualmente garantiamo il prezzo fino al dicembre del 2004). Detto questo, ci offriamo come potenziali fornitori. Siamo certificati da ICEA, la nostra miscela biologica si chiama Biodoro: Abbiamo studiato una miscela che possa offrire una raffinata bevanda ad un consumatore esigente. Rivolta ad un pubblico che non è soddisfatto nel bere un caffè biologico solo perché tale, ma che cerca un prodotto che possa soddisfare le esigenze gustative e olfattive tipiche di un ottimo espresso italiano. Riteniamo che Biodoro abbia centrato in pieno il nostro obiettivo: un caffè biologico è anche un ottimo caffè!