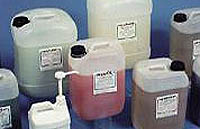 Buy organic Cleaning & hygiene in a sustainable way
Offers to sell
To obtain the company's identification, click on the offer number.
Offer N°
Category
Certification
Origin
Product
Validity
Date offer
83088
Cleaning & hygiene in a sustainable way
Other
Turkey
Professional cleaning & hygiene
2023-02-02
2020-09-25

Description

: Our company is an Istanbul based manufacturing company which was founded by the engineers who like chemistry as a profession in 1994 to produce hygienic industrial products which are indispensable elements for healthy living and offer related technical services.
64240
Cleaning & hygiene in a sustainable way
Other
Philippines
other Cleaning & hygiene in a sustainable way
2022-02-10
2020-09-08

Description

: DNAMAXX Enzymes are purely organic and biodegradable that makes it 100% environmentally and ecologically friendly. It is 100% safe to humans, animals, plants, marine life and the soil. Guaranteed safer, cheaper and more effective substitute to Chemical Deodorizers, Sanitizers, Fertilizers and Resigens utilized in garbage management, agricultural farming and disease fogging operations.

Equally important, DNAMAXX Enzyme is a DISEASE BUSTER, effectively destroying the larval stage of insects, thus preventing the spread of insect and water borne diseases, containing outbreaks of the following thru intensified clean-up operations at the safest means possible - DENGUE, Malaria, Yellow Fever, Epidemic Typhus, Onchoceriasis (River Blindness), Filiariasis, Dracunculiasis and Sleeping Sickness. Regular use of DNAMAXX Enzyme accelerates the degradation of organic wastes and averts
the excessive build-up of nitrates and phosphorous that pollutes the environment. It can prevent these diseases by reducing water contamination.

BD-CSS believes that we bring the feasible solution to the country's problems in Environmental Management, Agricultural Productivity, Health Consciousness, Solid Waste and Waste Water Management. These solutions should and must be synonymous with economic growth. On the other hand, referring to the DNAMAXX Enzyme Disease Buster, it is unfortunate that DENGUE outbreaks and waterborne diseases throughout the country has reached critical levels with a Seventy-Five Per cent (75%) Increase in recorded cases from the same time the previous year. And even if immediate and decisive action is to be undertaken in resolving the problem - to contain the outbreaks and intensify clean-up operations, the Department of Health (DOH) is to make a thorough assessment of the situation in employing the safest means possible.

BD-CSS is the Distributor of DNAMAXX Enzyme. Other products include the Dengue Buster, Enzol, Micronutri and the Manigo Organic Fertilizer. Orders are delivered within two to three days from time of issuance of a Purchase Order. DNAMAXX Enzyme is an award-winning product – a Grand Winner for the LIKHA AWARD Category of the 2006 UNLAD PILIPINAS AWARDS. Should your good office find interest in this breakthrough product, BD-CSS is willing to demonstrate to you and your technical working group the efficacy and usefulness of our product at your convenience.
98066
Cleaning & hygiene in a sustainable way
Other
Vietnam
Consumer cleaning & hygiene
2025-09-19
2020-07-15

Description

: From Vietanm a range of natural bamboo straws, zero residues, washable and reusable, biodegradable and compostable.
Length 14 cm
Length 20 cm
Length of 20 cm to large diameter for smoothies, granites, smoothies, gazpachois
Length 22 cm
99210
Cleaning & hygiene in a sustainable way
Other
Turkey
Professional cleaning & hygiene
2022-04-22
2020-04-14

Description

: Our company has been established by a purpose and philosophy to bring herbal and natural beauty with innovative and effectice products to our clients. We have our own production facility in Istanbul / Turkey where we develop and produce our natural, botanical and herbal personal care products.

Biofin Cosmetics is an ISO 9001 company, that manufuctures and continously develop innovative products to satisfy our client demands with latest Technologies and in accordance with EU norms, ISO Standarts and Certifications.

We are one of the fastest growing herbal care producers in Turkey, equipped with GMP certifications and health regulations. Combining modern science and herbal Technologies with well known benefits of the botanical World, we constantly strive to deliver our clients with the beautifying benefits of the plants, creating highly effective and safe formulas for body, skin, hair.

Thus we are proud to offer natural therapies with the science of bio-technology.
62565
Cleaning & hygiene in a sustainable way
Ecocert
Spain
Professional cleaning & hygiene
2022-12-15
2020-04-06

Description

: Fabricamos el preciado jabón de Alepo importamos y distribuimos otros productos naturales certificados o con ficha técnica de seguridad como:

Aceite de Argan. Aceite de Nigella Sativa, Manteca de Karité, Arcilla Roja, Barros, Sales y agua del Mar Muerto. Piedra de Alumbre en distintos formatos (piedra, polvo y pulverizable) Agua de rosas de Damasco, agua de Azahar..

También contamos con productos naturales elaborados: Leche corporal de aceite de Sésamo y Manzanilla, Jabón Negro de Hamman , Champú y Gel para distintos tipo de cabellos, Jabones líquidos fabricados en frió y Certificados Bio.

Otros productos de nuestra firmas son: Guantes de Lufa, y Hamman (para aplicación del jabón negro) Correa de Lufa y cepillos corporales así como las cajas de artesanía Siria, Jaboneras en mármol y madera natural.

Disponemos de una gama de jabones naturales para el lavado de la ropa a mano o a maquina: Jabón en escamas o líquido, natural o con esencia de Jazmín.

Nuestra Compañía esta innovando en presentación de productos y formulación de nuestra propia línea de cosmética

Trabajamos con tiendas y distribuidores con tarifa especial para el sector.

Nuestras materias las pueden solicitar por Kg o Litros ideales para centros de belleza, Spa o profesionales del sector que deseen formular sus propias cremas y productos,
89510
Cleaning & hygiene in a sustainable way
Bcs-oko Garantie Gmbh
Germany
Consumer cleaning & hygiene
2022-01-20
2020-03-10

Description

: Laundry Liquid sensitive
30–95?°C (85–200 °F)

Available in:
2 litres NET 68 fl oz (US)
10 litres NET 338 fl oz (US)
20 litres NET 676 fl oz (US)

Suitable for white and coloured textiles made from cotton, linen, hemp, and fabric blends.
Suitable for HE washing machines.

Product declaration:
Soap from rapeseed / sunflower oil, certified organically grown 5–15%?
Sugar surfactant 5–15%
Coconut oil alcohol sulphate 5–15%
Vegetable alcohol (ethanol) 1–5%
Sulphated castor oil <1%
Citrate <1%?
Water, swirled up to 100%

List of ingredients as per EC 648/2004:
Aqua, potassium soap*, alkylpolyglucoside C8–16, sodium C8–14 fatty alcohol sulphate, alcohol, sulphated castor oil, potassium citrate
*certified organically grown

Origin and properties of the ingredients: ?
In this liquid detergent, soap, sugar surfactant and fatty alcohol sulphate complement each other, thus intensifying their effect. To obtain the soap, rapeseed / sunflower oil, certified organically grown, is being saponified in a special process of saponification without applying heat from the outside, using potassium hydroxide solution. Soap as an active washing substance uniquely amalgamates all of the properties required for the washing process – the moistening, the dissolving, and absorbing of dirt. Soap is intensified in this effect by the sugar surfactant and fatty alcohol sulphate, which are obtained by the chemical reaction of the purely plant-based raw materials sugar, starch and coconut oil with acids. At the same time this combination neutralizes the soap's drawback, i. e. calcium soap being formed, which may precipitate on the laundry should the softener not have been properly measured. The alcohol which is obtained by fermenting plant-based starch serves to keep the detergent liquid, thus enabling a highly concentrated active washing substance. Sulphated castor oil, also called turkey-red oil, is obtained by castor oil reacting chemically with sulphuric acid. It intensifies the detergents fat-dissolving property.

Special product feature:
Sonett's particularly energy-saving method of saponification, the use of oils and essential oils derived from certified organic cultivation, and its good value for money as far as the washing liquid's washing performance is concerned are the outstanding features of this product.

Certification:
Ecogarantie
CSE
Vegan Society

Technical Data:
Density: (20 °C) ca. 1.02 g/cm³
pH value: (20 °C, 5 g/l H2O) ca. 8.5–9.5
At temperatures below 10 °C, the product changes becoming slightly more solid and whitish; a phase which will pass, however, once the product is exposed to warmth and by shaking it lightly, if necessary. ?

Biodegradability:
Soap made from vegetable oils has one outstanding feature compared to all the other active washing substances, namely that, right after its use, it reacts chemically with the limescale always present in waste water, resulting in calcium soap, thus neutralising its surfactant effect on aquatic organisms (primary degradation). The calcium soap is then, by microorganisms, 100 % degraded into carbon dioxide and water (secondary degradation). Despite the fact that during the manufacturing of sugar surfactants, coconut oil alcohol sulphate and sulphated castor oil, constituents are being extracted from the plant-based raw materials starch, sugar, and fat, they remain completely intact in their natural molecular structure. For this reason it is relatively easy for the microorganisms to 100% decompose these surfactants. Citric acids and their salts are an integral part of plant, animal and human organisms and are, therefore, rapidly and completely degraded into carbon dioxide and water by microorganisms present in nature. ?
Soap, sugar surfactant, citric acid, coconut oil alcohol sulphate, and sulphated castor oil are classified as being readily biodegradable according to OECD guidelines.
Suitable for septic tanks and filtration systems.

Packaging:?
Bottles / cans: PE?
98478
Cleaning & hygiene in a sustainable way
Other
Nepal
Consumer cleaning & hygiene
2022-01-01
2019-12-05

Description

: We are the manufacturer and exporter of handmade felt wool laundry dryer balls from Himalayan country Nepal. Our products are all handmade natural and eco-friendly, made of 100% wool. We are the largest manufacturer of felt products in Nepal . We are exporting felt wool dryer ball and soapnuts to North America, Europe and Japan since 2015.
57562
Cleaning & hygiene in a sustainable way
Soil Association Certification Ltd
United Kingdom
Consumer cleaning & hygiene
2021-12-31
2019-11-04

Description

: Ecosoapia Hand & Body Wash is a range of 100% organic (soil association certified) liquid soaps made from the purest natural
ingredients using organic oils and plant extracts. Available in seven scents, all products will smooth and condition your whole
body, whilst being completely free of any chemicals, toxins or harmful preservatives.

As a product which is used regularly, it is essential to use a body wash which helps regain skins' moisture and is kind to skin. The
absence of nasty chemicals that are found in much soap and the subtle scents make Ecosoapia ideal for frequent use. Offered in
minimal packaging, the soaps are an affordable, everyday luxury.

The range includes seven varieties:
- Almond is for those with a sweet tooth. The warm, sweet and sensuous scent is perfect for anytime
- Eucalyptus can be used to clear heads. It will give a lighter and brighter start to the day
- Lavender is the most relaxing scent. Its calming properties will enable a good night's sleep if used before bedtime
- Peppermint is a fresh and clean scent which will help in giving that extra kick in the morning
- Rose Geranium is purifying and calming, the traditionally English scent is the ultimate feminine luxury
- Tea Tree includes antiseptic and antibacterial oil which will wash away all germs whilst leaving skin soft and smooth
- Unscented is for those with especially sensitive skin. Free from essential oils, it will keep skin silky without giving any
irritation

Ecosoapia uphold their environmentally friendly philosophy by using minimal packaging and donating 10% of all profits go to
Iracambi (registered charity) to help conserve the rainforest. Ecosoapia has also been included in the 'Good Shopping Guide'
which only promotes ethical products and companies.
76523
Cleaning & hygiene in a sustainable way
Other
India
other Cleaning & hygiene in a sustainable way
2020-10-10
2019-06-05

Description

: Soapnuts are highly-effective and gentle at the same time. It will leave your laundry fresh and clean and compared to other detergents, its mildness will keep colours bright, maintaining fabric structure of your clothes for longer periods. It can be used on all fabrics and at all temperatures. It is a 100% substitute to normal detergents.
Soap nuts are allergy-free and hence are good for your skin especially good for babies, eczema and sensitive skin. This chemical free product is excellent for washing children's clothing. Soapnuts are Hypoallergenic. They are naturally antibacterial and antifungal and very gentle on the skin.
Washing your skin regularly with soapnuts can also help prevent many skin diseases and is gentle enough to look after your skin. The chemicals in detergents are absorbed through the skin and into the blood stream. In comparison, soapnuts are a 100% natural product.
70928
Cleaning & hygiene in a sustainable way
Other
India
Professional cleaning & hygiene
2020-03-02
2019-04-03

Description

: VERDURE HERBALS is the largest exporter & supplier of Soapnut shells fine powder which is 90% water soluble & used as Eco-Friendly washing detergent
72920
Cleaning & hygiene in a sustainable way
Other
India
Professional cleaning & hygiene
2020-06-12
2019-02-25

Description

: 100% organic solutions for cleaning and sanitizing. CLEANECO is completely organic multi-purpose cleaner with unique 3 - in - 1 formula, with cleansing, deodorizing and insect repellence properties. CLEANECO is completely safe, ecofriendly and is an excellent replacement of hazardous and unsafe chemical cleaners, bleaching agents and allergic insect repellents
72047
Cleaning & hygiene in a sustainable way
Other
USA
other Cleaning & hygiene in a sustainable way
2020-02-01
2018-12-12

Description

: Freshana's® fully organic Air Purifier eliminates odors instantly!

It is completely safe for kids, adults and pets. It doesn't mask odors like the harsh or "scented" products on store shelves. It actually gets RID of odors, and leaves you with an odor-free, toxic-free, environment. Saving you time and money!

The Freshana Air Purifier that you are looking at right now is revolutionizing industries: hotel, manufacturing, and, soon, the oil industry – and you can have all three industries right in your own home or small business – and you can have it all in one aerosol can.

You think there may be an odor too strong for our Freshana Air Purifier? It eliminates the worst of the worst: fish, urine, feces, bodies, pets, ammonia, food, cigarette and cigar smoke – you name it! Our Air Purifier can turn a smelly room or house into a place that is as fresh as the great outdoors in seconds – and do it organically.

Freshana® is the ONLY patented, all-natural, food-grade, 100% organic, complete odor remediator in the world!

Case of twelve 14-ounce or 2.5-ounce cans.
83296
Cleaning & hygiene in a sustainable way
Other
Brazil
other Cleaning & hygiene in a sustainable way
2019-08-30
2018-01-18

Description

: Organic Technology Company, green chemistry, produces blends with objective is to develop natural and biodegradable cleaning products - compared to the chemicals present in the current market
66505
Cleaning & hygiene in a sustainable way
Other
Canada
other Cleaning & hygiene in a sustainable way
2019-02-20
2017-10-04

Description

: Certified organic mint and lemon: Antiseptic, anti-viral, promotes micro-circulation. Stops bad breath.

Without fluor, sulfates, gluten, paraben, SLS (Sodium Lauryl Sulfate) or other chemicals.
66340
Cleaning & hygiene in a sustainable way
Other
India
Consumer cleaning & hygiene
2018-08-14
2017-01-16

Description

: We manufacture a range of Soaps, creams, scrubs and lip balms high up in the Himalaya's. Sustainably manufactured using the classic cold process method. Each bar of soap is hand cut and for two months cured in the pure himalayan air and individually packed. No artificial color or preservatives.