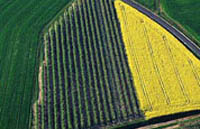 Buy organic Products for organic farming
Offers to sell
To obtain the company's identification, click on the offer number.
Offer N°
Category
Certification
Origin
Product
Validity
Date offer
78313
Products for organic farming
Ecocert
France
Fertilizers
2020-10-08
2019-10-10

Description

: Nouveau fertilisant organique à base de plumes fraîches (non hydrolysées),stérilisées mécaniquement...procédé breveté.Riche en azote (11-3-2), ce fertilisant se présente sous forme de granulé .
Je recherche actuellement des distributeurs
89654
Products for organic farming
Other
Great Britain (UK)
Other products for organic farming
2020-01-01
2019-09-12

Description

: phytalex
INCREASE MECHANISMS of NATURAL RESISTANCE

Nutritional product with specific formulation that acts on physiological processes of the plant and allows to remain strong even in case of presence of phytopathogenic fungi (Mildew, Scab, Fusarium,Alternaria, Esca disease) that cut down the efficiency of foliar, vascular and productive system. It ensures a rapid vegetative recovery, stimulates the biosynthesis of lignin and olyphenolic compounds; increase the mechanical strength of the tissues. Act on the photosynthetic processes, increase the biosynthesis of sugars and therefore the energy available to the plant, to maintain an high productivity.

A specific and efficient formulation by the Agridaeus Research.

It stimulates the physiological processes of SAR (Systemic Acquired Resistance) that promotes physical strenghtness of plant tissues; It increases the production of lignin and polyphenolic compounds which increase the resistance of plant tissues.
89655
Products for organic farming
Other
Great Britain (UK)
Other products for organic farming
2020-01-01
2019-09-12

Description

: scudo°therm

For the prevention of Frosts, Burns,Cracking and physiological disorders due to water stress

Self-crosslinking biodegradable copolymer. Applied on plants, forms a semi-permeable membrane that regulates the water exchanges between plants and environment. Regulates transpiration preventing dehydration and the appearance of damages on flowers, leaves and fruits. Increase the shelf-life of fruits, leafy vegetables and cutted flowers. A specific and efficient formulation by the Agridaeus Research.
79874
Products for organic farming
Other
Iran
Fertilizers
2022-01-05
2019-08-13

Description

: We can provide vermicompost
59253
Products for organic farming
Other
Philippines
Fertilizers
2020-05-05
2019-08-13

Description

: NATURESBIO ORGANIC FERTILIZER

* FOOD FOR THE PLANTS
MACRO NUTRIENTS – NATURAL NPK, CALCIUM, MAGNESIUM
60 MICRO NUTRIENTS PLUS AMINO ACID
PLANT GROWTH HORMONES(Auxins, Cytokinins, and Giberillins)
PLUS ALGINATES & CARRAGEENAN (Natural Sticker)

* STIMULATES THE PLANTS DEVELOPMENT
> PLANT STIMULATOR
> PLANTS CATALYST UTILIZING SUN ENERGY
> PLANT GROWTH PROMOTER

* SOIL NUTRIENTS
SERVES AS SOIL CONDITIONER
GOOD MICROORGANISM ACTIVATOR
IMPROVES PLANTS ECO-SYSTEM THRU SOIL

* NATURAL RESISTANCE
BACTERICIDAL , INSECTICIDAL ,
PESTICIDAL , FUNGICICAL

FEATURES AND BENEFITS

> EASY AND UNIFORMITY APPLICATION
> NATURAL STICKER QUALITY - ALGINATES & CARRAGEENAN
> EVELOPS SYSTEM ACQUIRED PEST RESISTANCE
> NO OVERDOSE, NO EXPIRATION
> ENVIROMENTAL FRIENDLY , SAFE TO USE
> DETOXIFY THE SOIL
> EASY & FAST DECOMPOSITION
> NO BURNING EFFECT
61609
Products for organic farming
Other
Malaysia
Fertilizers
2020-10-23
2019-06-05

Description

: Our Bio-organic fertiliizer is made of natural resources such as:-

a) Natural mineral contents
b) Enzyme
c) Effluent sludge
d) Palm press fiber
e) Palm kernel shell powder
f) Palm kernel cake

Our production capacity is 2000tonnes per month.
80285
Products for organic farming
Other
Indonesia
Fertilizers
2020-01-05
2019-05-21

Description

: Liquid organic fertilizer :
N = 3.253 %
P = 0.378 %
K = 0.752 %
C-Organic = 12.965 %
C/N Ratio = 3.985

Granular organic fertilizer :
C-Organic = > 13 %
C/N Ratio = 15-25
pH = 4-9
Moisture = 6-12 %
Size = 2-4mm > 85 %
59251
Products for organic farming
Other
France
Fertilizers
2020-03-10
2019-05-21

Description

: TIFI est un produit contenant des spores (conidies) et du mycélium de champignons vivants non génétiquement modifiés habitant les milieux tempérés.

Le Trichoderma atroviride MUCL45632 est un champignon qui exerce son action principalement dans la rhizosphère : amélioration de levée des graines, amélioration de croissance, assainissement des sols et supports de culture et réduction de l'impact des infections (antagonisme vis-à-vis de champignons pathogènes du sol: Armillaria, Rhizoctonia, Sclerotinia, Fusarium, Phytophtora, Botrytis). Le champignon permet aussi de protéger les blessures de coupe et de taille en les colonisant temporairement. La souche sélectionnée se distingue par sa stabilité dans le sol et les supports de culture, sa grande adaptabilité à l'environnement et sa reproductibilité élevée. Le tout se traduit par une action plus rapide et plus efficace ainsi que par une plus grande persistance, grâce à sa capacité à vivre en occupant la rhizosphère et en colonisant le cortex radiculaire des plantes herbacées ou ligneuses.
90592
Products for organic farming
Certification And Testing Centre
Latvia
Fertilizers
2020-07-27
2019-05-14

Description

: A company from Latvia is offering a tested biological fertilizer for farms. The product is ash from wooden chips, containing many minerals (listed in files attached) that are essential for enriching the soil and improving amount and quality of crop.
The product is packet in bags as seen in picture attached, each containing 1 ton of fertilizer.
If you are interested, we would be happy to inform you more about the prices, available amounts and any other questions arisen.

With best regards,
Artis Lieljuris
91589
Products for organic farming
Other
Ukraine
Fertilizers
2020-01-01
2019-05-14

Description

: Organite-is organic fertilizer. Reach content of humic acid and organic material.
80288
Products for organic farming
Ekoagros
Lithuania
Fertilizers
2020-04-25
2019-04-17

Description

: bio-organic input, extract of vermicompost tea with prolonged expiry date, suitable for industrial applications
81273
Products for organic farming
Other
USA
Fertilizers
2020-04-15
2019-03-27

Description

: supply humic acid , potassium humate.sodium humate, fulvic acid, potassium fulvate,organic manure ,water solube fertilizer,
97439
Products for organic farming
Other
Ukraine
Seeds
2020-01-01
2019-03-26

Description

: We offer 420 tons of BLACK MUSTARD certified with EU and NOP certificates.
Packed in Big-bag.
Price: 1200 Euro per ton on FCA conditions.
Ready for delivery
63507
Products for organic farming
Ceres
Bulgaria
Fertilizers
2020-12-31
2019-03-25

Description

: Physico-chemical and biological analysis Certificated BG-BIO-04
dry matter/ >25%
humidity/ >45% - 60%
organic matter/ >55
pH 7-8,5
total N, on dry matter base/ <2%
total C/ 20 - 27
waterable N-NH4 natural humidity/<2 %/mg/kg
63511
Products for organic farming
Ceres
Bulgaria
Fertilizers
2020-01-20
2019-03-25

Description

: EKO- BG Ldt. was established in 2007. Main activities are production of organic fertilizer by processing manure from cattle in worm composting technology and wholesale trade of red Californian worm /Eisenia Foetida/ in propagating material.
EKO – BG Ltd is one of the founders of the Association Agro Bio World I 2010, uniting 30 farms from Bulgaria and associated members from Latvia "Latvijas Slieku audz?t?ju asoci?cija" Turkey and AC Grup Ltd.
EKO-BG has sales on the Bulgarian market for farmers who produce organic products. We also sell propagating material throughout the country. The export of organic manure and planting material is through the association. EKO –BG Ltd. has a contract with AC Grup Ltd. Turkey for exclusive representation in Turkey and the Middle East for organic fertilizer / Biohumus /. The company is certified from CERES in Reg. EC 834/2007 (resp. EU) NOP and JAS.
Annual production of the farm is more than 10 000 cubic meters of organic fertilizer,according to preliminary contracts with members of the association.