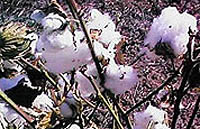 Find sellers of organic Textile
The Greentrade Directory
Click on the offer number to view the company's information.
To obtain the company's e-mail addresses you need to subscribe our services or please contact us at Tel.: +33 1 47 50 02 73
Fax : 33 1 47 50 28 67
Offer N°
Category
Certification
Product
41601
Textile
Control Union
other Textile

Description

: different clothes fabrics etc...
41600
Textile
Control Union
Fabrics

Description

: knitted and woven
41599
Textile
Control Union
Clothes

Description

: T-Shirts
41500
Textile
Other
Clothes

Description

: We(Shanghai Fashionorganic) are professional for rganic clothing and Fabric including Organic cotton clothing,Bamboo clothing,Hemp clothing and Soybean clothing.We can make your labe with your design at good quality.
40978
Textile
Control Union
Fabrics

Description

: offers 100% Organic cotton yarn dyed, piece dyed and printed fabrics
40977
Textile
Control Union
Clothes

Description

: Offer 100% Organic cotton Baby, men\'s and women\'s wear
40401
Textile
Other
Fabrics

Description

: We would like to introduce our company to you we are a company based in India. SMAIMEX is an International manufacturing House that specializes in high fashion ladies apparel, Men's and Children's wear ranging from casual outfits to formal evening wear,Terry Towels and Hand cloths from organic cottons.
39871
Textile
Soil Association Certification Ltd
other Textile

Description

: Raw wool 25 micron 10000kg
23361
Textile
Control Union
Fabrics

Description

: We undertake manufacturing of 100% cotton organic fabrics as per the specification provided by our customers.
39715
Textile
Other
Fabrics

Description

: We are certified by FLOCERT GERMANY for Manufacturing of 100% cotton FAIR TRADE woven fabrics
39716
Textile
Other
other Textile

Description

: We are certified by FLOCERT GERMANY for the manufacturing of FAIR TRADE aprons and cotton bags
23360
Textile
Control Union
other Textile

Description

: We are manufactureres of 100% organic COTTON BAGS,FACE TOWELS,TEA TOWEL,KITCHEN TOWELS,BED LINENS & PILLOW CASES.
39639
Textile
Control Union
Clothes

Description

: we are manufacturing the organic textile
38043
Textile
Control Union
Fabrics

Description

: Home Textiles
37935
Textile
Control Union
Clothes

Description

: Company Profile
Sree Apparexpo is Organic Cotton Apparel buying Office located in the Textile city of India, at Salem. We have proven our selves as an innovative and consumer focused efficient player in the knitted garment / Home textiles industry, through consistent better designing and concentration on quality aspects.
We have excellent technical team experts in design and production to transform a top-end design into a popular commercial product with a high-perceived value.
Mr.Shankar (Textile & Fashion Technologist) -- Who has more than 12 years of sound knowledge & experience in Garment industry and exports has been the driving force for our customer's success.
Products:-
1. 100% Organic Cotton Knitwear Garments Division.-- Skal Certified Goods
2. Home Textiles Division--100% Organic Cotton

Knitwear Products:

We fabricate all kinds of knitted garments keeping in mind the tastes and preferences of our clients. We ensure that the fabric will of the finest quality and a lot of emphasis is laid on the designs, color and strength of the fabric.


Fabric Types:

Single Jersey, Interlock, Ribs, Pique, Jacquard, Auto strippers, Waffle, Thermal, Fleece, Terry, Velour, 2 Track rib, 4 Track designs, Pointels, Stripes. In Cotton - P/C, P/V - Lycra, Viscose, Polyester, Modal, Grindle, Acrylic, Lurex, All type of Elastane Fabrics etc.
Kids Wear
• Tees
• Polo\'s
• Jeans
• Shirts
• Graphic Tees
• Skirts & Skorts • Underwear
• Hooded Tees
• Shorts
• Active Wear
• Underwear
• Outerwear
Mens Wear

• Polo Shirts
• Golf Wear
• T-Shirt
• Sleepwear
• Shirts
• Tank Top
• Vest
• Night Shirt
• Hooded Shirt
• Track Suit
• Pull Over
• Pyjamas
• Bermudas
• Boxer Shorts
• Pants
• Jeans
• Bikini Brief
• Inner Wears

Ladies Wear

• Turtle Neck
• Scoop neck
• Singlet
• Apron
• Sleeveless Top
• Swimwear
• Pullover
• Lycra Tees
• Tank tops
• Pyjamas
• Nighty
• Jog Suits
• Polo Shirts
• Golf Wear
• Athletic Wear
• Spandex Thongs
• Hi-Cut Panty
• Swim Wear
• Blouse
• Hooded Pullover


Newborn Boy/ Girls
• Baby Romber Printed And Plain
• Bodysuits Printed And Plain
• Tees • One-Pieces Printed And Plain
• Tops & Pants
• Sleep Wear

Finishing of Garments:

Value addition on textile is a vital part of our focus on customer satisfaction. In this regards we have some kind of value added finishing process. Our fabrics are quality oriented & not contain any hazardous chemicals.
• Yarn Dyed, Biopolishing, Stone wash, Peach Finish, Silicon Wash, Acid Wash, Single Dyeing / Double Dyeing, Tie and Dye, Garment Dyeing Etc..,
Garment Printing
• Flock Derivative Printing, Pigment Printing, Foil Printing, PVC/Non PVC Printing, Radion Printing, Emphasing Printing, etc.
Embroidery:
Machine Embroidery / Applique Embroidery / Felt Embroidery / Chenille Embroidery / Sequence embroidery / Hand Embroidery.
Vendor Strength:
Having 14 Vendors – Produces High Quality Garments with Competitive Prices.
Each Factory Manufacturing Capacity – 50,000 Pcs/ Month.
Each Factory has Minimum Turnover in Value of 12, 00,000 Usd/Annum.
Capacity: Handling 1, 00,000 Pcs/ Month in Knitted garments.
Home Textile Division:
Table Cloth, Napkins, Placemats, Runners, Cushion Cover, Pillow Covers, Bed Spreads, Curtains, Kitchen Towels, Aprons, Oven Mitts, Pot Holders, Bread Baskets, Floor Rugs, Throws, Mattress, Chair Cushions, Chair Pads, Running Length Fabrics and other Made - Ups
Current Customers:
Acko A.S – Slovakia , Fit 4 U – U.S.A, Bueckle Company – Germany, Sodi Rep Textiles – France, Alsico – Belgium, Marco—U.S.A,
Business Practice:
Briefing the supplier
Prototype and sample production.
In-house quality check, at our end:
Client\'s approval:
Mass production starts, in batches
Further production completed
Packed and dispatched
Status Reporting
Container Stuffing and Loading Supervision
Documentation and Shipping Co-ordination
Laboratory Testing

Assists on Buyers visit :-
We work as your extended arm in India. We accompany our buyers on their buying visits, factory visits and inspection visits. We help you on your accommodation and everything during your visits.

All this at a cost which is actually a saving for buyers! Yes, we reduce the cost of buying, cost of achieving required quality and cost of assuring deliveries. And, our customers get to know new developments, new products and new supply base from this part of the world.
We are very sure that we can serve you better and we always are on a learning process trying to improve the process further.