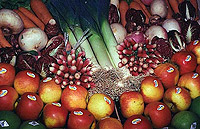 Find sellers of organic Fruit & vegetables
The Greentrade Directory
Click on the offer number to view the company's information.
To obtain the company's e-mail addresses you need to subscribe our services or please contact us at Tel.: +33 1 47 50 02 73
Fax : 33 1 47 50 28 67
Offer N°
Category
Certification
Product
73278
Fruit & vegetables
Global Organic Alliance, Inc.
Fresh fruit

Description

: ORGANIC VIET with our main industry are production, supply of organic vegetables and fruits which are fresh, natural and clean. We commit about the product quality and the reputation of service, with our purpose is sustainable development in a long term.
Product to export:
Fresh fruit: Hami melon, Yellow melon
Fresh vegetables: MUSTARD GREEN, CURCUMBER, OKRA
, FRENCH BEAN, BITTER MELON, VINE SPINACH,
WATER CONVOLVULUS, FRESH PEPPER, GARLIC
CARROL LETTUCE, etc.

Address: 8M Phan Xich Long Street, Ward 3, Binh Thanh District, HCMC, Vietnam.
Hoc Mon Farm, HoChiMinh Cty, VietNam
Tel: +84 903 113 027
or +84 90 70 222 90
Email: sales at organic dot com.vn
info at organic dot com dot vn
organicviet at gmail dot com
Website: www dot organic dot com dot vn
73485
Fruit & vegetables
Bcs-oko Garantie Gmbh
Frozen fruit or vegetables

Description

: Broccoli is a cool-weather crop that does poorly in hot summer weather. It is usually boiled or steamed, but may be eaten raw and has become popular as a raw vegetable. Broccoli is high in vitamin C and soluble fiber. Broccoli also contains the compound glucoraphanin, leading to an anticancer compound sulforaphane.
73436
Fruit & vegetables
Ecocert
Citrus fruits

Description

: 5000 tonnes de stockage huile d'olive 0.3 BIO
250ml
500ml
750ml
73397
Fruit & vegetables
Other
Exotic fruit and vegetables

Description

:
Apples

We are bulk suppliers of certified organic apples. The organic apple orchards are located high above in the pristine Himalayas where there are no motorable roads. The apples cartons are brought down to the nearby town by mules and then transported to other locations. The place is pollution free with crystal clear air and great views of the Himalayan ranges. The varieties available are Red delicious, Red Golden and Royal.


Apricots


Pears


Walnuts

Walnuts are the kernel of the walnut fruits which are harvested after the pulp had dried away. The bark of the walnut tree is used for cleaning teeth in India and the walnut shell is a common ingredient for facial scrubs in the cosmetic industry.

We are producers of high quality organic products, certified under NPOP, NOP and EU (EC no. 834/07) organic standards. All our products are manufactured under hygienic conditions and are tested according to International standards.They are free from any physical, chemical or biological contaminants
73240
Fruit & vegetables
Imo
Dehydrated fruit or vegetables

Description

: We offer fresh and dried organic fruits and vegetables.

We also offer organic walnuts, apricots, pears and apples (in huge quantities)

Our farms are certified by IMO for NPOP, NOP and EU standards and so is our processing units.
73283
Fruit & vegetables
Other
Fresh fruit

Description

: We procure fresh fruits and vegetables from the growers who practice organic farming and at present supplying the fresh produce to city dwellers.
72595
Fruit & vegetables
Icea Instituto Mediterraneo Di Certificazione
Fresh fruit

Description

: "Sahel Fruits" product in eight regions in Tunisia: Beja, Nabeul, Bizert, Sousse, Mahdia, Monastir, Kairouan and Gabes.

It has 21 farms with 5 vegetable growing
and 16 in arboriculture.

Among the products that we export are cited:

dates
oranges
clementines
figs
Prickly
grenades
Peaches and Nectarines
melons
watermelons
apples
pears
grapes
plums
vegetables
EXTRA VIRGIN olive oil
We produce other vegetables due to a contract and demand for our customers while choosing the period of production and export, which is generally the peak period of production in Europe such as fennel, eggplant, carrot ...
73045
Fruit & vegetables
Other
Citrus fruits

Description

: Pomelos de la variedad star ruby
Naranjas de diversas variedades
Limones de la variedad bernia

Todos ellos con la certificación ecológica
73013
Fruit & vegetables
Icea Instituto Mediterraneo Di Certificazione
Preserved fruit or vegetables

Description

: Organic Legumes in Vegetable Broth in Jars. 360 g
72332
Fruit & vegetables
Other
Other fruit & vegetables

Description

: we are from india. we are cultivating all organic vegetables and jolokia chille. we are selling the vegetables in local market now we are getting to the export market. what are all the vegetables u need give a list we will ready to supply to u.


P.Achudhan
919751989001
72524
Fruit & vegetables
Other
Other fruit & vegetables

Description

: TRADING ORGANIC FRUITS DRIED AND FRESH CANNED
72139
Fruit & vegetables
Other
Fruits purees

Description

: We have frozen prickly pear juice
71868
Fruit & vegetables
Other
Exotic fruit and vegetables

Description

: Our company has around 500 registered farmers who are involving in certified organic farming practices, with an average experience level of 5 years. The total certified land area looked after by our company is around 1500 ha.

The company has been involved in the trading of around 242 certified organic products, involving both cultivation and wild harvest.

Fruits:


Apple Dried/Dehydrated Guavas fresh
Apple juice Kinnow Juice / Concentrate / Squash
Apple Kinnow Juice
Apricot Juice concentrate Kinnow/Mandarin Orange Fresh
Banana dehydrated Lichi/Litchi/Lychee Fresh
banana dried Litchi Pulp
Banana Fresh Mango (fresh)
Banana Pulp Mango juice
banana puree Orange juice
coconut (dried) pineapple
coconut (fresh) Pineapple juice
coconut best candy Pineapple
coconut desiccated Sapota dried/dehydrated
coconut oil cake Sapota fresh (chico)
coconut oil(crude) Strawberries/Strawberry fresh
Grape juice tender coconut
Grapes (Fresh)
71599
Fruit & vegetables
Other
Fresh fruit

Description

: 100% organic table grape
71578
Fruit & vegetables
Other
Fresh fruit

Description

: We are renowned as one of the leading Fresh fruits The Fresh Vegetables, that we provide, are organically cultivated by the experienced farmers in our well-maintained farms. Our Fresh Vegetables are free from pesticides, foreign substances, and impurities and thus are highly demanded by the clients. Furthermore, our Fresh Vegetables are tasty and highly nutritious.