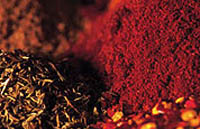 Find sellers of organic Herbs, spices & condiments
The Greentrade Directory
Click on the offer number to view the company's information.
To obtain the company's e-mail addresses you need to subscribe our services or please contact us at Tel.: +33 1 47 50 02 73
Fax : 33 1 47 50 28 67
Offer N°
Category
Certification
Product
57646
Herbs, spices & condiments
Ecocert
Spices, peppers

Description

: Garden Citi Ltd offers the following range of certified Organic Herbs & Spices. We export to various customers worldwide including USA, Germany, France, Australia, Canada and many more. These products are strictly selected and harvested from areas free of chemicals and pollution. Our Organic Herbs & Spices are great for tea, extract, medicinal use, and flavorings.

Organic Angelica
Organic Astragalus
Organic Barley Grass - Powder
Organic Black Cohost – Whole, Broken
Organic Bupleurum
Organic Burdock
Organic Cassica
Organic Chilli – Dried
Organic Codonopsis
Organic Dandelion
Organic Dongquai
Organic Echineacea
Organic Eleuthero
Organic Fennel
Organic Foti
Organic Gentai
Organic Hibiscus
Organic Honeysuckle Flower
Organic Gingko Leaf
Organic Ginseng - Red , White, Root, Tea Cut, Powder
Organic Licorice – Whole, Tea Cut, Powder
Organic Magnolia Flower
Organic Milk Thistle
Organic Mulberry Leaf
Organic Rhubarb
Organic Rose Petals – Buds Powder
Organic Slalvia Root
Organic Schizandra
Organic Siberian Ginseng
Organic Senna
Organic Star Anise –
Organic St. John's Wort
Organic Safflower



Certified Organic : USDA NOP, EC 834/2007
54694
Herbs, spices & condiments
Other
Other herbs, spices & condiments

Description

: Our company can deliver a large quantity of dried species in bulk.
Bulgarian Herb Ltd is an established company, with experience in medicine herbs, herbal products, herbal teas and spices. All the herbs we work with are collected from Bulgarian mountains, as well as other parts of Bulgaria, particularly from selective, proved ecologically clean regions. Bulgaria Herb Ltd is proud to inform you that the priorities of the company are organically grown production, excellent quality and competitive prices.
57490
Herbs, spices & condiments
Other
Other herbs, spices & condiments

Description

: We can deliver 61 different wild-crafted herbs and spices certificated according European regulation 834/2007. The inspection is made by Balkan Biocert, a partner of IMO,CH.All the plants are collected in beautiful clean mountain regions.
We\'ll be pleased to answer your questions or comments.
57199
Herbs, spices & condiments
Organic Growers And Buyers Association (ogba)
Spices, peppers

Description

:

Product Name Botanical Source Name
Alpha Lipoic Acid
Amla // Indian gooseberry Embilica officinalis
Ashwagandha Withania somnifera
Ayurvedic water extracts Contact us
Bacopa Bacopa monniera
Banaba Lagerstroemia speciosa (L.) Pers
Bilberry Vaccinium myrtillus
Borage Oil Borago officinalis
Broccoli Brassica oleracea
Broccoli Sprout Brassica oleracea
Butterbur Tussilago farfara
Cactus Cacti
Calcium Citrate
Calcium Gluconate
CarniBright L carnitine
Chilli Powder Capsicum frutescens
Chromium Picolinate ( 12% )
Chromium Polynicotinate ( 12% )
Chrysin Passiflora coerulea
Cinnamon Bark Cinnamomum zeylanicum
Cnidium Cnidium monnieri
Cocoa Theombroma cacao
Cranberries vaccinium oxycoccos
Cummin Powder Cuminum cyminum
Curcumin Curcuma longa
Curcusol ( water extracted turmeric ) Curcuma longa
DGL deglycyrrhizinated licorice
Diosgenin
Dong quai Angelica sinensis
Ellagic Acid Terminalia chebula
Evodiamine Fructus evodiae
Fennel Seed Powder Foeniculum vulgare
Fenugreek Trigonella foenum-graecum
Fenugreek Powder Trigonella foenum-graecum
Fisetin
Flaxseed (Lignans & ALA) Linum usitatissimum
Flaxseed (SDG) Linum usitatissimum
Garcinia Garcinia cambogia
Geniposide/Safflower Carthamus tinctorius L.
Ginger Zingiber officianale
Glucosamine sulphate 2KCL
gotu kola Centella asiatica
Grape fruit Citrus paradisi
Grape seed Vitis vinifera
Green Coffee Bean Coffea arabica
Green Tea Camelia sinensis
Guggul Commiphora mukul
Gymnema Gynema sylvestre
Honokiol Magnolia officinal
Horny Goat Epimedium L
Huperzine A Huperzia serrata
Indole-3-carbinol
Kalmegh Andrographis paniculata
Kidney Bean Phaseolus vulgaris
Kiwi seed Actinidia deliciosa
Kudzu Root Pueraria lobata
Kutki Picrorrhiza kurroa
L-Carnosine
L-Selenomethionine Selenium
Lutein Marigold
Luteolin
Lycopene Solanum lycoperiscium
Magnesium citrate
Magnolia Bark Magnolia officinalis
Magnolia vine Schisandra chinensis
Mangosteen Garcinia mangosteen
Milk Thistle Silybum marianum
Mucuna Pruriens Mucuna pruriens
Naringin
Neohesperidin Dihydrochalcone
Noni Morinda citrifolia
Organic Spirulina Spirulina platensis
Osthole (Cnidium) Cnidium monnieri
Phlorizin Malus domestica
Policosanol Sugar cane waxes
Pomegranate Rind Punica granatum
Potassium Chloride ( KCL) USP grade
Propolis Bee Propolis
Protodioscin Tribulus terrestris
Psyllium seed & Husk powders Plantago ovata
Red Clover Trifolium pratense
Replenne (Litchi seed) Litchi chinesis
Resveratrol
Rheum Rheum rhaponticum
Rhodiola Rosea
Rosemary Rosmarinus officianalis
Salai guggul Boswellia serrata
Saw palmetto Saw palmetto
Sclareol
Senna Senna alexandrina
Sesamin Sesamum indicum
Shatavari Asparagus racemosus
Shikimic Acid Illicium anisatum
Shilajit Asphaltum puniabiunum
Tindora/ kundru Coccinia indica 10:1
Tribulus (Saponins) Tribulus terrestris
Triphla Emblica officinalis+Terminalia bellirica+Terminalia chebula
Turmeric Powder Curcuma longa
Ursolic Acid Actostrphylos uvaursil
Vitamin K2
57074
Herbs, spices & condiments
Control Union
Spices, peppers

Description

: Ajwain - Whole
Arrowroot Powder
Bird's Eye Chilli - Whole
Black Pepper - Cracked
Black Pepper - Ground
Black Pepper - Whole
Cardamom
Cinnamon - Whole (4" Cut)
Cinnamon - Powder
Cloves - Handpicked
Cloves - Powder
Coriander
Coriander - Powder
Cumin
Cumin - Powder
Fennel
Fennel - Powder
Fenugreek - Yellow
Fenugreek - Yellow - Powder
Ginger - Dried Slices
Ginger - Powder
Green Pepper
Mace
Mace - Powder
Nutmeg - Shelled
Nutmeg - Powder
Red Chilli - Flakes - Hot
Red Chilli - Flakes - Mild
Red Chilli - Powder - Hot
Red Chilli - Powder - Mild
Red Chilli - Whole - Hot
Red Chilli - Whole - Mild
Turmeric - Fingers
Turmeric - Powder
Vanilla Beans
White Pepper - Ground
White Pepper - Whole
57069
Herbs, spices & condiments
Control Union
Spices, peppers

Description

: We produce in dried form, powder, sliced and stick:
1. ginger,
2. turmeric
3. galangal
4. nutmeg
5. mace
6. cinnamon
56826
Herbs, spices & condiments
Other
Spices, peppers

Description

: Certified organic by ONECERT

Our line of spices captures flavours and sensation from all parts of India and bring them straight to your kitchen to guarantee the perfect intense, and pesticide free seasoning of your meal.

Our Spices and Herbs available as 'Whole','Flakes' or 'Ground', as per specifications. Vibrant in Colour, Flavour and Aroma. These Organic Spices and Herbs are amongst the best in the world,cleaned, graded and packed for retail or bulk sales. Our bulk supply comes in vacuum packed bags.
Chilly
Cumin Seed
Fennel Seeds
Coriander
Cardamom
Curry Leaf
Nutmeg
Turmeric
Black / White Pepper
Ajwain
Mace
Cinnamon
Cloves
Yellow/Black Mustard Seeds
56825
Herbs, spices & condiments
Other
Spices, peppers

Description

: Certified organic spices (ONECERT certification)

Indian masala mixes are quick and convenient way to add your favourite spice blends and curry mixes without the hassle of measuring, mixing and grinding the basic ingredients. In our organization blending procedure is done very carefully and also follows all quality management to make the spices mix masala very productive and get original flavour in our daily consuming meals.
Curry Powder
Chicken Masala
Tandoori Masala
Garam Masala
Chat Masala
Chana Masala
36264
Herbs, spices & condiments
Ecocert
Other herbs, spices & condiments

Description

: We are the leading company of exporting organic Chinese traditional agricultural products. Our products are certified by both the EU and US agency ECOCERT for organic products.

We supply:
organic chinese magnolia vine
organic siberian ginseng
organic baikal skullcap root
organic weeping forsythia capsule
organic balloonflower root
organic ginkgo leaf
organic Tilia tuan Szysz
organic Rubus saxatilis L
organic angelica
organic milkvetch root
organic largehead atractylodes rhozome
organic common yam rhizome
organic radix scutellariae
organic radix rehmanniae
organic fleeceflower root
organic toona sinensis
organic heartleaf houttuynia herb
organic fructus corni
organic coptis root
organic valeriana rhizome
mushroom
organic grifola umbellata
organic shiitake
organic black wood fungus
organic poria cocos
56510
Herbs, spices & condiments
Imo
Spices, peppers

Description

: Coriander
Turmeric
Fenugreek
56241
Herbs, spices & condiments
Other
Other herbs, spices & condiments

Description

: Anise, basil, calendula, caraway, chamomile, dill, fennel, coriander, garlic, hibiscus, onion, lemongrass, marjoram, parsley, peppermint, spearmint, rosemary, senna
56240
Herbs, spices & condiments
Other
Spices, peppers

Description

: Spices, coriander, caraway, leek, garlic, parsley, basil, fennel, marjoram.
56239
Herbs, spices & condiments
Other
Garlic, onions

Description

: Dehydrated, flakes, kibbled, minced, powder.
56001
Herbs, spices & condiments
Ecocert Belgium Sprl / Bvba
Other herbs, spices & condiments

Description

: We offer Organic Certified Cinnamomum leaves and bark.Bark is anti-bacterial and anti-fungal. It is used as nervine depressant in case of hysteria, epilepsy, chorea and convulsions. It acts as stimulant for cardiac, circulation and respiration. It is useful in measles, typhoid, whooping cough, asthma, and hiccup. It is also recommended in case of cough, cold, toothache and liver disorders.

We are one of the leading exporters of Organic products. We shall be happy to meet your requirements of organic products.
55596
Herbs, spices & condiments
Other
Other herbs, spices & condiments

Description

: Linden flower tea has been used since the late Middle Ages as a diaphoretic, that is, a medication which promotes perspiration. Linden flower is also recommended as both a nervine (tranquilizer) and a stimulant, two quite contradictory uses. In addition, linden flower is considered valuable in the treatment of , , hysteria, and . Linden flowers were once thought to be so effective in the treatment of that a patient could be cured simply be sitting under the tree.