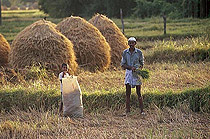 Find sellers of organic
The Greentrade Directory
Click on the offer number to view the company's information.
To obtain the company's e-mail addresses you need to subscribe our services or please contact us at Tel.: +33 1 47 50 02 73
Fax : 33 1 47 50 28 67
Offer N°
Category
Certification
Product
23808
Textile
Control Union
Clothes

Description

: It's pure, fair & fantastic to wear:
"Algodón Nativo"
Imagine the Peruvian Selva, where cotton grows colored and wild without the use of fertilizers or chemical agents. The natural pigmentation of the fibers ranges from white to shades of cream, brown, green and maive. It is renowned especially for its softness and firmness.
Besides ecological considerations, there are a number of good reasons for
selecting from our present collection. Not the least of which is the possibility
of participating in direct developmental assistance, as all stages of production are 100% fair made in Perú.

Certificated by GOTS
40209
Cereals & derived products
International Certification Services Inc.
Cereals (wheat, corn, barley, spelt wheat)

Description

: Certified Organic Barley
Certified Organic Hard Red Spring Wheat
Certified Organic Soybeans
Certified Organic Brown Flax
40210
Cereals & derived products
International Certification Services Inc.
Rice, buck wheat, oats, rye, various

Description

: Certified Organic Rye
Certified Organic Oats
52980
Raw materials & supplements
Ecocert
Raw materials for cosmetics

Description

: DIFFUSIONS-ORGANIQUES stock is composed of organic raw materials as Essential oils, Vegetable Oils, Butterplants and Floral waters.

All certified by ECOCERT
Contact us for any request!
No minimum quantities and stock available on more than 100 organic references.
Sandalwood organic.
Italian oils
Madagascar products
Nepalese oils
Bulgarian oils
French , Spain and many more
58502
Cosmetic products
Other
Body care

Description

: We present you an unique offer of a true Croatian bio organic -cosmetic products- oils for body care and professional massage usage in wellness centers. Our guiding line in making these preparations was to evoke special parts of Croatia with fragrances to our clients. All the products have "Croatian bio organic product" certificate and are made of pure essential oils of organic extraction and high quality basal cold pressed sesame oil what makes an unique
feeling on the skin and at the same time allows all the healing components to get through under the surface. These sensual fragrant mixtures have been hand made by assistance of Zorica Seferovic. She carefully joined different fragrances and their effects to accomplish optimal relaxing and therapeutic impact.
The fragrance of Kvarner-
relaxes with its tuned fragrant notes, opens up your body and mind for the wellbeing of the massage. It presents the mixture of lavender, an extract of
geranium and bergamote. Therefore, it is an ideal oil for all antistress massages and treatments, as in treatments for cellulite, bruises and scar loss.
The fragrance of Istria -
brings you the joy and good mood. The combination of mint,lavender and red mandarins has an effect of an excellent antidepressant. We recommend it to managers who are always in a rush, hard-working employees and all of those who live a fast life because it stimulates concentration and "opens you up". It is an ideal recover after stressful situations.
The fragrance of Ucka -
is a mixture created for purifying your body! Excellent for detoxification treatments and cellulite removal. Inspired with freshness and green landscape
of Ucka, it contains rosemary with all its delightful fragrances which stimulate concentration and orientation towards a goal, lavender and calming fragrance of lemon.
Camellia of Opatija -
is a true aphrodisiac in drops. Inspired by never ending romance of Opatija, this sensual mixture with a seductive and stimulating fragrance of Ylang-Ylang
inspires the beauty of every woman.
58604
Grocery products
Other
Pasta

Description

: organic instant noodles, organic noodles, organic instant soup, organic nuts, organic cereals
58603
Cereals & derived products
Bcs-oko Garantie Gmbh
Rice, buck wheat, oats, rye, various

Description

: ECOe is a joint venture enterprise of New Zealand and HongKong. We have our own organic farm base and over one decade production& exporting experience. All our products are grown and produced under the strict control of organic farming & food processing rules. We are proud to be the holder of three international recognized organic certificates: EU of European, JAS of Japan, NOP (USDA) of USA.
The products are organic instant noodles, organic noodles, organic instant soup, organic nuts, organic cereals.........
58555
Fruit & vegetables
Argencert
Fresh fruit

Description

: Agrico.Ar S.A. cultivates and sells Certified Organic Cherries grown in Patagonia's valleys, Argentina.

Cherries availables between November and December.
Varieties: Bing, Van, Stella, Lapins

Agrico.Ar S.A. has set up its productive system with the objective to:
- Protect the balance of nature using natural resources in a responsible manner.
- Grow fruits with a high nutritional value and excellent taste, supporting a healthy diet.
58593
Oils for cooking & dressing
Ecocert
Walnut

Description

: Organic Walnut Oil
58591
Fruit & vegetables
Ecocert
Dried fruit

Description

: Organic Dried Apricot
Organic dried pomegranade
58590
Cereals & derived products
Ecocert
Oilseeds (rape, sunflower, soy, sesame, peas, bean

Description

: Black Seed (Nigella Sativa) Oil
58589
Cereals & derived products
Ecocert
Bulgur

Description

: Organic bulgur
58505
Herbs, spices & condiments
Other
Olives, capers

Description

: olive oil bio organic, upon the client's request
58456
Products for organic farming
Other
Other products for organic farming

Description

: We sell organic vegetables for local market.
We also have our own polyhouses for cutflowers mainly Roses, Gerbera.
We also plants carnation and carnation in polytunnels, mainly with our bio-fertilisers and bio-control agents.
We can export these cutflowers.
58454
Products for organic farming
Other
Other products for organic farming

Description

: NITROGEN FIXTURES
1. Azotobacter: Free living Nitrogen fixers (Applicable for all types of crops)
2. Rhizobium: Symbolic Nitrogen fixers(Applicable for all legumes crops)
3. Acetobacter: These are free living Nitrogen fixers (Applicable for Sugarcane & all sucrose content crops)
4. PSB: Phosphate Solubilising Bacteria
5. KMB: Potash Mobilising Bacteria

• Plant Growth Promoters
1. Actinomycetes: These bacteria are used as plant Growth Promoters and iron chealators.
BIO-CONTROL AGENTS
WHAT ARE BIO-CONTROL AGENTS?
• Bio-Control Agents are micro-organisms or their products which are effectively used to control the insect, pest or disease causing micro-organisms in Agriculture. They are Eco-Friendly, Bio0 Degradable and Effective.
OUR PRODUCT RANGE
1. Trichoderma viridae – Antifungal agent
2. Verticillium lecani – Anti insects: aphids, whiteflies, milibug
3. Beauveria bassiana – Against aphids, thrips, milli bug, sucking insects
4. Pacilomyces fumosoroseus – Nematocide.
5. Metarrhizium anisoplae – White grubs, termites.