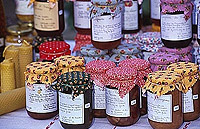 Find sellers of organic Commodities
The Greentrade Directory
Click on the offer number to view the company's information.
To obtain the company's e-mail addresses you need to subscribe our services or please contact us at Tel.: +33 1 47 50 02 73
Fax : 33 1 47 50 28 67
Offer N°
Category
Certification
Product
8451
Commodities
Bcs-oko Garantie Gmbh
Sugar

Description

: My name is Lucio Wong, export manager for Prime Export we produce organic sugar called Panela from the highland in Peru.
Panela is the juice extracted from sugar cane, dehydrated and crystallized only through the process of evaporation. This kind of sugar is neither refined in any way, nor does it undergo any other type of chemical processing (adding of clarifiers, anti-caking agent, etc.)
Panela is very nutritive, conserving all of the vitamins and minerals of the sugar cane. It also dissolves better than blonde and brown sugar due to its particular form of crystals.
For more information go to www.primeexportperu.com
59243
Commodities
Bcs öko Garantie Gmbh
Coffee & substitutes

Description

: cafe verde en grano , sacos 70 kilos.


Café biologico tostado Santa Marta Gold 250 grs.
Café biologico tostado Mountain Gold 250 grs.
Café biologico grano Green Beans 250 grs.
Café biologico verde Green Gold 250 grs.
59242
Commodities
Bcs öko Garantie Gmbh
Sugar

Description

: Jugo de caña de azucar prensado o en polvo.

Se presenta en;

bloques 400 grs.
polvo granulado 500 grs.
bolsa polvo 8 grs.
58841
Commodities
Other
Sugar

Description

: Organic Sugar

Our alliance agro-industrial mill Corporation is mainly dedicated to sugar cane production and its conversion into sugar and other by products. Its main corporate objective is to maintain a position of leadership in the sugar industry, by offering products and services of an excellent quality. Generally speaking, the sugar mill seeks to balance social and environmental requirements, following the highest ethical and professional principles.
53038
Commodities
Control Union
Tea

Description

: green and black teas
58504
Commodities
Other
Tea

Description

: upon the client\'s request
58122
Commodities
Instituto Biodinamico
Sugar

Description

: Product:


* Organic Whole Cane Sugar

Organoleptic Characteristics

Color: ICUMSA 8.000
Light brown

Smell:Characteristic

* Physical Chemical Analysis

Moisture: 2,0 – 4,0%

Brix: 99º

Sucrose:84 – 87%

Polarization (pol): 83 – 86%
57986
Commodities
Other
Tea

Description

: Buckwheat tea
51657
Commodities
Organic Food Development & Certification Center Of China
Sugar

Description

: Dear Madam /Sirs ;

We are a Chinese certified organic stevia sugar manufacturer , we have our own stevia plantation farm , in this case we would gurantee the products' organic statue , the stevia sugar is a natural sweetener , which has been used in food , drinkd , medicines in place of other artificial sugars , welcome to contact us .

I am looking forward to hearing from you soo .

with regards,

Scott /
57526
Commodities
Ceres
Sugar

Description

: Sucre de coco
57083
Commodities
Ecocert
Tea

Description

: I would like to promote one great Tieguanyin wulong tea, from a beautiful fully organic certified tea garden nearby Xiamen (the place where a live, in Fujian province).
We can provide all their different grades and different varieties.
57253
Commodities
Organic Crop Improvement Association (ocia)
Tea

Description

: Organic, Fair Trade Teas: Herbal Teas, Black and Green Teas. Maple Teas, Rooibos blends. Loose Teas & Tea Bags.
57068
Commodities
Control Union
Sugar

Description

: We produce Brown Sugar powder form from Palm Sugar
56952
Commodities
Other
Coffee & substitutes

Description

: WE SUPPLIY ETHIOPIAN ORGANIC COFFEE
YERGACHEFFE
SEDAMO
JIMMA
BRNDS
56231
Commodities
Other
Cocoa, chocolate

Description

: WFN cacao powder is certified organic and raw. Our premium cacao beans come directly from the farmers who cultivate them. These farmers grow their crops on their own land, using the same sustainable methods that have been used for generations. These cacao beans are guaranteed to be free of heavy metals, chemicals and pesticides. They are USDA certified organic. They are imported from Peru and Equador and packed by Wilderness Family Naturals in the USA.