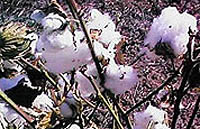 Find sellers of organic Textile
The Greentrade Directory
Click on the offer number to view the company's information.
To obtain the company's e-mail addresses you need to subscribe our services or please contact us at Tel.: +33 1 47 50 02 73
Fax : 33 1 47 50 28 67
Offer N°
Category
Certification
Product
35437
Textile
Other
Clothes

Description

: fashion label selling organic and sustainable clothing
34325
Textile
Other
other Textile

Description

: We are Exporters of 100% Organic Certified Cotton Home Textiles like Bed Linens, Kitchen Linens (Table Mats, Hand Towels), Bath Linens (Terry Towels), Home Accessories (Shopping/Tote Bags) etc.
33972
Textile
Other
Clothes

Description

: Gingko Baby - a collection of 100% certified Organic
cotton clothing, Size newborn 0 - 12months-
made in Canada
33960
Textile
Control Union
other Textile

Description

: Yarns and fibres organic/fairtrade varieties
33959
Textile
Control Union
Fabrics

Description

: 100% organic cotton and cotton blend (eg with lycra,wool silk, alpaca and wool)from South America. Knitted and woven in a wide range of weights and natural colours also dyed using natural plant processes. Our range includes denims,drills,percale,interlocks, poplins,jerseys,ribs and we can also develop any fabric to specification.
33958
Textile
Control Union
Clothes

Description

: Ethically produced organic lounge and leisure wear
33893
Textile
Other
Clothes

Description

: we are manufacturing and exporting 100% certified organic cotton garments, yarn fabric and cotton.
33160
Textile
Control Union
Fabrics

Description

: Since it's founding in 1998, Sichuan Jungleman has been one of the most recognized manufacturers in producing high quality and most competitive prices home textile products.
33315
Textile
Control Union
Clothes

Description

: 100% Organic cotton Baby clothing ( knits and wovens)
32744
Textile
Control Union
Clothes

Description

: Penchant,India


Our company Penchant, India is a leading export house in India, looking for potential buyers for their Organic and Eco- friendly product. Organic Herbal clothing, Bed linen, Mattresses and Soaps. This fabric is made from Certified Organic cotton, conventional cotton and Silk.

With many countries putting a ban on Chemical dyes and synthetic fibers, this fabric is hear to stay. The fabric is treated with vegetable Dyes ( Herbs), made from Turmeric, Sandalwood, Sweet basil, curry leaf, henna etc.

It is proved that many synthetic dyed Garments are harmful to the human body. Then garments carrying Herbal properties will be beneficial to the Human Body.
Natural Fabrics and dyes are poor substitutes for synthetic colors, in terms of range and tonal variations.

Because we use Medicinal Herbs, the clothes also have a lot of therapeutic value, thus, the fabric has been found very helpful for people suffering from ailments like Skin allergies, Breathing problems, Sleeping disorders, Blood pressure etc.

Use of herbal dyes improves the aesthetic quality of the cotton fabrics in the most eco-friendly way. Processing of the cotton and fabric in known, proven herbal preparations may have an added advantage of having possible therapeutic properties.
30568
Textile
Other
other Textile

Description

: 100% Organic Cotton Textiles/Made-ups from India.
Bed Sets / Bed Linens, Bed Sheets, Bed Covers, Pillow Cases, Shams, Terry Towels, Kitchen Towels, Napkins, Table CLothes / Table Linens, Aprons, Curtains etc.
32105
Textile
Control Union
Fabrics

Description

: Knitted and Wovens
32106
Textile
Control Union
other Textile

Description

: Towels , Bath baths
32104
Textile
Control Union
Clothes

Description

: Production Certfied
All type of Garments
T-shirt, Shirts, Tops, Night Gowns, Underwear etc.
31618
Textile
California Certified Organic Farmers (ccof)
Clothes

Description

: Due to popular demand from the yoga industry and practitioners, Urban Yogis clothing has created a line of 100% organic cotton T-shirts for the environmentally-conscious yoga practitioner. With the knowledge that the two worlds of yoga practice and concern for the environment go hand in hand, Urban Yogis designer and founder, Ullasini, not only created T-shirts that were made with cotton grown organically, but are stylish and imprinted with yoga\'s vision of movement-inspired liberation.

\"Urban Yogis is making the statement with its 100% Organic Cotton clothing that being a true yoga practitioner means understanding how important it is to protect and serve nature,\" said founder and designer, Ullasini (a.k.a. Khwan). \"Everything we do at the company is meant to foster yoga in its purest sense - unity of the body with spirit and with the health of the planet.\"
Urban Yogis, hip & humble yoga apparel born, bred and styled in Manhattan is giving you a taste for the all-natural with its newest 100% organic Tees for yogis and yoginis. Yogi men will leap into asanas like handstand with more easewhen they wear the softest, smoothest, most luxurious Urban Yogis organic cotton tee ever made in our infinite universe. Created to fit on any body type with flattering ease, this natural color Tee has a stretch collar so men\'s necks can HUM whether they are in Sukhasana (easy cross legged pose), Tadasana (mountain pose) or Sarvangasana (shoulderstand). And speaking of Sarvangasana, the organic Tee\'s reinforced shoulder construction will maintain its shape (and yours) through multiple washings.

A-hem, who says yoginis can\'t pack a punch? For the lovely ladies of yoga - we have official 100% Organic Urban Yogis\' boy beater rib tanks. These 100% Organic ribbed cotton tanks have been combed by fairies, dragonflies and enlightened beings for softness and comfort and will give any Urban Yogini that street-sensible style that shows \'em that yoginis are as tough on the outside as they are big-hearted and soft on the inside. Whether you are stretching out in Upavistha Konasana (seated wide-legged forward bend) or in Eka Pada Raja Kapotasana (Pigeon pose), this Tee\'s wider, textured ribbing will get you in a little bit deeper into that asana. At least, that\'s what the fairies, dragonflies and enlightened beings told us.


About Urban Yogis:
www.urbanyogis.com
Urban Yogis is hip & humble yoga apparel born in
Manhattan. Designed, conceived and brought to you by
founder Ullasini (a.k.a. Khwan), Urban Yogis apparel
comes straight from the heart. Designed with the
urban, cultured and stylish yogi in mind, its
comfortable cotton ladies and mens\' clothing can be
worn in the yoga studio or out and about, as fitness
gear or as outerwear, in a yoga pose or at your desk,
at your gym or at a party. Inspired by the ancient
practices of yoga, Sanskrit and mantra;
created with the modern lifestyle in mind, Urban Yogis is as
loving as it is fashionable. A portion of all sales
proceeds is donated to animal rights organizations
such as PETA.