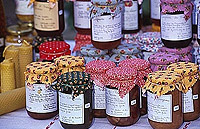 Find sellers of organic Grocery products
The Greentrade Directory
Click on the offer number to view the company's information.
To obtain the company's e-mail addresses you need to subscribe our services or please contact us at Tel.: +33 1 47 50 02 73
Fax : 33 1 47 50 28 67
Offer N°
Category
Certification
Product
22604
Grocery products
Control Union
Spreads and pastes

Description

: High quality fruit jams in various fruit and combinations of fruit. Also Apple puree and apple puree with other fruit combinations in organic available. We are strong in developing the right fruit jam together with our customers.
7111
Grocery products
Ecocert
Soy and soy derivatives (seeds, sprouts, sauces, d

Description

: Roasted Soy Nuts, Salted Soy Nuts, Natural Soy Nuts
21578
Grocery products
Bio Agri
Other grocery products

Description

:
THE PRODUCTS
Bakery (crackers, grissini)
Biscuits and cookies
Breakfast cereals
Cereal malts
Natural bars
Natural beverages
Oils & condiments
Italian rice
Rice & soy beverages
Rice cakes
Spelt, corn and
durum wheat pasta

La Finestra sul Cielo is expressly committed to the quality of food. We make a stringent selection among the products that we choose for our distribution, and we constantly work with our producers to create new ones under our recipe.

No dairy, no sugar, no hydrogenated fats
All our products are made with ingredients that do not include sugar (even if "raw" or organic) or refined sweeteners as fructose, glucose syrup, agave syrup, etc.
Besides, none of our products contain any milk or dairy, and none contain any hydrogenated margarine or fats.

Healthy, tasty and organic
The request for really healthy products - within the natural and organic foods market itself - is continually growing, as consumers become more health conscious and quality oriented. More and more people are discovering that "organic" is not enough, and ask for a deeper attention to the choice of the ingredients.
Our company strives to satisfy this request by offering state of the art products that combine delicious taste with uncompromising integrity about ingredients and production processes, always keeping our customers' health in mind while treating them with our specialities.
Our products are certified by BioAgriCoop, Italian certifying agency authorized by the Italian Government and IFOAM member.
21446
Grocery products
Other
Other grocery products

Description

: Country Farm is dedicated to an exciting mission of introducing affordable quality organics food to be the general public in Malaysia and the surrounding regions through its retail outlets and attached restaurants cum cafes. Its restaurants and cafes are also dedicated to develop more creative ethnic organic dishes, thus changing the public impression that organic food is tasteless and expensive.

Country Farm Organics' outlets carry a larger and better product range than most of the competing organic stores. The product range includes grocery items, as well as organic fruits, vegetables, meats (free-range chicken, venison and moose meat etc), soy products, organic breads and personal care items. In fact, Country Farm is the first organic company to introduce soy ice cream and soy smoothies in Malaysia . Qualified nutritionists or well-trained shop assistants are at hand to offer free and friendly advice to help customers understand better the organic products that they are buying.
20703
Grocery products
Other
Other grocery products

Description

: Producer, Manufacturer and also exporter of organic Domat type green olives.We have our own plant area for organic Domat type green olives with 14.000 trees.
2006\'s estimated crop quantity ca.70 tonnes and the crop quantity will be every year around 20 tonnes more in the next coming days.We produce also organic red peppers to stuff our green olives
Interested markets are USA , CANADA and the EC countries.
For the details pls visit our web site:
www.genclertarim.com
8476
Grocery products
Argencert
Pasta

Description

: Organic Pasta. Varieties: Natural, Spinach and Red Pepper. Contact us at www.pirimpex.com.ar
17755
Grocery products
Other
Other grocery products

Description

: Gourmet quality, retail format Crimson Lentils, Ruby Lentils, Black Beluga Lentils, Green Lentils, Harvest Gold Lentils, Du Puy Style Lentils, Yellow Split Peas, Black Kabuli Chickpeas, Purple Prairie Barley
9153
Grocery products
Bios Coop Srl
Pasta

Description

: Tajarin Organic(Italy)- Tajarin biologici - A special type of 'pasta all'uovo', Piedmont speciality. Stone grinded Flour & fresh eggs All produced in our company, from field to fork. Best with truffles, roast beef sauce, mushrooms.
9500
Grocery products
Quality Assurance International (qai)
Other grocery products

Description

: All of our Organic Food Products are certified organic and free from GMO material. We offer the following organic products which are also available in private label. Grocery Items - Jam, Peanut Butter, Soup Snack Items - Microwave Popcorn, Bulk Popcorn Dairy Items - Cheese, Milk, Butter, Cream Cheese, Sour Cream, Ice Cream Bakery Items - Cake Mixes, Bread Mixes, Cookie Mixes, Brownie Mixes
9471
Grocery products
Other
Other grocery products

Description

: We are a sourcing agency, able to provide most organic products at short notice at the best prices
9404
Grocery products
Ecocert
Other grocery products

Description

: A full range of high quality organic maple products with competitive prices such as : maple syrup, maple butter, granulated maple sugar, maple jelly.
9383
Grocery products
Quality Assurance International (qai)
Other grocery products

Description

: Our product line consists of all of the major US organic brands as well as many organic brands from Canada. We also offer a full line of Gummi Bear Vitamins
9352
Grocery products
Ccpb Consorzio Per Il Controllo Dei Prodotti Biologici
Bouillon cubes, sauces

Description

: ORGANIC READY TOMATO SAUCES WITH BASIL, CHILY PEPPER, MUSHROOMS OR NEAPOLITAN, in jar 350g
9348
Grocery products
Ccpb Consorzio Per Il Controllo Dei Prodotti Biologici
Pasta

Description

: ORGANIC PASTA FROM DURUM WHEAT SEMOLINA, in bag 500g or 5Kg. ORGANIC HANDMADE TRADITIONAL PASTA from durum wheat semolina, in bag 500g, ,made according to the ancient tradition of Neapolitan masters of Pasta, bronze piped and slow dried
9318
Grocery products
Nasaa
Other grocery products

Description

: kadac is an importer of certifeid organic products (bulk & packaged)and health products. We distribute over 750 products throughout Australia and New Zealand.