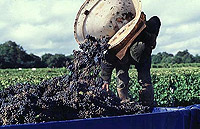 Buy organic Drinks
Offers to sell
To obtain the company's identification, click on the offer number.
Offer N°
Category
Certification
Origin
Product
Validity
Date offer
84171
Drinks
Ecocert
France
Alcoholic beverages (aperitifs, beer, cider, champagne)
2018-02-02
2016-01-13

Description

: Château Le PUY makes refined wines since 1610
(14th hgeneration today)

The Chateau is located at the edge of the St Emilion limestone plateau on a unique terroir called the hill of the wonders which is the highest point of the department (110m above sea level).

Le PUY is a pionneer of the organic and biodynamic approach in the Bordeaux aréa.

Le PUY is distributed directly from the chateau in more than 35 countries and in most of the gastronomic restaurants around the world.

Le PUY is certified ecocert and demeter

The Château produce 4 red cuvées "Emilien","Barthelemy","Retour des iles", "Blaise albert" , 1 rosé "Rose Marie", 1 dry white "Marie Cecile", 1 sweet white "Marie Elisa"
68789
Drinks
Imo
Chile
Non-alcoholic beverages (water, fruit, vegetable juice)
2018-12-30
2016-01-07

Description

: 100% certified organic berry juice under the brand name Bberri that contains high power antioxidants.
Bberri uses an innovative high technology in the production of its juices, that permits antioxidant extraction that is far superior to conventional processes.
78091
Drinks
Comité De Agricultura Ecológica De La Comunidad Valenciana
Spain
Alcoholic beverages (aperitifs, beer, cider, champagne)
2017-01-25
2016-01-07

Description

: Tarongino es Único como Tú

From 100% juice of the best ecological oranges and tangerines from Valencia (Spain), we obtain vitality and freshness, which after an exclusive natural fermentation; achieve an elegant and delicate beverage.

As well as from the best grape musts the best wines are achieved; from the most delicious Spanish oranges and tangerines we get Tarongino.
Valencia is a land of Sun, sea, health,..., all this energy is concentrated in the organic oranges we grow to produce Tarongino, the essence of the Mediterranean

Tarongino Orange
Tasting Notes

Name:
Tarongino is a marriage between orange and wine. The Valencian word for orange is "Taronja", and the Spanish word for wine is "vino", mixed together we have "Tarongino".

Citric Agriculturist:
Antelo-Mencheta Family

Enologist:
Juan Alberto Anaya

Production Area:
Region of Camp de Morvedre – Sagunto (Valencia)
Alcohol:
9 % vol.
Total Acidity (Citric Acid):
7,5 gr./l.
pH:
3,7

Colour:
It presents an amber colour with light golden reflections and a dense and slow tear.

Nose:
A burst of citrus aromas conjugated with a carousel of light quince notes, honey and orange blossom.
Mouth:
It is expressed in mouth with a long and persistent fruitiness with a final taste that recalls the orange blossom along with the skin of our oranges and Clementines.
Container Types:
50 cc. Bordeaux bottle
Boxes containing 6 bottles (50 cc. per bottle).

Organic Certification:
Yes

Ingredients:
100 % orange juice.

Serving:
Serve cold. Recommended temperature 5ºC
Snacks, light meals, pure chocolate desserts and cocktails.
73236
Drinks
Fachverein Fur Oko-kontrolle
Germany
Non-alcoholic beverages (water, fruit, vegetable juice)
2018-10-10
2015-11-16

Description

: 100% organic aronia berry juice (not from concentrate) bottled directly after pressing. Pure aronia juice completely free from all additives such as preservatives, flavourings or colourings. Its organic label warrants that only carefully selected premium raw materials are used and gently processed to arrive at this high quality product.
82455
Drinks
Other
France
Alcoholic beverages (aperitifs, beer, cider, champagne)
2017-03-27
2015-09-08

Description

: : ORGANIC WINES from Languedoc, VDP d'Oc, VDP Hérault.

Domaine de BANNIERES : family estate since 1768. For further information, please visit our web site: www.domaine-de-bannieres.com

No weeding, no artificial fertiliser, no systemic, no synthetic pesticide. Certicated by ECOCERT

Grenache rose. « le rosé de la Commanderie 2006 » ; 12 % vol. , 175 hl VDP Herault.This wine is entirely made from 37 years old stocks

Syrah, old Carignan and Grenache : «Selection 2005 »; 12 % vol. , assemblage, 66 hl VDP Herault

Syrah, old Carignan and Grenache : «Selection 2006 »; 11,5 % vol. , assemblage, 300 hl VDP Herault

Syrah 20% - Grenache 80% : « Saveurs du Sud 2004 » ; 12,5% vol. : assemblage, 1200 bottles VDP OC

Cabernet Sauvignon 100 % : Cabernet Sauvignon. 2005 , 14% vol., 60 hl VDP Herault, silver medal Amphore 2007,

Cabernet Sauvignon 100 % : Cabernet Sauvignon. 2006 , 12,5% vol., 260 hl VDP Herault,
82059
Drinks
Other
Mexico
Non-alcoholic beverages (water, fruit, vegetable juice)
2018-02-02
2015-07-17

Description

: The iidea Company produces and markets organic agave products - Agave Syrup (Nectar), Agave Powder, Agave Inulin, and Tequila - using the best raw material: the Agave tequilana (Weber Blue) agave. This positions The iidea Company as the industry leader in the development of premium organic agave products.

Our organic agave syrup, organic agave inulin and organic tequilas have been certified by the highest international agencies such as the USDA, and the OK Kosher Certification Committee. In addition, our production plant has been awarded the Food Safety System (FSSC) 22000:2011 Certification for our excellence in manufacturing processes. The iidea Company is the first company in the agave syrup industry to obtain this prestigious certification, which we proudly add to our already extensive list of organic and quality certifications.
82045
Drinks
Other
Portugal
Alcoholic beverages (aperitifs, beer, cider, champagne)
2018-02-02
2015-07-15

Description

: We produce organic fruit liqueurs and brandies.

Our fruit brandies are made 100% out of organic fruit cultivated on the portuguese Oeste region. With 40% alcohol they are ideal for those who prefer stronger beverages.

Our fruit liqueurs are made out of our fruit brandies, fruit, spices and sugar. With a sweet taste and a low alcohol content – 16% vol. – they can be considered more of a crème than classic liqueurs.
62788
Drinks
Other
India
Plant base drinks (herb teas, concentrates, elixirs)
2017-12-31
2015-05-26

Description

: Lakefield Farms - The Art of Tea Drinking:
25 round tea bags in a silver tin that preserves freshness (5 flavours). Label design by an Indian Artist exclusivly for this brand.

Weikfield Organic - The awarded elegant Design Box
The independent International Quality and Taste Institute ITQI, Brussels, awarded our Weikfield Organic Golden Mango Tea with the Superior Taste Award 2006. Organic Tea in squared tea bags and packed in hermetically sealed sachets to preserve freshness.