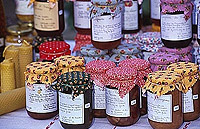 Buy organic Grocery products
Offers to sell
To obtain the company's identification, click on the offer number.
Offer N°
Category
Certification
Origin
Product
Validity
Date offer
62507
Grocery products
Other
Italy
Tomato sauce
2023-12-12
2020-11-27

Description

: The Conserve Manfuso Tomato Canning Company was founded in 1983 and sells its products to the most important grocery chains and catering companies in Europe and America. Our production is certified by UNI EN ISO 9001:2000 standard and BRC standard.
In recent years the Manfuso Company has produced organic tomato products to satisfy the increasing demand for healthy and uncontaminated foods for public and school canteens, supermarkets and shops.
All organic tomatoes are certified by the ICEA that checks the tomatoes at the harvest and during the canning process of the product.
Thanks to the collaboration of the ICEA that guarantees the quality of organic tomatoes and our traditional method of production, which we have used for generations, we make high quality preserves an essential part of the Mediterranean diet.
The Conserve Manfuso company produces peeled tomatoes, chopped tomatoes, mashed tomatoes, tomato paste and cherry tomato in different can sizes:
3.400 gr – 3.000 gr. – 1.000 gr. – 500 gr.
Moreover we have a regular demand for a typical and craftmade product that marks the family character of our company. We produce our tomatoes in glass jars of 520 gr.
Our excellence product is the Tomato King: we produce the famous San Marzano DOP tomatoes
Our motto is:"Eating Healthy Means Being Healthy" Sauce tomate Epicerie 2011-10-18
100255
Grocery products
Other
USA
Other grocery products
2022-04-30
2020-11-27

Description

: During our twenty-six years in business, we have developed an extensive network of overseas suppliers and have become experts at finding just about any type of organic food product at competitive prices from the most reliable and tested manufacturers.
94460
Grocery products
Other
Czech Republic
Cocktail biscuits etc.
2023-02-02
2020-10-19

Description

: All of our products are baked according to our original recipes and are certified organic, as we make them using only ingredients from certified organic farming. Our organic products have no artificial trans fats, refined white sugar, chemical preservatives, or artificial colouring or flavouring.
Our product range also includes organic gluten-free biscuits, VEGAN products, biscuits for children 1+ year and FREE-FROM all alergens products.
95846
Grocery products
Other
Ukraine
Other grocery products
2023-01-01
2020-10-19

Description

: Organic groats from Ukraine.
-pearl barley;
-fine ground barley;
-buckwheat;
-millet;
-spelt;
-wheat;
-corn;
-oat;
-another assortment.
Certification: Standard equivalent to Reg (EC) No 834/07, 889/08
82996
Grocery products
Other
Ukraine
Soy and soy derivatives (seeds, sprouts, sauces, d
2022-01-01
2020-09-25

Description

: We offer high quality soybean seeds of Annushka variety. It is indispensable crop plant for the households of ecological farming.

It provides yields which allow to obtain:
• 36-40% of protein with excellent amino acids content,
• 17-23% of oil with the high content of unsaturated fatty acids,
• 70-150 kg/ha of organic nitrogen remained in soil after harvesting.

Above-mentioned advantages make the soybean:
• Nutritious compound of the fodder for animals;
• Innovative product for food, chemical, pharmaceutical and cosmetic industry;
• Excellent fore crop with a strong effect on high yield potential, particularly of: cereals, corn, rape seed, fodder and vegetable plants;
• Economically viable cultivated plant;
• Indispensable crop plant for the households of ecological farming, because:
- Improve physical properties and soil fertility conditions;
- Because of the Rhizobium bacteria symbiosis the plant take advantage of atmospheric nitrogen, what in turn decrease the necessity of nitrogen soil fertilization and enrich the soil in that compound;
- Leave in the soil the organic matter in the form of agricultural crop residues;
- Owing to the fact that the root system is well developed, soybean has the ability to uptake the water resources from lower soil layers which are inaccessible for other plants;
- It reveals phytosanitary and phytomeliorative function;
- It plays an important role in disease and pests control in cereal crops.

We strongly invite Individual Farmers and Seed-Companies to cooperate with us in the scope of distribution and reproduction of soybean seeds of outstandingly high yield potential. We guarantee high quality of seeds, stable yields and help in the proper technology of soybean seeds selection.
69235
Grocery products
Other
India
Other grocery products
2022-02-10
2020-09-18

Description

: Organic Soapnut Bar
59089
Grocery products
Other
Japan
Other grocery products
2022-03-10
2020-09-18

Description

: Organic Shoyu and Tamari

Sales in Bulk
10
208
1000
18 litres egible steel drums
litres egible steel drums
litres egible steel drums
tons egible steel drums
59385
Grocery products
Ecocert
China
Soy and soy derivatives (seeds, sprouts, sauces, d
2022-02-10
2020-09-18

Description

: > 1. Ecocert Certified (EU and NOP) Organic shoyu from China
> This product is produced by wooden barrel according to Japanese
> traditional production
> process, and quality (taste and fragrance) is very good same as
> Japanese shoyu.
> Ingredient: soy bean, wheat, salt
59386
Grocery products
Ecocert
China
Other grocery products
2022-01-05
2020-09-18

Description

: . Ecocert Certified (EU and NOP) Organic Tamari from China
This product is produced by wooden barrel according to Japanese
traditional production
process, and quality (taste and fragrance) is very good same as
Japanese shoyu.
This is gluten free.
Ingredient : soy bean, salt
59387
Grocery products
Ecocert
Thailand
Other grocery products
2022-10-05
2020-09-18

Description

: Ecocert Certified (EU and NOP) Organic Shoyu from Thailand
Ingredient: soy bean, rice, salt.
89849
Grocery products
Ceres
China
Pasta
2022-06-10
2020-09-18

Description

: Organic pastas and noodles made from beans.
99742
Grocery products
Other
United Kingdom
Muesli, flakes
2024-02-02
2020-07-22

Description

: At Think Organic's we are dedicated to providing our customers with the finest Organic food. We supply organic flour, pulses, rice, spices and much more. Our diverse range of products are environmentally friendly, fresh, pesticide free, fertiliser free, non GMO. They are produced via sub soil, a unique method enabling our crops to get nutrients naturally.
96370
Grocery products
Other
Greece
Spreads and pastes
2022-12-31
2020-06-24

Description

: Organic jams, such as raspberry, apple-quince, strawberry-white chocolate and many others
71870
Grocery products
Other
India
Other grocery products
2021-12-31
2020-06-02

Description

: Our company has around 500 registered farmers who are involving in certified organic farming practices, with an average experience level of 5 years. The total certified land area looked after by our company is around 1500 ha.

The company has been involved in the trading of around 242 certified organic products, involving both cultivation and wild harvest.

Spices:


Anise/Aniseed Dal Cheeni
Apricots dried cardamom
Arecanut (whole) dried clove
Black Mustard Seed Dried/Dehydrated Apricots
Black Paper Powder Dry/Dehydrated Coriander leaves
Black Pepper (Powder) Fennel
Cardamom Large(black) Fennel Powder
BISHOPS WEEDS Fennel/saunf
CARDAMOM (Elettaria cardamomum) Fenugreek Powder (Methi Powder)
Cardamom Small (elettaria) Fenugreek seeds
Cardamom Small(mixed) Garlic paste
Cardamom Garlic Powder
Chiily Flakes-Bird Eye Ginger
Chilli- Bird Eye ginger flakes
Chilli powder Ginger Fresh
chilli whole Ginger paste
chilly powder-bird eye Ginger Powder
cinnamon ginger sliced(dried)
clove powder ginger whole
Cloves ginger whole (dried)
Coriander Powder ginger(dried,bleached)
coriander seed Green chilli fresh
Cumin Powder Green chilli Pickel
Cumin whole green pepper/bell pepper
nutmeg (in shell) Salted cumin cookies
nutmeg (shelled) turmeric fresh
nutmeg mace (dried) Turmeric Paste
nutmeg mace red dried Turmeric Powder
nutmeg mace yellow dried Turmeric whole-dried
Nutmeg whole Turmeric Whole-fresh
Nutmeg(fresh) White pepper
Red Chilli (whole) White pepper powder
66622
Grocery products
Other
Canada
Muesli, flakes
2021-02-02
2020-03-03

Description

: We offer wide variety of healthy certified organic snacks with touch of pure maple syrup: almonds, cashews, nut mixes, dry fruits and cereal. All natural ingredients without preservatives, flavors and colors. None of the snacks contain any dairy or animal by-products of any kind.
Original recipes made by hand in small quantities from the finest certified organic ingredients to ensure the quality of every batch.
Kosher certified.
Bulk and private labels available.
Made in Canada.