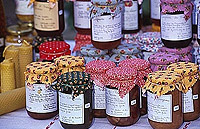 Buy organic Commodities
Offers to sell
To obtain the company's identification, click on the offer number.
Offer N°
Category
Certification
Origin
Product
Validity
Date offer
82687
Commodities
Other
Iran
Tea
2017-02-10
2015-09-18

Description

: 100% Organic Black Tea,
We don't just make organic tea, we grow them, we enjoy them and we cherish them.

Mixes with Organic Rose petals available upon your request,
We can provide it in Bulk quantities as well as with your own private label,

Drink with us.
82677
Commodities
Other
Perou
Coffee & substitutes
2017-02-15
2015-09-18

Description

: -Cafe arabica
-Café Organico ( bio )
-Café Robusta
67233
Commodities
Other
Brazil
Sugar
2017-01-20
2015-08-24

Description

: Organic Sugar
76044
Commodities
Other
India
Coffee & substitutes
2017-10-07
2015-08-24

Description

: Organic arabica coffee beans cultivated in yercard and palani hills.
71982
Commodities
Ceres
Philippines
Sugar
2017-12-30
2015-05-21

Description

: organic coconut sugar made from freshly harvested 100% pure coconut sap
81483
Commodities
Other
Guatemala
Coffee & substitutes
0000-00-00
2015-05-19

Description

: nous sommes une societé productrice de café moulu , de divers types ( bio, organique, industriel...). Nous produisons un café de qualité sélectionné parmi les meilleurs producteurs. nous respetons les délais de livraisons. Nous pouvons expédier de petites quantites pour nos futurs clients. N´hesitez pas a nous contacter par mails nous nous ferons un plaisir de vous repondre. La qualité de mos produits est controlé et certifié.