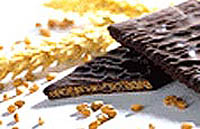 Buy organic Dietetic & health foods
Offers to sell
To obtain the company's identification, click on the offer number.
Offer N°
Category
Certification
Origin
Product
Validity
Date offer
89491
Dietetic & health foods
Other
India
Fresh plant extracts
2019-12-12
2017-01-09

Description

: Garcinia cambogia, a tropical fruit, is a popular weight-loss supplement, especially with people who have diabetes.a tropical fruit also known as the Malabar tamarind, is a popular weight-loss supplement. Organic GC itself is not a new product; in fact, it's been consumed in parts of Asia for many years, although not for the purpose of losing weight.
88725
Dietetic & health foods
Other
France
Food supplements
2018-12-31
2016-11-10

Description

: L'ALGUE AUX MULTIPLES VERTUS

La Spiruline contient 55 % à 70 % de protéines d'excellente qualité

(Proportion des acides aminés et digestibilité optimales)



Vitamines : A, E, D, B1, B2, B3, B6, B7, B8, K et du bêta-carotène des minéraux et d'oligo-éléments : calcium, phosphore, magnésium, Fer, zinc, cuivre, manganèse, chrome, sodium, potassium et sélénium Ainsi que de la chlorophylle qui favorise l'absorption du fer dans le sang.
69946
Dietetic & health foods
Other
USA
Other dietetic & health foods
2018-02-20
2016-10-11

Description

: The only USDA Certified Organic, non-dairy Certified Kosher, and Certified Vegan bars in the world. Alkaline-forming, cold-processed, rich in phyto-nutrient dense sprouts and superfoods. Gluten-free, easy to digest, taste great, no refined sugar, and no trans-fatty acids.
61409
Dietetic & health foods
Bcs-oko Garantie Gmbh
Taiwan
Food supplements
2018-06-23
2016-09-28

Description

: Febico Organic Spirulina A+ is 100% organic certified by Naturland Association for NINE consecutive years.

Organic Spirulina A+ is a highly nutritious, all natural blue-green alges and a rich source of vitamins, Beta-carotene, minerals, chlorophll, gamma-linolenic acid(GLA) and protein. FEBICO Organic Spirulina has hightly digestible protein. It has an exceptional amino acid profile, contains all essential amino acids, and rivals animal proteins for nutritional completeness, value, and digestibility.



Four Nutritious Benefits:
Enriched Vitamin Complex B, and vegetable B12
High content (70%) of all-vegetable protein
Essential fatty acid - GLA
100% vegetable whole food


Two major functions:
Balance immune system and restore energy:
Spirulina contains enriched vitamin complex B, essential amino acids, and antioxidants. It is a superfood to support your healthy immune system to restore energy from stress and chronic fatigue.
61422
Dietetic & health foods
Bcs-oko Garantie Gmbh
Taiwan
Food supplements
2018-07-07
2016-09-28

Description

: Cracked cell Wall process accredited by R.O.C. patent 183428.
USDA Organic and Naturland Organic Certification.

Chlorella A++ is the premium dietary supplement that contains more than 20 vitamins and minerals including B complex, beta-carotene, vitamins C and E, iron and calcium. It is the highest source of chlorophyll, which is a liver detoxifier, a bowel cleanser, and a catalyst for the absorption of other elements, including iron. It is the highest source of the nucleic acids DNA and RNA, reduced levels of which are believed to be implicated in physical deterioration and ageing. It is the amazing green superfood can trigger your body's own natural defenses.



Natural mineral water sources from environmentally protected mountains are used to carefully cultivate our chlorella under natural sunlight. Rigid quality control checks ensure freshness and purity in every chlorella tablet.



Summary of A++ grade:

1. Natural source of complete nutritional profile

2. Patented broken cell wall process

3. Clean water source from environmentally protected mountain mineral water.

4. No preservatives

5. No fillers

6. No contamination

7. 100% natural
61423
Dietetic & health foods
Bcs-oko Garantie Gmbh
Taiwan
Fresh plant extracts
2018-07-07
2016-09-28

Description

: Experiments conducted by The Hepatitis Research Center of National Taiwan University Hospital, confirmed that taking Bpogen liver capsule in advance can effectively reduce the chemical reagents that induce liver inflammation and cirrhosis. After surgery for resection of liver cirrhosis, taking Bpogen capsules can be effective in promoting liver regeneration and recovery.

This product uses specially cultivated organic spirulina which is rich in minerals and nutrients. It can mediate physiological functions, reduce fatigue, and is a wonderful nutritional supplement that can nourish your physical wellbeing.
61424
Dietetic & health foods
Bcs-oko Garantie Gmbh
Taiwan
Other dietetic & health foods
2018-04-04
2016-09-28

Description

: 1. Astaxanthin is 550 times more potent than Vitamin E in anti-oxidant. The "Super Vitamin-E"!
2. Innovative 100% vegetable astaxanthin and spirulina extract. Free of Additives!
3. Vegetable capsules, organically cultivated spirulina, non-GMO product.
81879
Dietetic & health foods
Other
France
Food supplements
2018-12-12
2016-09-19

Description

: Nature-Algues est une entreprise française, spécialisée en phytothérapie basée en Bretagne, qui distribue, aux particuliers, sous sa marque PhysioSources des compléments alimentaires santé, des produits de beauté cosmétiques mais aussi des produits alimentaires à base d'algues. Toute la production est basée en Bretagne, et produite par le laboratoire Nat'Kaps La qualité des produits Nature Algues leur vaut d'être distribués dans plusieurs pays.
55615
Dietetic & health foods
Icea Instituto Mediterraneo Di Certificazione
Italy
Capsules, ampoules
2018-02-05
2016-08-12

Description

: To make our main product we use a recipe employed in traditional Brazilian medicine (honey, aloe, distillate), known as "Father Zago's recipe". What makes it different from other similar products found on the market are the raw material, WHOLE LEAF ALOE ARBORESCENS, THE ABSENCE OF PRESERVATIVES, and the ORGANIC CERTIFICATION
87283
Dietetic & health foods
Austria Bio Garantie, Abg
Romania
Food supplements
2020-07-25
2016-07-26

Description

: Wholesaler sell superfood organic in bulk.
86308
Dietetic & health foods
Other
Brazil
Other dietetic & health foods
2018-12-31
2016-05-31

Description

: We are suppliers of vegetarian and vegan products specially vegetarian/vegan meat and honey derivates as propolis.
86306
Dietetic & health foods
Other
China
Other dietetic & health foods
2018-12-31
2016-05-31

Description

: organic wheatgrass powder organic barleygrass powder organic pea protein powder organic spirulina powder organic chlorella powder organic alfalfa powder organic goji berry
86188
Dietetic & health foods
Other
Israel
Food supplements
2018-12-31
2016-05-19

Description

: Freeze Dried Opuntia powder,
Freeze dried Algaes powder
Freeze Dried olives
Freeze dried bilberry powder
62943
Dietetic & health foods
Other
USA
Other dietetic & health foods
2018-07-20
2016-05-19

Description

: Hemp Powder Organic Raw 16oz

This cold-pressed, organic protein powder is the ultimate RAW protein for athletes, vegetarians, or anyone trying to lower carb intake and improve
75233
Dietetic & health foods
Other
Italy
Food supplements
2018-05-30
2016-05-19

Description

: The Virufl or tyndalised cultures are obtained by subjecting the microorganisms to a specifi c heat treatment that "kills" the ferment without significantly changing the organic and functional properties.

Apoflor promotes digestive function and the integrity of the intestinal mucosa thanks to the contribution of the following natural substances:

BACTERIA LYSATES: they favour a correct stimulation and modulation of the immune system both at the level of the small intestine and that of the large intestine. Compared to the "live" lactic acid bacteria, the tyndalised microorganisms are stable at room temperature for long periods (three years), do not require refrigeration and are resistant to gastric juices, to digestive enzymes and bile acids. For these reasons, they represent a viable alternative to live lactic ferments.

VIRUNOL GVP: concentrated extract obtainedfrom the patented strain FEM-10 microalgae Spirulina.Scientific studies have shown that Virunol GVP has broad-spectrum antiviral activity and helps to strengthen the body's natural defences.

It acts protecting the cells with "an antiviral barrier" that many viruses are not able to cross. In addition to various types of influenzaviruses, GVP Virunol inhibits several other pathogens such as intestinal viruses which are potentially harmful.

LACTOFERIN: it increases the good microfl ora, reduces systemic and intestinal infl ammation for illnesses such as intestinediseases. It also has documented antiviral properties (HIV, CMV, Herpes Simplex 1), antimicrobial (elicobatterio pylori, cholera, E. coli, bacillus Flexner, Staphylococcus epidermis, Pseudomonas aeruginosa, Candida albicans, etc.), antitumor and antioxidant.

SACCHAROMYCES BOULARDII: Saccharomyces boulardii intake increases the concentration of IgA in all organ systems and particularly in the intestine by strengthening the immune system against infections, allergies and intolerances. Saccharomyces Boulardii is useful in all disorders associated with IgA-s defi - ciency such as: food allergies and intolerances, gastrointestinal disease, autoimmune diseases, Crohn's disease, malignancies, infections and bronchopulmonary asthma, diarrhea, candida. Considering it is not a bacterium but a yeast, SaccharomycesBoulardii is antibiotic resistant. RED ORANGE COMPLEX: blood orange extract with antioxidant action.

POMEGRANATE JUICE: antibacterial, antioxidant, antiviral, antidiarrhoeal and gastroprotective properties.