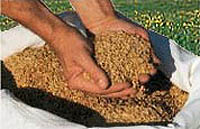 Semences bio
Offres de vente
Pour identifier la société, cliquer sur le numéro de l'offre
Offre N°
Catégorie
Certification
Origine
Produit
Validité de l'offre
Date de l'offre
85466
Semences
Other
Mexique
Semences en vrac
2016-04-30
2016-03-31

Description

: QUINOA BLANCA, NUEVA COSECHA MAYO DEL 2016. 400 TONELADAS Y SIGUIENTE COSECHA. NOVIEMBRE 2016. 500 TONELADAS
84458
Semences
Other
Iran
Semences en vrac
2018-12-31
2016-01-27

Description

: all of oily seeds
84099
Semences
Other
Russie
Semences en vrac
2018-02-02
2016-01-08

Description

: We have seeds of phacelia and red clover.
Our farm locate in Russia, Republic of Mordovia.