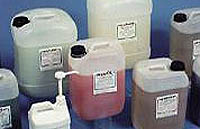 Nettoyage & hygiène écologiques bio
Offres de vente
Pour identifier la société, cliquer sur le numéro de l'offre
Offre N°
Catégorie
Certification
Origine
Produit
Validité de l'offre
Date de l'offre
84177
Nettoyage & hygiène écologiques
Other
Syria
Nettoyage & hygiène écologiques pour particuliers
2020-10-10
2016-01-13

Description

: Natural y biodegradable, el jabón negro líquido multiusos Najel, cuyo único ingrediente es el aceite de oliva saponificado, sustituirá a todos tus productos de limpieza del hogar.

Este producto único e indispensable se utiliza para toda la acasa, proteger las plantas del jardín y lavar los animales domésticos.
84176
Nettoyage & hygiène écologiques
Ecocert
Syria
Nettoyage & hygiène écologiques pour particuliers
2020-10-01
2016-01-13

Description

: Es el auténtico jabón de Alepo en formato líquido, adaptado para pieles secas, sensibles o irritadas.

Su nuevo frasco PET color ámbar le proporciona una protección eficaz contra la luz y los rayos del sol.

*Cosmético Natural y Ecológico certificado por Ecocert Greenlife
64240
Nettoyage & hygiène écologiques
Other
Philippines
autres Nettoyage & hygiène écologiques
2017-02-10
2015-07-24

Description

: DNAMAXX Enzymes are purely organic and biodegradable that makes it 100% environmentally and ecologically friendly. It is 100% safe to humans, animals, plants, marine life and the soil. Guaranteed safer, cheaper and more effective substitute to Chemical Deodorizers, Sanitizers, Fertilizers and Resigens utilized in garbage management, agricultural farming and disease fogging operations.

Equally important, DNAMAXX Enzyme is a DISEASE BUSTER, effectively destroying the larval stage of insects, thus preventing the spread of insect and water borne diseases, containing outbreaks of the following thru intensified clean-up operations at the safest means possible - DENGUE, Malaria, Yellow Fever, Epidemic Typhus, Onchoceriasis (River Blindness), Filiariasis, Dracunculiasis and Sleeping Sickness. Regular use of DNAMAXX Enzyme accelerates the degradation of organic wastes and averts
the excessive build-up of nitrates and phosphorous that pollutes the environment. It can prevent these diseases by reducing water contamination.

BD-CSS believes that we bring the feasible solution to the country's problems in Environmental Management, Agricultural Productivity, Health Consciousness, Solid Waste and Waste Water Management. These solutions should and must be synonymous with economic growth. On the other hand, referring to the DNAMAXX Enzyme Disease Buster, it is unfortunate that DENGUE outbreaks and waterborne diseases throughout the country has reached critical levels with a Seventy-Five Per cent (75%) Increase in recorded cases from the same time the previous year. And even if immediate and decisive action is to be undertaken in resolving the problem - to contain the outbreaks and intensify clean-up operations, the Department of Health (DOH) is to make a thorough assessment of the situation in employing the safest means possible.

BD-CSS is the Distributor of DNAMAXX Enzyme. Other products include the Dengue Buster, Enzol, Micronutri and the Manigo Organic Fertilizer. Orders are delivered within two to three days from time of issuance of a Purchase Order. DNAMAXX Enzyme is an award-winning product – a Grand Winner for the LIKHA AWARD Category of the 2006 UNLAD PILIPINAS AWARDS. Should your good office find interest in this breakthrough product, BD-CSS is willing to demonstrate to you and your technical working group the efficacy and usefulness of our product at your convenience.
72047
Nettoyage & hygiène écologiques
Other
Etats-Unis
autres Nettoyage & hygiène écologiques
2017-02-01
2015-05-21

Description

: Freshana's® fully organic Air Purifier eliminates odors instantly!

It is completely safe for kids, adults and pets. It doesn't mask odors like the harsh or "scented" products on store shelves. It actually gets RID of odors, and leaves you with an odor-free, toxic-free, environment. Saving you time and money!

The Freshana Air Purifier that you are looking at right now is revolutionizing industries: hotel, manufacturing, and, soon, the oil industry – and you can have all three industries right in your own home or small business – and you can have it all in one aerosol can.

You think there may be an odor too strong for our Freshana Air Purifier? It eliminates the worst of the worst: fish, urine, feces, bodies, pets, ammonia, food, cigarette and cigar smoke – you name it! Our Air Purifier can turn a smelly room or house into a place that is as fresh as the great outdoors in seconds – and do it organically.

Freshana® is the ONLY patented, all-natural, food-grade, 100% organic, complete odor remediator in the world!

Case of twelve 14-ounce or 2.5-ounce cans.