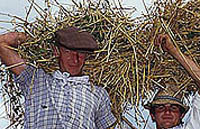 Alimentation animale bio
Offres de vente
Pour identifier la société, cliquer sur le numéro de l'offre
Offre N°
Catégorie
Certification
Origine
Produit
Validité de l'offre
Date de l'offre
81276
Alimentation animale
Other
Turquie
Animaux domestiques
2017-04-15
2015-04-28

Description

: Our Company produces drip-irrigation fertilizers, specific liquid and powder mixed leaf fertilizers, amino-acids based organic matters, organamineral fertilizers and trace elements. The raw materials we use in our production are the substances whose pH is lower; their intake by the plant is higher and also the matters have proved their quality. Hence, its intake by the plant is quite high thanks to the formulations of the fertilizers we produce and the specific matters we use with these formulations.
Our company ensures to the use of our products more in the agriculture sector by rendering technical service to our farmers.
It is of the intelligence and fund of knowledge taking all sorts of the trouble and problem solving of our framers as its duty.