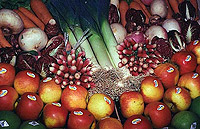 Fruits legumes bio
Offres de vente
Pour identifier la société, cliquer sur le numéro de l'offre
Offre N°
Catégorie
Certification
Origine
Produit
Validité de l'offre
Date de l'offre
80586
Fruits legumes
Other
Italie
Purées de fruits
2018-01-05
2017-09-19

Description

: GELFRUIT ITALIA-ORGANIC AND CONVETIONAL NUTS-REALLY ITALIAN TASTE
Dear Sir/Madam
I take pleasure to send you our introductory letter.

GELFRUIT ITALIA S.R.L. is a producer and supplier of nuts (almond, hazelnuts,pistachio,walnuts...) and ingredients for ice cream and confectionery.
We do organic and conventional products. We export high quality products and we are active in Europe, USA, Canada, Japan, etc.
Our customers are primarily: Wholesalers; ice cream, confectionery, chocolate industries, Import-Export Distribution, Wholesalers for Nuts; marzipan producer; nougat producer biscuiteries and many others.

We have:
100% pure nut paste (almond, hazelnuts, pistachio, pine nuts, etc..), wich can be organic or conventional and new line of spreadable creams of Sicilian pistachio, almond and moka coffee creams (used for filling, icing frosting used cold cakes, etc..) and pesto di pistachio (for savory dishes).
We not use artificial colors or preservatives.
We have also alot of fruit variety paste, like ( strawberry, coconut, orange, flower fruit lemon, ficodindia, alcantara peach and much more) as well we have traditional paste like ( amaretto di Sicilia, cassata siciliana, cannolo palermitano, zabaione, tiramisù, coconut and much more).
92446
Fruits legumes
Imo
Cambodge
Fruits secs
2020-10-10
2017-09-19

Description

: Certified Organic Garcinia Cambogia dry fruits, TBC
91695
Fruits legumes
Other
Ukraine
Fruits ou légumes surgelés
2019-12-31
2017-08-17

Description

: IQF Wild Blueberry organic & conventional
IQF Wild Blackberry organic & conventional
IQF Cranberry organic & conventional
IQF Lingonberry organic & conventional
IQF Elderberry organic & conventional
IQF Aronia organic & conventional
92110
Fruits legumes
Other
Serbie
Fruits ou légumes surgelés
2020-12-12
2017-08-15

Description

: Organic deep frozen raspberry sort willamet - original www.milfruti.rs
We have analyses Belgic laboratory Primoris.
60460
Fruits legumes
Ecocert
Espagne
Fruits frais
2018-03-20
2017-07-26

Description

: Naranjas de produccion ecológica de Valencia, solo disponibles en temporada.
91313
Fruits legumes
Other
Ukraine
Fruits ou légumes surgelés
2018-12-31
2017-07-17

Description

: Frozen organic berries: raspberry, blueberry, strawberry

Ready to deliver beginning of october 2017, packed 10kg cartons

Cert equivalent to Reg EC No 834/07, 889/08; cert organ Organic Standard Ukraine
91251
Fruits legumes
Other
Philippines
Légumes frais
2020-01-01
2017-06-20

Description

: Fresh Organic Ginger. Variety: Hawaiian. Size: 250+. Origin: Philippines. Certification: Dept. Of Agriculture Philippines organic certification. Capacity: 20tons per month. Price: US$10/kg fob. Payment method: T/T
91401
Fruits legumes
Consejo Regulador Agroalimentario Ecológica De Extremadura
Espagne
Fruits frais
2019-01-01
2017-06-13

Description

: Nous sommes des producteurs de fruit à noyau Bio: des prunes, des nectarines, de l'agriculture biologique et biodinamique.
We are producers of organic stone fruit: plums, nectarines, from organic and biodynamic agriculture.
91392
Fruits legumes
Other
République Tchèque
Fruits secs
2019-05-05
2017-06-13

Description

: Organic Dried Plum with stones, moisture 22%
Organic Dried Fruits, Nuts and Raisin from Turkey
90433
Fruits legumes
Other
Ukraine
Fruits frais
0000-00-00
2017-04-14

Description

: Fresh Pears - Conference and Ksenia with organic certification from Ukraine
62288
Fruits legumes
Other
Colombie
Fruits et légumes exotiques
2018-12-01
2017-03-30

Description

: Global Agricultural Trading is a family owned company and jointly in alliance with Colombian Companies dedicated to producing, commercializing, consolidating and exporting products of the Colombian Agro-industrial sector.
79619
Fruits legumes
Other
Thailande
Autres fruits legumes
2018-02-02
2017-03-30

Description

: We, group of farmers, gather in the name Organic Development Center for Internal Standards in order to produce organic materials with international organic standards to meet the needs of entrepreneurs.

Our group aims to create organic standard materials such as rice, vegetables, fruits, herbs, covering all areas in Thailand. Currently, our main area is the northern and central parts of Thailand, which is known as watershed and prosperous area for planting as well.

• Our main materials
1. Grains, such as Jasmine rice, red rice, brown rice, Berry rice, Sinlek rice,Sang Yod
(trader can own sources and Contract Farming)
2. Vegetables
3. Herbs
4. Fruits
**Under international organic standards that customers identify (IFOAM, EU, USDA, JAS)**
79882
Fruits legumes
Other
Inde
Fruits secs
2018-04-15
2017-03-30

Description

: Organic Desiccated Coconut
Organic Coconut Milk - TIN
Organic Almonds
Organic Cashews
Organic Raisins
Organic Pistachios
62396
Fruits legumes
Ecocert
Afrique du Sud
Fruits secs
2018-12-15
2017-03-30

Description

: The quality of Roux Pecan kernel is the same. No compromise is allowed.

We have done the work for you in preparing the kernels so that they are "Ready to Use", packaged in 5kg blocks, two per box.

Special Reserve Pecan Halves:

Hand selected perfect pecan halves are Roux Pecans most sought after selection. This selection is special in that we take extra time and effort in selecting this premium grade. These are completely unblemished pecans that epitomize the high standard of pecan that make them extremely popular with all clients from chocolatiers in London to the most discerning private individual.
79865
Fruits legumes
Bioagricert (bac)
Italie
Légumes frais
2018-04-15
2017-03-23

Description

: Over 60 hectars of directly managed and harvested fields, totally dedicated to organic vegetables and herbs. A packaging firm for packing in different sizes. Customizable labelling. Company certifications Bioagricert, Bio Suisse, IFS, Global GAP.