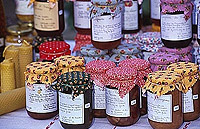 Epicerie bio
Offres de vente
Pour identifier la société, cliquer sur le numéro de l'offre
Offre N°
Catégorie
Certification
Origine
Produit
Validité de l'offre
Date de l'offre
66622
Epicerie
Other
Canada
Muesli, corn flakes
2018-02-02
2016-04-25

Description

: We offer wide variety of healthy certified organic snacks with touch of pure maple syrup: almonds, cashews, nut mixes, dry fruits and cereal. All natural ingredients without preservatives, flavors and colors. None of the snacks contain any dairy or animal by-products of any kind.
Original recipes made by hand in small quantities from the finest certified organic ingredients to ensure the quality of every batch.
Kosher certified.
Bulk and private labels available.
Made in Canada.
70264
Epicerie
Other
Italie
Autres epicerie
2018-02-10
2016-04-06

Description

: we are producers and seller of olio beato products,organic extravirgin olive oil,stuffed olives,
artichoks brine,es,sundried tomatoes,pasta sauce,tapenade,grilled vegetables,
olives in brine,jams sugar free
62507
Epicerie
Other
Italie
Sauce tomate
2018-12-12
2016-01-27

Description

: The Conserve Manfuso Tomato Canning Company was founded in 1983 and sells its products to the most important grocery chains and catering companies in Europe and America. Our production is certified by UNI EN ISO 9001:2000 standard and BRC standard.
In recent years the Manfuso Company has produced organic tomato products to satisfy the increasing demand for healthy and uncontaminated foods for public and school canteens, supermarkets and shops.
All organic tomatoes are certified by the ICEA that checks the tomatoes at the harvest and during the canning process of the product.
Thanks to the collaboration of the ICEA that guarantees the quality of organic tomatoes and our traditional method of production, which we have used for generations, we make high quality preserves an essential part of the Mediterranean diet.
The Conserve Manfuso company produces peeled tomatoes, chopped tomatoes, mashed tomatoes, tomato paste and cherry tomato in different can sizes:
3.400 gr – 3.000 gr. – 1.000 gr. – 500 gr.
Moreover we have a regular demand for a typical and craftmade product that marks the family character of our company. We produce our tomatoes in glass jars of 520 gr.
Our excellence product is the Tomato King: we produce the famous San Marzano DOP tomatoes
Our motto is:"Eating Healthy Means Being Healthy" Sauce tomate Epicerie 2011-10-18
83693
Epicerie
Control Union
Inde
Autres epicerie
0000-00-00
2015-12-17

Description

: Dear Mr Ivan,

We the ALVES GROUP introduce ourselves as exporters of top quality Certified Fresh & frozen -Organic Vegetables & fruits .

We have over 5000 Certified farmers associated with us from all over India - cultivating Fresh Vegetables & fruits ,Various grains like Basmati Rice ,Wheat ,Corn - Oil seeds like -Sesame seeds ,Soya beans ,Spices like Chilly,Turmeric ,Fresh & frozen fruits -Vegetables ,Aromatic & Essential Oils ,Aromatic & Herbal products.

Please let us know your specific requiretemnt along with Quantity required & specifications to enable us to offer the best Price .

Thanks & Best Regards
66482
Epicerie
Ecocert
France
Autres epicerie
2018-01-29
2015-11-16

Description

: Since 1936, Markal has specialized in manufacturing of food products from cereals and rice.

Today, it has a broad mix, ranging from products based on organic grains such as rice cakes and corn, oils of olive and tomato products.