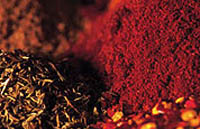 Epices condiments bio
Offres de vente
Pour identifier la société, cliquer sur le numéro de l'offre
Offre N°
Catégorie
Certification
Origine
Produit
Validité de l'offre
Date de l'offre
73800
Epices condiments
Other
Chine
Épices, poivres
2017-07-20
2015-10-02

Description

: Cold Frozen pepper
44726
Epices condiments
Comité Andaluz De Agricultura Ecologica (caae)
Espagne
Conserves au vinaigre
2017-07-20
2015-10-02

Description

: Conservas ecológicas de zanahoria rallada ( carrot ), remolacha en tiras, pepinillos en vinagre, judias verdes, ajos al limón, aceitunas aliñadas,

salsa de tomate frito a las finas hierbas, tomate frito al estilo casero, tomete triturado, pisto manchego, pisto de calabacín,

diferentes formatos
82680
Epices condiments
Other
Inde
Épices, poivres
2018-12-31
2015-09-18

Description

: ORGANIC TURMERIC FINGER & FRESH VEGETABLES
82675
Epices condiments
Other
Panama
Épices, poivres
2018-02-02
2015-09-18

Description

: Organic habanero peppers (red & yellow), dried & fresh
82448
Epices condiments
Ccpb Consorzio Per Il Controllo Dei Prodotti Biologici
Turquie
Vinaigre
2017-02-10
2015-09-08

Description

: We will produce organic certified apple,grape and hawthorn cider vinegar.
This is a pure product entirely produced organic apples,grapes or hawthorns by traditional natural fermentation.Especially when a bottle is opened,color may change,sedimentation may occur,and transparent layer (called mother of vinegar) may form.Mother of vinegar is true of sign of unfiltered vinegar and forms naturally.Moreover it is an indication that the fermentation is continued and the product is not pasteur?zed and filtered.
81519
Epices condiments
Ecocert
Inde
Épices, poivres
2017-02-15
2015-05-21

Description

: WE SUPPLY ORGANIC HERBS AND SPICES.

THE FOLLOWING:
PEPPER
TURMERIC
CARDAMOM
CINNAMON
VANILLA
MUSTARD
CHILLY
FENUGREEK
81517
Epices condiments
Other
Iran
Autres epices condiments
2018-12-10
2015-05-21

Description

: Saffron from Iran is the best product in the World. Our product is organic and high quality.