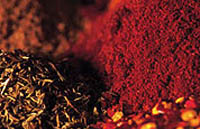 Epices condiments bio
Offres de vente
Pour identifier la société, cliquer sur le numéro de l'offre
Offre N°
Catégorie
Certification
Origine
Produit
Validité de l'offre
Date de l'offre
84104
Epices condiments
Other
Ghana
Épices, poivres
2018-12-31
2016-01-08

Description

: ORGANIC POWDERED HOT PEPPER FROM MY FARM WE ALSO HAVE SEEDS LIKE ALMOND,SESAME,CASHEW NUTS,ONION,GARLIC,GARDEN EGGS,TOMATOES ALL FROM MY FARM AND THEY ARE ORGANIC..WE ALSO HAVE GREEN MANGOES FARM AND LEMON FARM.I HAVE A HUGE QUANTITIES TO SELL OR EXPORT TO ANY COUNTRY IN THE WORLD WITH MODERATE PRICE.
84103
Epices condiments
Other
Ghana
Sel
2018-12-31
2016-01-08

Description

: WE ALSO HAVE ROCKY SALT IN HUGE QUANTITY FOR SUPPLIER.
68531
Epices condiments
Other
Espagne
Autres epices condiments
2017-12-30
2016-01-07

Description

: We grow organic potatoes of excellent flavour. We've fried our potatoes into a simmering vessel of pure extra virgin olive oil adding a bit of Mediterranean sea salt.

We're happy to share with you the unique taste of this hand cooked potato CRISPS.

PRODUCT TECHNICAL INFO

1. PRODUCT NAME
Bio chips gourmet

2. INGREDIENTS
Potatoes, Olive extra virgin (nativ extra), salt.

Ingredients written in: Spanish, English, German, French, Dutch, Italian,
Portuguese, Danish, Swedish and Norwegian

3. CERTIFICATE
Organism: ECOCERT-SOHISCERT (ES-CM-01-AE)
Operator: Productos Biológicos de Daimiel, S.L.
Eco Industry Register Number: CM-156-I
Sanitation Register (food safety) Number: 26.01370/CR
Printed in the bag UE seal and German seal (BioSiegel)

4. TRACKABILITY
Beside to the bar code it is printed the geographic coordinates of the land where
the potatoes and oil were grown, With an Internet map program it can be seen
the area in your computer screen.

5. PACKAGES
Pack type: Aluminum metal/plastic bags
Weight per bag: 100 grm
Best before period: 180 days

6. PACKING
Cardboard boxes: 30x40x25 cm
Units per box: 12
Net weight per box: 1,2 Kgs
Pallet type: 1,20x0,80 cm (European)
Boxes per level: 8
Levels: 8 (4 in a 1/2 pallet)
Total boxes per pallet: 64 (32 in 1/2 pallet case)
77231
Epices condiments
Other
Perou
Autres epices condiments
2017-10-10
2016-01-07

Description

: Jengibre organico fresco
83870
Epices condiments
Consejo De Agricultura Ecológica De La Región De Murcia
Espagne
Épices, poivres
2018-12-31
2015-12-17

Description

: VENTA DE FLORES, SEMILLAS, DE HELYCHRISUM ITALICUM
72922
Epices condiments
Other
Inde
Autres epices condiments
2018-10-20
2015-11-26

Description

: we are producer supplier of certified organic herbs and spices from India.