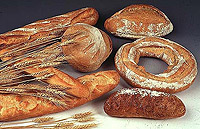 Pain confiserie chocolaterie bio
Offres de vente
Pour identifier la société, cliquer sur le numéro de l'offre
Offre N°
Catégorie
Certification
Origine
Produit
Validité de l'offre
Date de l'offre
91868
Pain confiserie chocolaterie
Other
Ukraine
Confiserie
0000-00-00
2017-07-17

Description

: Organic gingerbread "Ginger". Ingredients: honey*, wheat flour*, rye flour*, sweet butter*, rising agents: carbonates of sodium, calcium phosphates, cinnamon*, ginger*, brown sugar*, egg white*, carrots*, spinach juice*, blueberry paste*, cranberry paste* (*Certified organic ingredients.
Expiry term: 6 months.
Net weight – 80g. Individual cartoon package – 19x10x3cm.
Products on a pallet: 1920pcs.
59391
Pain confiserie chocolaterie
Other
Japon
Autres pain confiserie chocolaterie
2018-04-04
2016-10-11

Description

: Natural confectionery without any additives and preservatives
83866
Pain confiserie chocolaterie
Other
France
Pains, pains spéciaux
2018-02-02
2015-12-17

Description

: vente pains spéciaux bio et sans gluten
71328
Pain confiserie chocolaterie
Consejo De Agricultura Ecológica De Castilla Y León
Espagne
Autres pain confiserie chocolaterie
2016-10-10
2015-04-20

Description

: Conventional Chips

We also have a vast range of such products, with or without salt and we also use sunflower and olve oils, have some interesting flavours.