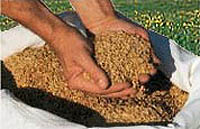 Semences bio
Offres de vente
Pour identifier la société, cliquer sur le numéro de l'offre
Offre N°
Catégorie
Certification
Origine
Produit
Validité de l'offre
Date de l'offre
83259
Semences
Other
Iran
Semences en vrac
2019-02-15
2018-01-23

Description

: organic coriander & parsely seed
76463
Semences
Other
Pakistan
Semences en vrac
2019-06-06
2017-12-11

Description

: Certified Organic Sunflower Seeds, Almond Kernels, Apricot Kernels, Walnuts, Pine Nuts, Flax Seeds and many others
82445
Semences
Other
Inde
Semences en vrac
2019-02-10
2017-12-11

Description

: Fenugreek seeds, etc.
75866
Semences
Other
Great Britain (UK)
Autres semences
2019-06-23
2017-11-17

Description

: We can offer premium quality Sunflower Seeds, as well as Pumpkin Seeds, Sesame Seeds and Golden Linseed. NEW PRODUCT: Sweet Apricot Kernels.
82273
Semences
Other
Royaume Uni
Semences en vrac
2019-02-10
2017-10-10

Description

: walnuts
91399
Semences
Ceres
Paraguay
Semences en vrac
2019-05-04
2017-06-13

Description

: Organic Black Chia Seeds
90677
Semences
Other
Italie
Semences en vrac
2019-01-01
2017-04-14

Description

: Organic cereals

Seeds of Amaranth
Amaranthus

Bacche di Goji
Lycium barbarum

Chia Seeds
Salvia hispanica

Quinoa Seeds
Chenopodium quinoa

discover its properties

Maca
Lepidium peruvianum


Hemp Seeds
Cannabis Sativa


Sunflower meal cake
Helianthus annuus

discover its properties

Organic Soya Seeds

Organic Corn Seeds

Organic Oat


Rape


Spelt


Soya Meal Cake


Rape Meal Seeds


Sunflower meal cake
77076
Semences
Other
Chili
Semences en vrac
2018-10-20
2017-02-01

Description

: chia seeds- hemp seeds
78419
Semences
Other
Espagne
Semences en vrac
2018-03-20
2017-01-09

Description

: Product (all certified organic)
Ajwain or Carom Seeds
Alasande Red (Red cowpea)
Alasande White (Cowpea White)
Bay Leaf
Black Lentil (Black Gram Dal)
Black Pepper Powder
Black Pepper Whole
Cardamom
Cinnamon
Coriander Dry Seeds
Cumin or Jeera
Fennel Seeds
Fenugreek Seeds
Flax seeds or Linseeds (Brown)
Mustard Seeds (Black)
Mustard Seed (TS 36 variety)
88775
Semences
Other
Cameroon
Semences en vrac
2020-11-16
2016-11-13

Description

: Picralima Nitida is a seed used in African herbal medicine primarily as a pain reliever.  Known as akuamma, the seed contains the alkaloids, akuammine and pericine as well as a number of related minor alkaloids.  Aside from analgesia,  picralima nitida seeds are also used as an anti-inflammatory, a skeletal muscle relaxant  and an anti-diarrheal. Akuammine is an indole alkaloid that is structurally related to yohimbine and mitragynine.  Akuammine is soluble in ethanol. Traditionally akuamma seeds were powdered and taken orally. But given the extremely bitter nature of the seeds, it is not surprising that pharmaceutical makers in Africa isolated the active compounds to produce capsules sold under the name Picap. The seeds are said to contain about 3.5%-4.8% akuammine.


 We offer dried and powder akuamma seed  from Africa. Please kindly let us know if you are interested in our product.
60560
Semences
Other
Inde
Semences en vrac
2018-05-27
2016-07-06

Description

: We are the Cultivator, Processor and Exporter of Certified Organic products and offer a wide range of Certified Organic Products in countries worldwide. At the heart of ORGANIC INDIA is our commitment to promote holistic sustainable development for all beings through organic agriculture.

We are having largest organic certified farmer base spread throughout the country and are able to grow almost every crop, grown in the country, on commercial scales. We are able to cultivate process and pack the products as per buyer's specific requirements.

Our facilities and processing centers have been awarded ISO 9000, SQF, HACCP, GMP, Kosher certifications and comply with EEC2092/91, NOP/USDA regulations. Our Certification agencies are SGS, Skal International and Ecocert.

We are currently exporting our products to USA, Canada, Europe (Germany, Czech Republic, and Sweden), U.K, Japan, Australia, Israel, and South Africa to name a few.

Our Organic products are:

1. Edible seeds, Oilseeds and other commodities –
A) Castor Oil (Pale Pressed, Cold Pressed)
B) Chicory Cubes ( Roasted & unroasted Cubes)
C) Psyllium Husk
D) Sesame Seed (Black, Brown, Natural, Hulled)
E) Mustard,( Black, Yellow)
F) Senna (Pod, Leaf)
G) Flax Seed
71172
Semences
Agrocert
France
Semences en vrac
2018-02-23
2016-04-06

Description

: Toutes semences en vrac des plantes médicinales
85466
Semences
Other
Mexique
Semences en vrac
2016-04-30
2016-03-31

Description

: QUINOA BLANCA, NUEVA COSECHA MAYO DEL 2016. 400 TONELADAS Y SIGUIENTE COSECHA. NOVIEMBRE 2016. 500 TONELADAS
84458
Semences
Other
Iran
Semences en vrac
2018-12-31
2016-01-27

Description

: all of oily seeds
84099
Semences
Other
Russie
Semences en vrac
2018-02-02
2016-01-08

Description

: We have seeds of phacelia and red clover.
Our farm locate in Russia, Republic of Mordovia.