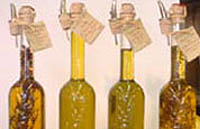 Huiles bio
Offres de vente
Pour identifier la société, cliquer sur le numéro de l'offre
Offre N°
Catégorie
Certification
Origine
Produit
Validité de l'offre
Date de l'offre
59071
Huiles
Comité De Agricultura Ecológica De La Comunidad De Madrid
Espagne
Olive
2016-12-31
2015-01-16

Description

: Aceite de Oliva Virgen Extra Ecologico y Convencional procedente de Los Montes de Toledo. Uno de los mejores de España según las últimas ferias y catas realizadas. Mejor calidad-precio del mercado.
Envasamos en cristal 250, 500 y 750 ml.
Envasamos en PETS de 2 litros y 5 litros.
Tambien a granel.
79625
Huiles
Other
Macedonia
Tournesol
2016-04-15
2015-01-05

Description

: Organic sunflower oil
Organic coconut oil
50612
Huiles
Associazione Italiana Per L'agricoltura Biologica
Italie
Olive
2016-02-10
2015-01-05

Description

: Excellent olive oil extravierge typical of Monti Iblei with a special flavour, green+yellow color, in bottled of 50 cl. E.
Derived from secular tree with a natural cultivation, no chemical applied, harvest with hand directly to the tree and immediately processed. Oil without treatment only phisical extraction and perfect conservation without plastic contenitor. Only iron and glass. Availability of only 2.000 bottled of 50 cl. Hig quality certified. Please send me a request for free sample of 25 cl. to taste the better quality oil of Sicily. From Ragusa.
79615
Huiles
Other
Madagascar
Autres huiles
2016-01-29
2015-01-05

Description

: Huile de palme certifiée bio
78913
Huiles
Other
France
Autres huiles
2016-03-01
2014-11-19

Description

: Ever since it was founded in 1989, we have been tirelessly asserting its position as a major player in the organic oils sector.

'The Basics' : your day-to-day oils. Includes some well-known flavours (olive, sunflower, rapeseed), some lesser-known (safflower, marrow seed) but all of them providing specific supplements, all of which are essentials ...

The Gourmet Series

Since our oils are so tasty, check out our 'Gourmet Series' range. Original, flavourful oils that will provide all of your meals with a whimsical touch ...


The Balanced Diet Specials

To help you enjoy the benefits of every one of our oils with no fuss, BIOPRESS has developped a full range of blends, the Balanced Diet Specials, for use in seasoning.


The Cooking Specials

BIOPRESS provides you with its range of oils devoted to cooking and frying. For your comfort and in order to preserve the flavour of your recipes, these oils have been deodorised using water steam. They have neither taste nor smell, and will allow you to cook 'healthy'.


The Practical Series

With its "Pratical Series", Biopress invites you to rediscover its flagship products in greater packaging, for a more practical and more economical use.
78761
Huiles
Other
Afghanistan
Autres huiles
2016-03-01
2014-11-07

Description

: Organic Virgin Coconut Oil: As the name has it. It is Organic and you will just feel it with the nice aroma, the moment you open the bottle. It definitely indulges you. It is ideal for cooking specially good to control the level of cholesterol. Not only that it will give nourishment to your hair and protects your scalp. For skin it will do wonders to make it wrinkle free soft supple skin.
78549
Huiles
Other
Espagne
Olive
2016-12-12
2014-10-22

Description

: Andalucian factory, we provide Extra Virgin Olive Oil, including Organic EVOO. First Cold pressed. Certified organically grown olives. Personal control upon the olives because the product is local. Bottling option : glass bottles, PET, tin. We are able to provide EVOO in bulk as well.
Quality and excellent taste guarantee.
78417
Huiles
Other
Tunisie
Noix
2016-01-01
2014-10-15

Description

: Je suis interessé par un partenaire pour la productin d huile d olive Bio
66935
Huiles
Ecocert
Maroc
Autres huiles
2016-10-01
2014-10-14

Description

: Bonjour,

Nous sommes une entreprise marocaine experte spécialisée dans la production et l'exportation de l'huile d'Argan pure et pressée à froid pour usage cosmétique.

Notre huile d'Argan est certifiée biologique par des organismes ECOCERT et USDA.

Nous sommes impatients d'étendre notre activité sur d'autres marchés et nous recherchons un partenaire sérieux pour la promotion de notre produit.

Nous sommes intéressés par l'exportation en vrac et nous sommes très ouverts à un partenariat d'affaires solide et sérieux.
77753
Huiles
Ecocert
France
Olive
2016-10-10
2014-09-08

Description

: Aspect liquide huileux fluide
Couleur jaune doré à verte
Odeur caractéristique d'olive
Toucher gras.
Si vous souhaitez améliorer sa pénétration dans la
peau, mélangez-la avec une huile plus pénétrante
( Kukui, Macadamia, Noisette,... )
67129
Huiles
Bcs-oko Garantie Gmbh
Guatemala
Autres huiles
2016-01-15
2014-09-08

Description

: Coconut oil extra virgen and coconut flour
66607
Huiles
Ecocert
Maroc
Autres huiles
2016-07-02
2014-08-25

Description

: Huile d'argan ( Zwity et Tamgharte)

Notre mission est la qualité dédiée par les femmes rurales de la perle du Sud

la principale mission des femmes rurales de la perle du Sud est de vous offrir l'or liquide de qualité incomparable.
66173
Huiles
Other
Italie
Autres huiles
2016-03-07
2014-08-11

Description

: ORGANIC OILS selects top-quality raw materials that come from certified organic farms and it checks them according to the strictest international standards
65059
Huiles
Other
Allemagne
Autres huiles
2016-06-10
2014-08-08

Description

: Argand'Or GmbH is the world market leader for hand pressed argan oil. Products include food oil,
cosmetic oil and related products such as supplement caps, cream and body lotion. Our products
have been sold on every continent.

I do not know how far you far you have studied about argan oil, so maybe I can give you a short description:
Argan oil is pressed from the fruit of the argan tree which only grows in the southern part of Morocco.
This oil is traditionally used for cooking (it has a nutty taste) and for skincare by the native Berber population.
Modern research has found it to be the richest oil in tocopherol(vitamin E) and anti-oxidants like spinasterol and schottenol, making it useful for anti-aging treatment and cancer prevention/healthy lifestyle. The oil is pressed traditionally in Morocco and controlled and then bottled in Germany. It is conforming to European standards for biological food and dermantologically tested, assuring the highest quality. Machine pressed argan oil (which today is the majority) loses most of its ingredients during pressing, and as the outer shell is rarely removed in such a process, making it bitter. Argand'Or argan oil is marketed in Europe and other countries as a premium class oil for users concerned about nature and health.
62089
Huiles
Ecocert
Maroc
Autres huiles
2017-12-31
2014-07-09

Description

: Mybio est une société de production et de commercialisation d'huile d'argan alimentaire et cosmétique biologique, basée à Agadir (Maroc). Nous sommes à la recherche d'acheteurs ou de distributeurs.

Spécifique de par sa composition, extrêmement riche en acides oleiques et linoleiques, l'huile d'argan compte aujourd'hui parmi les meilleurs anti-oxydants.

Mis à part l'huile d'argan alimentaire nature et aromatisée, nous pouvons également vous proposer une gamme d'huile d'argan cosmétique.

A votre demande, nos huiles peuvent être soit livrées en vrac, soit conditionnées par notre propre soin dans notre unité de production.

Référencée chez Ecocert et NOP, notre structure répond parfaitement aux normes internationales en termes d'hygiène et de sécurité.