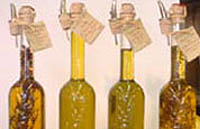 Huiles bio
Offres de vente
Pour identifier la société, cliquer sur le numéro de l'offre
Offre N°
Catégorie
Certification
Origine
Produit
Validité de l'offre
Date de l'offre
73549
Huiles
Ecocert
Maroc
Autres huiles
2019-12-31
2018-01-18

Description

: Mybio is a companyspecialized in the production of organiccosmetic and culinary argan oil, it's obtained by cold pressure from argan almonds carefully selected from organic farming.

specific in its composition exceptionallyrich in oleic and linoleicfattyacids (80%), argan oilisbeneficial and canbeused in dieteticcosmetic and medicinalproduct.

For your information, we are certified Ecocert, EcocertOrganiccosmetic, Greenlife, Usda (Nop), ourproductswereselected as innovativeproductsat the IFE fair 2011, we won the International Crown Quality 2011 at London, Wewerenominatedat the MoroccoAwards 2011, and thisyear, we won the MoroccoAwards 2012 with a special distinction from the jury. We have a FDA number.

Wecan propose an innovativeproduct: Aromaticculinary Argan oil.

Our aromatic argan oil ranges "Argalight" and "Argadiet" waselaboredwith passion by an artist chef in collaboration with a foodengineer and itsincluded
11 différents flavorsreferences (lemon, pomegranateflower, cinnamon, clove, cumin ,thyme, fennel, rosemary, garlic, coriander, nature ...).

"Argabio" isour nature organic argan oilproduct

"Argalift" ourorganic argan oil for skin and hair care
62990
Huiles
Other
Inde
Autres huiles
2020-07-20
2018-01-10

Description

: Organic Soy Oil
73135
Huiles
Ecocert
Pays-Bas
Palme
2019-07-10
2017-12-11

Description

: Crude palm oil
RBD palm oil
Palm oil stearin
Palm oil olein
76464
Huiles
Other
Pakistan
Noix
2019-07-20
2017-12-11

Description

: Certified Organic Cold Pressed Walnut Oil
93878
Huiles
Other
Iran
Noix
2019-10-10
2017-12-11

Description

: Dear Sir/Madam
Ebrahimi trading group with two years experience in field of exporting medicinal plants,herbal products, Dried fruits, dates, seeds, and other relevant products of Iran tends to supply your required goods.
80567
Huiles
Ecocert
Maroc
Autres huiles
2019-10-04
2017-07-26

Description

: We are a Moroccan Supplier of Organic Pure Beauty Line located in Morocco with offices in Hong Kong and USA.
Moroccan Organic Beauty products are in fashion all around the world because of their miraculous results on Hair, Face, Skin and Body.
Be beyond the first to offer it to your customer.
We sell in Bulk and Private label and we offer competitive price for top grade High quality products.
Certified Organic with all documentations on hand.

ARGAN OIL : An all-in-one solution for all types of skins renowned for its ability to keep skin and hair looking its best due to its naturally high content of vitamin E, antioxidants and aminoacids. Argan oil's unique characteristics help to fight signs of aging, hydrate skin, neutralize free radicals, protect skin and hair from damaging environmental factors, restore health to hair, tame frizz and give hair the boost of extra shine.
(Also for Eczema/Psoriasis/Urticaria)
60461
Huiles
Ecocert
Espagne
Olive
2019-02-10
2017-07-26

Description

: Aceite de oliva virgen extra ecológico, disponible en botella de 500 ml. y garrafa de 5 litros.
91249
Huiles
Ecocert
Tunisie
Olive
0000-00-00
2017-06-20

Description

: - huile d'olive extra vierge - acidité <0,5: marque "TERRA BELLA"

- huile d'olive extra vierge - acidité <0,8: marque "La Medina"
91388
Huiles
Other
Canada
Tournesol
2019-12-12
2017-06-13

Description

: NOP/COR/EU Certified Organic (Certifier: Pro-Cert) High Oleic Sunflower Oil

ORIGIN: Canada

Contact us for full specifications.
91389
Huiles
Other
Canada
Colza
2019-10-09
2017-06-13

Description

: NOP/COR/EU Certified Organic (Certifier: Pro-Cert) Canola / LEER Rapeseed Oil

ORIGIN: Canada

FFA: 0.5%
Phosphorus: <3PPM
PV: <0.1 meq./kg

Contact us for full specifications.
91243
Huiles
Control Union
Ukraine
Tournesol
2019-12-31
2017-05-25

Description

: 100% Expeller Pressed High Oleic Sunflower Oil (RBWD/Crude). Oleic Accid - 75-85%. Ukrainian origin. The best decision for frying and cooking. The shipment is possible as in bulk, so in 1,3,5L PET bottles, bag-in-boxes, IBC's totes, Drums etc.
76990
Huiles
Other
Grêce
Noix
2020-10-10
2017-03-30

Description

: Extra virgin olive oil of certified organic production from mountainous and semi-mountainous low yield olive groves of exceptional biodiversity.

Extremely low acidity and very low peroxide value.

AGIOLIA organic extra virgin olive oil is a single varietal olive oil from the famous "Koroneiki" olive variety. The fruit is hand-picked from the cultivators we collaborate with from our chosen "Mountainous olive groves of exceptional biodiversity".

The pressing of the olives takes place within 24 hours, at a temperature below 27 °C, at a contemporary two phase oil mill of low environmental burden. Laboratory qualitative tests are immediately carried out by an independent accredited laboratory in Athens, to verify that the specific batch can be labelled as AGIOLIA organic ultra premium olive oil.

Once the analysis attest to the quality, the olive oil batch is stored in stainless steel tanks, in a cool and dry environment, in a collaborating certified bottling plant of the region. The bottling takes place within 30 days, under strict supervision from the Production Engineers office with which we collaborate.

The strict specifications for harvesting, milling, storing and bottling guarantee that the AGIOLIA extra virgin olive oil has a very low acidity, which reaches below 0.30%. Furthermore, the low peroxide value, below 8 mEqO2/kg, proves that the AGIOLIA extra virgin olive oil has not undergone oxidation or other alterations.
90134
Huiles
Control Union
France
Autres huiles
2019-01-01
2017-03-06

Description

: Coconut oil
Packaging 150/250/500/720/1000
Cold pressed high-grade oil
Oil from Sri Lanka
Certified organic coconut oil
Unrefined virgin coconut oil not deodorized
89979
Huiles
Other
Turquie
Olive
2019-02-02
2017-02-21

Description

: Simyadoga is a big olive oil producing company in Aegean Region in Turkey. We export our products with high quality virgin, extra virgin, early harvest organic extra virgin etc… and competitive price and also we would like to have long term and fru?tful business with you. If you interest, please feel free for further information.
Sincerely
Simyadoga Corporation Company
Mrs Gülden Cerit
Sales Manager
Chamber of Commerce Registration Record:45534
Trade Register number:38530
contact phone(mobile and whatsapp):00905358849967
skype:gldn20
66607
Huiles
Ecocert
Maroc
Autres huiles
2019-07-02
2017-02-01

Description

: Huile d'argan ( Zwity et Tamgharte)

Notre mission est la qualité dédiée par les femmes rurales de la perle du Sud

la principale mission des femmes rurales de la perle du Sud est de vous offrir l'or liquide de qualité incomparable.