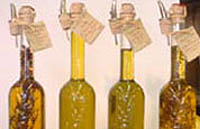 Huiles bio
Offres de vente
Pour identifier la société, cliquer sur le numéro de l'offre
Offre N°
Catégorie
Certification
Origine
Produit
Validité de l'offre
Date de l'offre
67129
Huiles
Bcs-oko Garantie Gmbh
Guatemala
Autres huiles
2018-01-15
2016-08-12

Description

: Coconut oil extra virgen and coconut flour
65059
Huiles
Other
Allemagne
Autres huiles
2018-06-10
2016-08-12

Description

: Argand'Or GmbH is the world market leader for hand pressed argan oil. Products include food oil,
cosmetic oil and related products such as supplement caps, cream and body lotion. Our products
have been sold on every continent.

I do not know how far you far you have studied about argan oil, so maybe I can give you a short description:
Argan oil is pressed from the fruit of the argan tree which only grows in the southern part of Morocco.
This oil is traditionally used for cooking (it has a nutty taste) and for skincare by the native Berber population.
Modern research has found it to be the richest oil in tocopherol(vitamin E) and anti-oxidants like spinasterol and schottenol, making it useful for anti-aging treatment and cancer prevention/healthy lifestyle. The oil is pressed traditionally in Morocco and controlled and then bottled in Germany. It is conforming to European standards for biological food and dermantologically tested, assuring the highest quality. Machine pressed argan oil (which today is the majority) loses most of its ingredients during pressing, and as the outer shell is rarely removed in such a process, making it bitter. Argand'Or argan oil is marketed in Europe and other countries as a premium class oil for users concerned about nature and health.
87378
Huiles
Other
Nouvelle-Zélande
Autres huiles
2018-12-31
2016-08-05

Description

: premium quality extra virgin organic coconut oil 500ml in glass jar
87358
Huiles
Other
France
Sésame
2018-12-31
2016-08-01

Description

: Organic Sesame seed Oil
87089
Huiles
Ecocert
Côte d'Ivoire
Autres huiles
0000-00-00
2016-07-12

Description

: Huile Vierge de Coco Biologique

Huile de Coco Raffinée Biologique (Copra)

Huile vierge de palmiste Biologique
86820
Huiles
Other
Espagne
Amande
2018-12-31
2016-06-22

Description

: Botella de 80ml

INGREDIENTS: PRUNUS AMYGDALUS (SWEET ALMOND) DULCIS OIL.
El 100% del total de los ingredientes procede de la Agricultura Ecológica.

*Cosmético Natural y Ecológico certificado por ECOCERT Greenlife según el referencial Ecocert
86819
Huiles
Other
Espagne
Autres huiles
2018-12-31
2016-06-22

Description

: OPUNTIA FICUS INDICA SEED OIL, LIMONENE.
86654
Huiles
Other
Turquie
Olive
2018-02-02
2016-06-15

Description

: especially buyers from Italy and Spain used to buy our organic products . now we want to sell direclty our goods as farmers. we have all certificates

please contact us.
75660
Huiles
Other
Italie
Amande
2018-12-12
2016-06-15

Description

: We are an unique organic short chain almond farm.We have hundreds of items to sell but are willing to focus specifically on 3 champions: the Toritto'almond(one of the best in the world),pure cold pressed almond oil and our exclusive patented almond milk.Integrity and quality are our lifestyle.
86324
Huiles
Other
Italie
Olive
2018-02-02
2016-05-31

Description

: denocciolato oil obtained only from olives from the farm. This blended Gentile, Intosso, Crognalegno and Frantoio, is characterized by having the herbal flavors accompanied by almond notes.

This oil stoned to taste manifested on the grass and fresh walnut, the beautiful texture highlights fresh bitter notes that alternate with pleasant slightly spicy sensations.

Cold extraction.
86309
Huiles
Other
Maroc
Autres huiles
2018-12-31
2016-05-31

Description

: Huile d'argan alimentaire
86307
Huiles
Other
Chine
Autres huiles
2018-12-31
2016-05-31

Description

: Organic sunflower seed oil
73804
Huiles
Other
Israel
Autres huiles
2018-12-12
2016-05-19

Description

: Certified organic Avocado oil. High values of A, D& E vitamins, Flavonoids, Carotenoids, C-18 (1) Fatty acid & Minerals. Low acidity (Max-0.8).

Agrior,EEC, NOP
66139
Huiles
Other
Chine
Sésame
2018-07-01
2016-05-19

Description

: Organic sesame
86181
Huiles
Other
Maroc
Amande
0000-00-00
2016-05-18

Description

: Nous sommes une entreprise exportatrice des huiles végétales et essentielles et produits agroalimentaires implantée au Maroc, nous exportons en vrac ou en bouteille, principalement l'huile d'olive l'Huile d'Argan (50 et 100ml), huile de figue de barbarie (15 et 30ml), huile de sésame (50ml) et huile de nigelle (50ml), les savons noires, etc.
Tous nos produits sont certifiés ECOCERT et ONSSA, 100% BIO, de très bonne qualité et sans additifs chimiques.