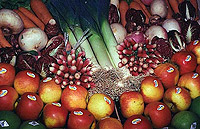 Fruits legumes bio
Offres de vente
Pour identifier la société, cliquer sur le numéro de l'offre
Offre N°
Catégorie
Certification
Origine
Produit
Validité de l'offre
Date de l'offre
83122
Fruits legumes
Ecocert
Inde
Fruits frais
2020-01-01
2018-04-18

Description

: It is Redlady variety certified organic Papaya. Fruit size will be between 500 grams and 1.5 kgs. Will be covered with foam net and packed in carton boxes.
82681
Fruits legumes
Other
Inde
Légumes frais
2019-07-07
2018-03-28

Description

: ORGANIC TURMERIC FINGERS
94484
Fruits legumes
Ekogwarancja Ptre Ltd
Pologne
Fruits ou légumes surgelés
2019-03-01
2018-02-24

Description

: Organic IQF Cultivated Blueberry
Organic IQF Strawberry
Organic IQF Raspberry
Organic IQF Black currant

Certification we offer - Global GAP, Bio Suisse, Naturland
82684
Fruits legumes
Other
Iran
Fruits secs
2020-02-02
2018-02-22

Description

: Pistachios, Organic pistachio, a great taste of wild collection. Premium wild collection and organically certified Pistachios, in raw or roasted, the choice is yours,
we can make it happen for your customers or your family
82694
Fruits legumes
Bcs-oko Garantie Gmbh
Iran
Fruits secs
2010-10-10
2018-02-22

Description

: pistachio, walnut, Raisin, Dates and saffron
82706
Fruits legumes
Bcs-oko Garantie Gmbh
Indonésie
Fruits secs
2020-02-02
2018-02-22

Description

: Organic Pistachio, Walnut, Raisin and Dates
82729
Fruits legumes
Other
Brésil
Fruits et légumes exotiques
2020-02-02
2018-02-22

Description

: Specifications

Product obtained from the edible part of the acai berry. Natural product, no added sugar, no coloring and no preservatives

Certified Organic Acai Puree Acidified

COMMOM USES
Functional foods e beverages, sport drinks, natural juices, yoghurts, desserts, jelly, gel in suspension

INGREDIENTS
Acai (Euterpe oleracea), water, citric acid (upon request)

ORIGIN
Pará State, Brazilian Amazon

ORGANOLEPTIC QUALITIES
Appearance: thick paste
Color: dark purple, as per standard
Flavor and odor: charactistic, as per standart not sweet, not tart

STORAGE RECOMMENDATIONS AND SHELF LIFE
24 months from production date, if maintained in the original closed package at cold temperature of -18ºC
73401
Fruits legumes
Other
Inde
Autres fruits legumes
2019-02-01
2018-01-23

Description

: We procure fresh fruits and vegetables from the growers who practice organic farming and at present supplying the fresh produce to city dwellers.
71869
Fruits legumes
Other
Inde
Fruits et légumes exotiques
2019-05-05
2018-01-23

Description

: Our company has around 500 registered farmers who are involving in certified organic farming practices, with an average experience level of 5 years. The total certified land area looked after by our company is around 1500 ha.

The company has been involved in the trading of around 242 certified organic products, involving both cultivation and wild harvest.

Fruits:


Apple Dried/Dehydrated Guavas fresh
Apple juice Kinnow Juice / Concentrate / Squash
Apple Kinnow Juice
Apricot Juice concentrate Kinnow/Mandarin Orange Fresh
Banana dehydrated Lichi/Litchi/Lychee Fresh
banana dried Litchi Pulp
Banana Fresh Mango (fresh)
Banana Pulp Mango juice
banana puree Orange juice
coconut (dried) pineapple
coconut (fresh) Pineapple juice
coconut best candy Pineapple
coconut desiccated Sapota dried/dehydrated
coconut oil cake Sapota fresh (chico)
coconut oil(crude) Strawberries/Strawberry fresh
Grape juice tender coconut
Grapes (Fresh)
83555
Fruits legumes
Other
Inde
Légumes frais
2019-02-15
2018-01-18

Description

: We grow organic vegetables in our farm to sell.
62337
Fruits legumes
Other
Mexique
Purées de fruits
2019-07-20
2018-01-18

Description

: Mermeladas de frutas orgánicas (noni, carambolo, chicozapote, mango, mamey, platano, jaca, guanabana, jugo noni)
94174
Fruits legumes
Other
Roumanie
Légumes frais
2019-10-10
2018-01-15

Description

: we produce on demand fresh vegetables
93699
Fruits legumes
Comité De Agricultura Ecológica De La Comunidad Valenciana
Espagne
Fruits frais
2019-04-30
2018-01-10

Description

: Clementine BIO different formats and packaging.

We are producers, packers and traders.
63978
Fruits legumes
Other
Inde
Autres fruits legumes
2019-07-31
2018-01-10

Description

: The origin of Morarka Foundation's field activities from Nawalgarh, a semi-arid region on the periphery of the Thar Desert in India, has been a blessing in disguise. Extreme climates, very high temperatures, less than 500mm annual rainfall with only about 20 rainy days in a year, undulating lands, sandy soils and very little water for irrigation offered perfect conditions for testing the new technologies and methodologies for organic management. Anything which could succeed here would have a very high success potential elsewhere, and this has been amply evident in the overall success achieved in last 10 years. Beginning with just about 500 farmers about 10 years ago, today there are now over 1,00,000 farmers spread all over India cultivating over 2,50,000 acres land under organic management. These farmers are producing over 300 different crops, out of which over 100 crops have already been brought under the organic value chain management.
58579
Fruits legumes
Argencert
Argentine
Fruits frais
2019-03-20
2018-01-10

Description

: Agrico.Ar S.A. cultivates and sells Certified Organic Cherries grown in Patagonia's valleys, Argentina.

Cherries availables between November and December.
Varieties: Bing, Van, Stella, Lapins

Agrico.Ar S.A. has set up its productive system with the objective to:
- Protect the balance of nature using natural resources in a responsible manner.
- Grow fruits with a high nutritional value and excellent taste, supporting a healthy diet.