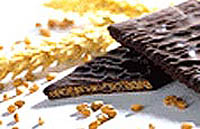 buy_x
Ofertas de venta
Para obtener la identificación de la empresa, haga clic sobre el número de la oferta
Oferta n°
Categoría
Certificación
País de origen
Producto
Validez de la oferta
Fecha de actualización
61416
Productos dietéticos
Other
Egipto
Complementos alimenticios
2018-04-04
2016-01-07

Descripción

: Natural vitamins and OTC products as well as phytotherapy
62521
Productos dietéticos
Other
Francia
Complementos alimenticios
2018-07-07
2015-12-17

Descripción

: EUROP-LABO produces natural and organic food supplements, foods and cosmetics.
55616
Productos dietéticos
Icea Instituto Mediterraneo Di Certificazione
Italia
Cápsulas, gélulas, ampollas
2017-12-01
2015-12-09

Descripción

: The Agave nectar or syrup is obtained from the AGAVE, a succulent desert plant, which prospers in Mexico. The glycemic index of the agave syrup is lower than that of other sugars, lower than that of honey itself. Taken in appropriate doses the Agave nectar can also be used by diabetics
64851
Productos dietéticos
Bcs-oko Garantie Gmbh
Mexico
Otros productos dietéticos
2017-08-31
2015-12-09

Descripción

: Inulin and FOS are Organic Dietary Fibers from Mexico's blue Agave plant and are prebiotics. They are considered as functional food ingredients. Research studies have shown their use as bifidogenic agents, stimulating the immune system of the body, decreasing the pathogenic bacteria in the intestine, relieving constipation, decreasing the risk of osteoporosis by increasing mineral absorption, especially of calcium, reducing the risk of atherosclerosis by lowering the synthesis of triglycerides and fatty acids in the liver and decreasing their level in serum.Inufib is used for its prebiotic benefits. It is used as a sugar and fat replacement. It has a low calorific value and its suitable for diabetics. It is highly soluble. Inufib reduces fat and sugar in your product while improving the texture and mouth feel. Inulin can be used in breads, cakes, chocolate, biscuits, beverages, sauces, milk drink and more. We offer Inulin in 25kg sacs.
83094
Productos dietéticos
Other
Africa Del sur
Extractos de plantas frescas
2018-02-02
2015-10-28

Descripción

: Fresh, potent Sceletium tortuosum powder for anti-stress, mood enhancer and to help with focus.
67137
Productos dietéticos
Other
La India
Complementos alimenticios
2017-03-02
2015-09-14

Descripción

: ORGANIC INDIA offers a new and exciting product "Organic Chyawanprash" made up of powerful organic ingredients. Our Organic Chyawanprash is made from the original Ayurvedic recipe developed by the sages living in the forests of the Himalayas and is the real deal! It is rejuvenating, energizing and boosts the immune system, and often called "The Elixir of Life."
ORGANIC INDIA's Organic Chyawanprash
62116
Productos dietéticos
Consejo De Agricultura Ecológica De Castilla Y León
Espana
Complementos alimenticios
2017-07-07
2015-09-02

Descripción

: Soria Natural, the leading company in Spain in the Phytotherapy sector (healing using plants). A company that also has an organic food division, a pharmaceutical division and a franchise. A company that was founded 25 years ago and that has made total quality and research its main signs of identity.
72042
Productos dietéticos
Other
Australia
Otros productos dietéticos
2017-10-10
2015-05-21

Descripción

: We offer a wide variety of eating options to suit all dietary requirements. Choose from hot or cold food, coffee carts and snacks, platters and buffets, formal dinners or BBQ's, with full service and equipment available
71232
Productos dietéticos
Other
Dinamarca
Otros productos dietéticos
2017-12-12
2015-04-08

Descripción

: Vitality Source is a Danish / Scandinavian importer of organic and biodynamic health food products.

Our primary market area is the Danish market but we are expanding fast on the Swedish and Norwegian markets at the moment.

Our main customers are organic health stores and online health shops.

We are Scandinavian distributors of the Biobim babyfood products and we also distribute organic coconut water in Norway and Sweden.