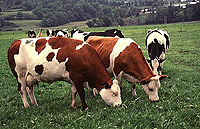 buy_x
Ofertas de venta
Para obtener la identificación de la empresa, haga clic sobre el número de la oferta
Oferta n°
Categoría
Certificación
País de origen
Producto
Validez de la oferta
Fecha de actualización
83380
Productos lácteos
Other
Great Britain (UK)
Yogur
2018-12-02
2016-02-22

Descripción

: Organic Yoghurts
84370
Productos lácteos
Soil Association Certification Ltd
Reino Unido
Otros productos lácteos
2018-02-02
2016-01-20

Descripción

: Butter
AMF
Butteroil
Cream
Skimmed Milk Concentrate
Whey concentrate
Whey Protein Concentrate 35 %
Organic milk
Organic cream
Organic butter
Skimmed milk Powder
84088
Productos lácteos
Other
E.E.U.U.
Leche descremada o en polvo
2018-11-21
2016-01-08

Descripción

: CERTIFIED ORGANIC WHOLE MILK POWDER
Description
Whole milk powder is obtained by the removal of water from pasteurized whole milk. It contains no more than 4.5% moisture (by weight) and not more than 30% milkfat (by weight) unless otherwise indicated.

Ingredients
Organic Whole Milk.

Packaging
50 lb multiwall Kraft paper bag with polyethylene liner.

Storage & Shelf Life
Store at 50-80 degrees F, less than 65% relative humidity. Recommended shelf life under such conditions is 6 months.
77541
Productos lácteos
California Certified Organic Farmers (ccof)
E.E.U.U.
Mantequilla, crema
2018-01-01
2015-12-17

Descripción

: We are pleased to offer these alive and organic nut butters:

Almond Butter
Cashew Butter
Pistachio Butter
Tahini

If you are interested, please call +1.510.526.7106 or visit our website:http://www.livingtreecommunity.com to gain a concept of our work.

Thank you,

Living Tree Community Foods
77308
Productos lácteos
Imo
Turquia
Leche descremada o en polvo
0000-00-00
2015-09-14

Descripción

: WE WANT TO OFFER "ORGANIC MILK POWDER" CERTIFIED BY IMO.