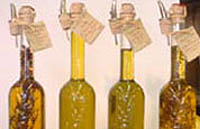 buy_x
Ofertas de venta
Para obtener la identificación de la empresa, haga clic sobre el número de la oferta
Oferta n°
Categoría
Certificación
País de origen
Producto
Validez de la oferta
Fecha de actualización
82034
Aceites
Other
Marruecos
Otras aceites
2018-03-10
2016-04-25

Descripción

: huile d'argan bio cosmétique et alimentaire.
Certifié par ECOCERT et USDA.
85151
Aceites
Bioellas Sa
Grecia
Oliva
2018-12-31
2016-03-30

Descripción

: The Biological Extra Virgin Olive Oil Bio Cretan Myron is produced according to the very strict rules on organic Farming, which strictly comply with the EU regulation (2092/91). The use of chemical fertilizers and toxic pesticides is prohibited. Only biological fertilizers are allowed for trees and dacus is confronted solely by means of traps. Our Biological olive cultivation offers olive oil of a safer quality, the ??? CRETAN MYRON. The Bio Cretan Myron is the result of the collaboration of our company with organic farmers in the most fertile areas of Crete. The ?io Cretan Myron is a product of a higher quality, which is directly produced from the extrusion of olives exclusively from the "Koroneiki variety", the queen of the Greek varieties and only through mechanical methods. Usually, the harvesting takes place from November until the end of February. It is always stored in stainless tanks, where a natural filtering process takes place, removing foreign materials and humidity.

The average acidity of the ??? CRETAN MYRON varies between 0.3 % to 0.4 % max.

Taste: It is characterized as mild, with a medium fruity and spicy taste and a deep green color.

Use: It impeccably pairs sea-food, white meats, boiled vegetables and raw salads, by enriching taste and aroma.
84822
Aceites
Ecocert
Belgica
Oliva
2018-11-21
2016-02-08

Descripción

: Huile d'olive vierge extra BIO
Nouvelle récolte 2015
Certificat ECOCERT
Bouteille en verre de 250ml et 500ml
Possibilité personnaliser l'étiquette
Produit en Tunisie
83874
Aceites
Other
Tanzania
Sésamo
2017-02-15
2015-12-17

Descripción

: We are a supplier of Sesame Seeds Our Seeds originate from Tanzania.