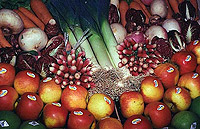 buy_x
Ofertas de venta
Para obtener la identificación de la empresa, haga clic sobre el número de la oferta
Oferta n°
Categoría
Certificación
País de origen
Producto
Validez de la oferta
Fecha de actualización
98380
Frutas y verduras
Other
Egipto
Frutas secas
2022-04-01
2019-11-04

Descripción

: We are an Egyptian company working in the field import and export of medicinal and aromatic plants and herbs of seeds and spices, fruits and vegetables and is one of the most important exporting companies in the Middle East.

Egypt is characterized by farm their land fertile and productive has gained much attention to it it is one of the biggest exporters of agricultural products and organic fruits and vegetables, the most famous "mint, basil, wormwood, worshipers of the moon, sunflower,

marble, bananas, grapes, oranges, strawberries, potatoes, zucchini, beans , Bean " The farms are working with the latest local and international standards to ensure the best
product the highest possible quality.
90383
Frutas y verduras
Other
E.E.U.U.
Otras frutas y verduras
2021-01-01
2019-11-04

Descripción

: I am open for production of any type of vegetable! Year around
91695
Frutas y verduras
Other
Ucrania
Frutas o verduras congeladas
2021-12-31
2019-11-04

Descripción

: IQF Wild Blueberry organic & conventional
IQF Wild Blackberry organic & conventional
IQF Cranberry organic & conventional
IQF Lingonberry organic & conventional
IQF Elderberry organic & conventional
IQF Aronia organic & conventional
78428
Frutas y verduras
Other
Portugal
Otras frutas y verduras
2020-04-25
2019-10-10

Descripción

: Organic fruits
67563
Frutas y verduras
Other
Israel
Otras frutas y verduras
2020-02-02
2019-10-10

Descripción

: We are offering Organic Cluster Tomatoes, Organic Cherry Tomatoes on the Vine, Organic Peppers and Bell Peppers and much more special fresh vegetables, citrus and fruit.
98257
Frutas y verduras
Other
China
Frutas secas
2021-01-20
2019-10-01

Descripción

: Dried jujube fruit nutritional benefits

Jujube may not have a large amount of any one nutrient, jujubes contain a wide array of different ones, including magnesium, potassium, copper, niacin, calcium, manganese, phosphorus, and iron. They contain 20 times more vitamin C than any citrus fruit, strengthening the immune system and fighting infections, which may be why they've been used medicinally for millennia in many cultures, as a tea for sore throat, for example.
98253
Frutas y verduras
Other
Francia
Verduras frescas
2021-01-01
2019-10-01

Descripción

: Vente de Kiwis, Clémentines, Oranges, Noisettes, Pomelos de Corse. Bio et Conventionnel. Tous nos produits viennent de nos producteurs corses.
78415
Frutas y verduras
Agrobio
Uzbekistan
Frutas secas
2020-01-29
2019-09-25

Descripción

: There are Almonds, raisins, nuts, apricots in our dried fruit. They are very deliciously,fresh and quality.
57655
Frutas y verduras
Bcs-oko Garantie Gmbh
China
Frutas o verduras congeladas
2021-07-10
2019-09-12

Descripción

: We are able to provide the following Dehydrated , Air Dried, Freeze Dried Fruits and Vegetables

Organic AD/FD Vegetables
Organic Dried Asparagus
Organic Dried Bell Pepper – Green/Red
Organic Dried Broccoli
Organic Dried Carrot
Organic Dried Cauliflower
Organic Dried Corn
Organic Dried Garlic
Organic Dried Ginger
Organic Dried Green Beans
Organic Dried Onion
Organic Dried Peas
Organic Dried Spinach

Organic AD/FD Fruits
Organic Dried Apple
Organic Dried Blackberry
Organic Dried Passion fruit
Organic Dried Pear
Organic Dried Raspberry
Organic Dried Strawberry
Organic Dried Wolfberry (Gojiberry)
64597
Frutas y verduras
Other
Paises Bajos
Frutas frescas
2022-12-31
2019-09-12

Descripción

: OTC-Holland distributes a full line of organic fruit and vegetables. Organic Trade Company Holland B.V. emphasizes short communication lines between grower, OTC-Holland and customer. This enables OTC-Holland to maximize efficiency and results for all parties involved in the supply chain.
61120
Frutas y verduras
Control Union
Perou
Puré de frutas
2020-12-30
2019-09-12

Descripción

: COMINPER S.A.C. is a Peruvian exporter company that supplies a broad range of foodstuffs and natural products (conventional and organic certified) for direct consumption and raw materials for pharmaceutical, cosmetic and food industries, including 100% NATURAL FROZEN FRUIT PULPS.
66002
Frutas y verduras
Other
Paises Bajos
Frutas frescas
2020-06-01
2019-09-12

Descripción

: Tomatoes, Peppers, Cucumbers, Egg plants, Potatoes, Brown Onions, Red Onions, Carrots, Leek, Fennel, all sorts of Cabbage, Broccoli, All kinds of Lettuce, Endivie etc
77229
Frutas y verduras
Comité Andaluz De Agricultura Ecologica (caae)
Espana
Otras frutas y verduras
2020-12-20
2019-09-12

Descripción

: FRUTAS TROPICALES RECIEN RECOLECTADAS. EN UN PLAZO MAXIMO DE 5 DIAS ESTARAN DESDE SU RECOLECCION AL CONSUMIDOR. GARANTIZANDO LA CALIDAD Y FRESCURA DEL PRODUCTO FINAL.
98052
Frutas y verduras
Certiplanet, Certificao Da Agricultura
Portugal
Frutas y verduras exóticas
2020-02-02
2019-08-13

Descripción

: We sell fresh yacon
79865
Frutas y verduras
Bioagricert (bac)
Italia
Verduras frescas
2021-04-15
2019-08-13

Descripción

: Over 60 hectars of directly managed and harvested fields, totally dedicated to organic vegetables and herbs. A packaging firm for packing in different sizes. Customizable labelling. Company certifications Bioagricert, Bio Suisse, IFS, Global GAP.