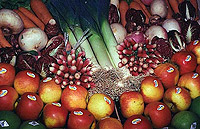 buy_x
Ofertas de venta
Para obtener la identificación de la empresa, haga clic sobre el número de la oferta
Oferta n°
Categoría
Certificación
País de origen
Producto
Validez de la oferta
Fecha de actualización
66914
Frutas y verduras
Ecocert
China
Frutas y verduras exóticas
2017-12-12
2015-06-30

Descripción

: Organic Dried Goji Berry Series – Superior: We adopt international quality standards from picking, washing, to processing and sift impurities and broken berry out strictly to achieve high guaranteed
81527
Frutas y verduras
Other
Perou
Frutas secas
2017-01-29
2015-05-21

Descripción

: We are a freeze dry company, our team has 30 years of experience in the freeze died industry, we specialized in Tropical Organic Fruits and Fair Trade, Banana Slices, Mango Chunks
71780
Frutas y verduras
Other
La India
Otras frutas y verduras
2017-07-14
2015-05-21

Descripción

: The Farm is currently one of the largest privately owned Organic farms in India with over 350 acres under cultivation. We grow paddy, wheat, sugarcane, barley, sesame seeds, mustard seeds, turmeric, ginger, lentils, vegetables and have large mango, lemon, guava, papaya, and other fruit orchards.

We are fortunate to have abundant varieties of very old indigenous trees.