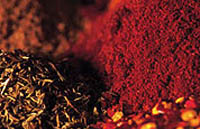 buy_x
Ofertas de venta
Para obtener la identificación de la empresa, haga clic sobre el número de la oferta
Oferta n°
Categoría
Certificación
País de origen
Producto
Validez de la oferta
Fecha de actualización
76996
Especias condimentos
Other
La India
Otras especias condimentos
2017-10-20
2015-09-14

Descripción

: Red Chilli powder- Red Chilli Powder is a key part of many dishes and adds a hot taste to a dish. Red Chilli Powder is a main part of Spices. It has a tradition to make food tasty.
Cultivation has been in organic process through out. Farmers were trained before cultivating these superb spices. We are the wholesale suppliers of various organic products.
82450
Especias condimentos
Other
E.E.U.U.
Otras especias condimentos
2017-01-20
2015-09-08

Descripción

: Organically grown herbs produced to order in nutrient-rich aquaponic system.
82448
Especias condimentos
Ccpb Consorzio Per Il Controllo Dei Prodotti Biologici
Turquia
Vinagre
2017-02-10
2015-09-08

Descripción

: We will produce organic certified apple,grape and hawthorn cider vinegar.
This is a pure product entirely produced organic apples,grapes or hawthorns by traditional natural fermentation.Especially when a bottle is opened,color may change,sedimentation may occur,and transparent layer (called mother of vinegar) may form.Mother of vinegar is true of sign of unfiltered vinegar and forms naturally.Moreover it is an indication that the fermentation is continued and the product is not pasteur?zed and filtered.
81519
Especias condimentos
Ecocert
La India
Especias, pimienta
2017-02-15
2015-05-21

Descripción

: WE SUPPLY ORGANIC HERBS AND SPICES.

THE FOLLOWING:
PEPPER
TURMERIC
CARDAMOM
CINNAMON
VANILLA
MUSTARD
CHILLY
FENUGREEK
81517
Especias condimentos
Other
Iran
Otras especias condimentos
2018-12-10
2015-05-21

Descripción

: Saffron from Iran is the best product in the World. Our product is organic and high quality.
71681
Especias condimentos
Other
Espana
Otras especias condimentos
2017-04-04
2015-04-20

Descripción

: Frucove S.L. produce y comercializa el Azafrán "La Flor" de origen La Mancha, como principal actividad bien a granel como envasado en diferentes gramajes, tanto el azafran en hebras como el azafrán molido para su venta al detall, para restaurantes, hoteles y tiendas de alimentación especializadas tipo delicatessen.

Somos una empresa de importación-exportación de azafrán en hebra con más de 100 años de experiencia. Además somos proveedores de azafrán a granel a empresas especieras y también, el envasado en distintos formatos y gramajes a un precio competitivo para la venta directa a distribuidores de toda España y otros países.