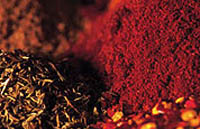 buy_x
Ofertas de venta
Para obtener la identificación de la empresa, haga clic sobre el número de la oferta
Oferta n°
Categoría
Certificación
País de origen
Producto
Validez de la oferta
Fecha de actualización
84103
Especias condimentos
Other
Ghana
Sal
2018-12-31
2016-01-08

Descripción

: WE ALSO HAVE ROCKY SALT IN HUGE QUANTITY FOR SUPPLIER.
68531
Especias condimentos
Other
Espana
Otras especias condimentos
2017-12-30
2016-01-07

Descripción

: We grow organic potatoes of excellent flavour. We've fried our potatoes into a simmering vessel of pure extra virgin olive oil adding a bit of Mediterranean sea salt.

We're happy to share with you the unique taste of this hand cooked potato CRISPS.

PRODUCT TECHNICAL INFO

1. PRODUCT NAME
Bio chips gourmet

2. INGREDIENTS
Potatoes, Olive extra virgin (nativ extra), salt.

Ingredients written in: Spanish, English, German, French, Dutch, Italian,
Portuguese, Danish, Swedish and Norwegian

3. CERTIFICATE
Organism: ECOCERT-SOHISCERT (ES-CM-01-AE)
Operator: Productos Biológicos de Daimiel, S.L.
Eco Industry Register Number: CM-156-I
Sanitation Register (food safety) Number: 26.01370/CR
Printed in the bag UE seal and German seal (BioSiegel)

4. TRACKABILITY
Beside to the bar code it is printed the geographic coordinates of the land where
the potatoes and oil were grown, With an Internet map program it can be seen
the area in your computer screen.

5. PACKAGES
Pack type: Aluminum metal/plastic bags
Weight per bag: 100 grm
Best before period: 180 days

6. PACKING
Cardboard boxes: 30x40x25 cm
Units per box: 12
Net weight per box: 1,2 Kgs
Pallet type: 1,20x0,80 cm (European)
Boxes per level: 8
Levels: 8 (4 in a 1/2 pallet)
Total boxes per pallet: 64 (32 in 1/2 pallet case)
77231
Especias condimentos
Other
Perou
Otras especias condimentos
2017-10-10
2016-01-07

Descripción

: Jengibre organico fresco
83870
Especias condimentos
Consejo De Agricultura Ecológica De La Región De Murcia
Espana
Especias, pimienta
2018-12-31
2015-12-17

Descripción

: VENTA DE FLORES, SEMILLAS, DE HELYCHRISUM ITALICUM
72922
Especias condimentos
Other
La India
Otras especias condimentos
2018-10-20
2015-11-26

Descripción

: we are producer supplier of certified organic herbs and spices from India.
82448
Especias condimentos
Ccpb Consorzio Per Il Controllo Dei Prodotti Biologici
Turquia
Vinagre
2017-02-10
2015-09-08

Descripción

: We will produce organic certified apple,grape and hawthorn cider vinegar.
This is a pure product entirely produced organic apples,grapes or hawthorns by traditional natural fermentation.Especially when a bottle is opened,color may change,sedimentation may occur,and transparent layer (called mother of vinegar) may form.Mother of vinegar is true of sign of unfiltered vinegar and forms naturally.Moreover it is an indication that the fermentation is continued and the product is not pasteur?zed and filtered.