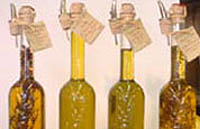 buy_x
Ofertas de venta
Para obtener la identificación de la empresa, haga clic sobre el número de la oferta
Oferta n°
Categoría
Certificación
País de origen
Producto
Validez de la oferta
Fecha de actualización
75660
Aceites
Other
Italia
Almendra
2018-12-12
2016-06-15

Descripción

: We are an unique organic short chain almond farm.We have hundreds of items to sell but are willing to focus specifically on 3 champions: the Toritto'almond(one of the best in the world),pure cold pressed almond oil and our exclusive patented almond milk.Integrity and quality are our lifestyle.
86324
Aceites
Other
Italia
Oliva
2018-02-02
2016-05-31

Descripción

: denocciolato oil obtained only from olives from the farm. This blended Gentile, Intosso, Crognalegno and Frantoio, is characterized by having the herbal flavors accompanied by almond notes.

This oil stoned to taste manifested on the grass and fresh walnut, the beautiful texture highlights fresh bitter notes that alternate with pleasant slightly spicy sensations.

Cold extraction.
86309
Aceites
Other
Marruecos
Otras aceites
2018-12-31
2016-05-31

Descripción

: Huile d'argan alimentaire
86307
Aceites
Other
China
Otras aceites
2018-12-31
2016-05-31

Descripción

: Organic sunflower seed oil
73804
Aceites
Other
Israel
Otras aceites
2018-12-12
2016-05-19

Descripción

: Certified organic Avocado oil. High values of A, D& E vitamins, Flavonoids, Carotenoids, C-18 (1) Fatty acid & Minerals. Low acidity (Max-0.8).

Agrior,EEC, NOP
66139
Aceites
Other
China
Sésamo
2018-07-01
2016-05-19

Descripción

: Organic sesame
86181
Aceites
Other
Marruecos
Almendra
0000-00-00
2016-05-18

Descripción

: Nous sommes une entreprise exportatrice des huiles végétales et essentielles et produits agroalimentaires implantée au Maroc, nous exportons en vrac ou en bouteille, principalement l'huile d'olive l'Huile d'Argan (50 et 100ml), huile de figue de barbarie (15 et 30ml), huile de sésame (50ml) et huile de nigelle (50ml), les savons noires, etc.
Tous nos produits sont certifiés ECOCERT et ONSSA, 100% BIO, de très bonne qualité et sans additifs chimiques.
86074
Aceites
Ecocert
Marruecos
Otras aceites
0000-00-00
2016-05-10

Descripción

: Nous sommes une coopérative spécialisée dans la production et l'exportation d'Huile d' Argan alimentaire et cosmétique certifié et 100 % Bio

Nous sommes à votre entière disposition pour plus d'information et même pour effectuer des commandes soit qu'il est la quantité.

Très Cordialement
82034
Aceites
Other
Marruecos
Otras aceites
2018-03-10
2016-04-25

Descripción

: huile d'argan bio cosmétique et alimentaire.
Certifié par ECOCERT et USDA.
85151
Aceites
Bioellas Sa
Grecia
Oliva
2018-12-31
2016-03-30

Descripción

: The Biological Extra Virgin Olive Oil Bio Cretan Myron is produced according to the very strict rules on organic Farming, which strictly comply with the EU regulation (2092/91). The use of chemical fertilizers and toxic pesticides is prohibited. Only biological fertilizers are allowed for trees and dacus is confronted solely by means of traps. Our Biological olive cultivation offers olive oil of a safer quality, the ??? CRETAN MYRON. The Bio Cretan Myron is the result of the collaboration of our company with organic farmers in the most fertile areas of Crete. The ?io Cretan Myron is a product of a higher quality, which is directly produced from the extrusion of olives exclusively from the "Koroneiki variety", the queen of the Greek varieties and only through mechanical methods. Usually, the harvesting takes place from November until the end of February. It is always stored in stainless tanks, where a natural filtering process takes place, removing foreign materials and humidity.

The average acidity of the ??? CRETAN MYRON varies between 0.3 % to 0.4 % max.

Taste: It is characterized as mild, with a medium fruity and spicy taste and a deep green color.

Use: It impeccably pairs sea-food, white meats, boiled vegetables and raw salads, by enriching taste and aroma.
84822
Aceites
Ecocert
Belgica
Oliva
2018-11-21
2016-02-08

Descripción

: Huile d'olive vierge extra BIO
Nouvelle récolte 2015
Certificat ECOCERT
Bouteille en verre de 250ml et 500ml
Possibilité personnaliser l'étiquette
Produit en Tunisie
83874
Aceites
Other
Tanzania
Sésamo
2017-02-15
2015-12-17

Descripción

: We are a supplier of Sesame Seeds Our Seeds originate from Tanzania.
62990
Aceites
Other
La India
Otras aceites
2017-07-20
2015-12-09

Descripción

: Organic Soy Oil
73549
Aceites
Ecocert
Marruecos
Otras aceites
2017-12-31
2015-12-01

Descripción

: Mybio is a companyspecialized in the production of organiccosmetic and culinary argan oil, it's obtained by cold pressure from argan almonds carefully selected from organic farming.

specific in its composition exceptionallyrich in oleic and linoleicfattyacids (80%), argan oilisbeneficial and canbeused in dieteticcosmetic and medicinalproduct.

For your information, we are certified Ecocert, EcocertOrganiccosmetic, Greenlife, Usda (Nop), ourproductswereselected as innovativeproductsat the IFE fair 2011, we won the International Crown Quality 2011 at London, Wewerenominatedat the MoroccoAwards 2011, and thisyear, we won the MoroccoAwards 2012 with a special distinction from the jury. We have a FDA number.

Wecan propose an innovativeproduct: Aromaticculinary Argan oil.

Our aromatic argan oil ranges "Argalight" and "Argadiet" waselaboredwith passion by an artist chef in collaboration with a foodengineer and itsincluded
11 différents flavorsreferences (lemon, pomegranateflower, cinnamon, clove, cumin ,thyme, fennel, rosemary, garlic, coriander, nature ...).

"Argabio" isour nature organic argan oilproduct

"Argalift" ourorganic argan oil for skin and hair care
63893
Aceites
Comité Andaluz De Agricultura Ecologica (caae)
Espana
Oliva
2017-07-01
2015-11-26

Descripción

: Excelente aceite de oliva virgen extra ecológico, procedente una de las mejores zonas de España, la comarca de "La Sierra del Segura", famosa por la excelencia de su olivar de secano y montaña. También se comercializa almendra de las variedades; marcona y largueta ecológicas. Y en proceso de elaboración, aceite de esencia para cosmética: romero, tomillo, hisopo.