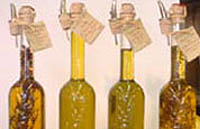 buy_x
Ofertas de venta
Para obtener la identificación de la empresa, haga clic sobre el número de la oferta
Oferta n°
Categoría
Certificación
País de origen
Producto
Validez de la oferta
Fecha de actualización
59672
Aceites
Ecocert
Francia
Otras aceites
2015-06-12
2013-05-21

Descripción

: Huile Vierge de Colza Biologique (Certifié Ecocert)

L'huile vierge de colza est issue de graines provenant de l'agriculture Biologique.
Notre agrément Ecocert vous certifie l'authenticité de l'appelation Bio.
Cette belle huile de couleur jaune offre un goût prononcé de céréales. Elle s'accommode
particulièrement bien avec les salades de pommes de terre et les crudités. Elle est naturellement très riche en Oméga 3.
70316
Aceites
Other
Tunez
Otras aceites
0000-00-00
2013-05-10

Descripción

: nous produisons l'huile de pépin de figue de barbarie BIO
70035
Aceites
Organic Crop Improvement Association (ocia)
Canada
Otras aceites
2015-02-23
2013-04-22

Descripción

: Fats :
Shortening, margarine, palm shortening, cacao butter, mango butter (in development), shea butter ( in development) ...
Vegetable oils :
Olive (Morocco, Tunisia, Greece, Argentina, Spain, Italy, California, ...), canola, corn, avocado, soy, flax seed, palm kernel, castor, rice bran, hempseed, safflower, borage seed, ...

Nut oils :
Sunflower, sesame, almond, pumpkin, peanut, macadamia, rapeseed, walnut, wheat germ, apricot kernel, argan, sweet almond, cashew, kukui (in development), brazil nut, hazelnut, neem, pistachio nut, ...

Tropical Oils :
Jojoba, coconut, palm, ...

Format :
250 ml, 750 ml, 1,5, 20 or 220 liters, totes, drum, tank ...

Availability :
Annual, in season, upon contract,...

Certification :
OCIA, Oregon Tilth, QAI, Ecocert, Kosher,...
59071
Aceites
Comité De Agricultura Ecológica De La Comunidad De Madrid
Espana
Oliva
2014-12-31
2013-04-22

Descripción

: Aceite de Oliva Virgen Extra Ecologico y Convencional procedente de Los Montes de Toledo. Uno de los mejores de España según las últimas ferias y catas realizadas. Mejor calidad-precio del mercado.
Envasamos en cristal 250, 500 y 750 ml.
Envasamos en PETS de 2 litros y 5 litros.
Tambien a granel.
50612
Aceites
Associazione Italiana Per L'agricoltura Biologica
Italia
Oliva
2014-02-10
2013-04-17

Descripción

: Excellent olive oil extravierge typical of Monti Iblei with a special flavour, green+yellow color, in bottled of 50 cl. E.
Derived from secular tree with a natural cultivation, no chemical applied, harvest with hand directly to the tree and immediately processed. Oil without treatment only phisical extraction and perfect conservation without plastic contenitor. Only iron and glass. Availability of only 2.000 bottled of 50 cl. Hig quality certified. Please send me a request for free sample of 25 cl. to taste the better quality oil of Sicily. From Ragusa.
68535
Aceites
Other
Espana
Oliva
2014-03-20
2013-01-10

Descripción

: Extra Virgin Organic olive oil
67129
Aceites
Bcs-oko Garantie Gmbh
Guatemala
Otras aceites
2014-01-15
2012-10-25

Descripción

: Coconut oil extra virgen and coconut flour
66935
Aceites
Ecocert
Marruecos
Otras aceites
0000-00-00
2012-10-08

Descripción

: Hola,

Somos una empresa experta marroquí especializada en la producción y exportación de aceite de argán prensado en frío y puro para uso cosmético.

Nuestro aceite de argán es orgánico certificado por ECOCERT y agencias del USDA.

Esperamos poder ampliar nuestro negocio a otros mercados y estamos buscando un socio serio para promover nuestro producto.

Estamos interesados ??en la exportación a granel y estamos muy abiertos a una relación de negocios sólida en serio.
66607
Aceites
Ecocert
Marruecos
Otras aceites
0000-00-00
2012-09-20

Descripción

: Huile d'argan ( Zwity et Tamgharte)

Notre mission est la qualité dédiée par les femmes rurales de la perle du Sud

la principale mission des femmes rurales de la perle du Sud est de vous offrir l'or liquide de qualité incomparable.
66293
Aceites
Ecocert
Marruecos
Otras aceites
2014-10-11
2012-08-30

Descripción

: Organic argan oil
66173
Aceites
Other
Italia
Otras aceites
2014-03-07
2012-08-17

Descripción

: ORGANIC OILS selects top-quality raw materials that come from certified organic farms and it checks them according to the strictest international standards
57037
Aceites
Other
Italia
Oliva
2014-02-23
2012-07-25

Descripción

: BioBenessere, a triennial project financed by the European Union along with the Italian Government and realized by PRO.B.E.R., effective from 2008 until 2010, is for the promotion of organic products, certified in accordance with EU 834/2007 regulation for extra European countries. The project concerns the USA, Russia and Japan in particular.

Organic Olive Oil

Varieties such as Coratina, Cima di Bitonto and Carolea are particularly valuable and rich in antioxidants. They give oil its unmistakable flavor and fragrance as a result of a careful production. Harvest is carried out when ripens of the olives reaches a suitable stage, followed by a rigorous election. Only cold pressing by mechanical methods is involved, and the whole processing stage is regulated by a strict protocol to safeguarded the organoleptic properties of the olives. We set high quality standards to match a precise profile of the product. For this reason our procedures include a Panel test for an organoleptic valuation: our laboratories feature a testing team approved by COI and MIPAF. The final product is an average fruity oil with a sharp taste of olives and an almond flavor.
65283
Aceites
Ecocert
Marruecos
Otras aceites
2014-12-30
2012-06-11

Descripción

: Specialist in the extraction and marketing of global organic argan oil, MARPHI was created by a team of enthusiasts from southern Morocco in the evolving world of bio.
MARPHI is making every effort to develop products marketed in retail and wholesale argan oil bios healthy free from questionable components the chemical industry.
All oils are certifiedorganic by MARPHI inspection body ECOCERT, according to European regulations on organic farming.
All our cosmetic oils and food products are certified organic.
65059
Aceites
Other
Alemania
Otras aceites
2014-06-10
2012-05-16

Descripción

: Argand'Or GmbH is the world market leader for hand pressed argan oil. Products include food oil,
cosmetic oil and related products such as supplement caps, cream and body lotion. Our products
have been sold on every continent.

I do not know how far you far you have studied about argan oil, so maybe I can give you a short description:
Argan oil is pressed from the fruit of the argan tree which only grows in the southern part of Morocco.
This oil is traditionally used for cooking (it has a nutty taste) and for skincare by the native Berber population.
Modern research has found it to be the richest oil in tocopherol(vitamin E) and anti-oxidants like spinasterol and schottenol, making it useful for anti-aging treatment and cancer prevention/healthy lifestyle. The oil is pressed traditionally in Morocco and controlled and then bottled in Germany. It is conforming to European standards for biological food and dermantologically tested, assuring the highest quality. Machine pressed argan oil (which today is the majority) loses most of its ingredients during pressing, and as the outer shell is rarely removed in such a process, making it bitter. Argand'Or argan oil is marketed in Europe and other countries as a premium class oil for users concerned about nature and health.
62454
Aceites
Other
Alemania
Otras aceites
2013-12-01
2011-10-11

Descripción

: All Organic Trading GmbH offers a wide range of organic vegetable oils and fats as well as waxes and extracts in organic quality. We trade, produce and attend to many of our products from the plant to the high quality oil or extract. To us holistic value creation means acting according to the values of organic agriculture and with fair prices for raw material.