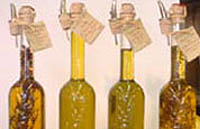 buy_x
Ofertas de venta
Para obtener la identificación de la empresa, haga clic sobre el número de la oferta
Oferta n°
Categoría
Certificación
País de origen
Producto
Validez de la oferta
Fecha de actualización
63901
Aceites
Comité Andaluz De Agricultura Ecologica (caae)
Espana
Oliva
2015-07-01
2013-09-09

Descripción

: Excelente aceite de oliva virgen extra ecológico, procedente de una de las mejores zonas de España, la comarca de la "Sierra del Segura", famosa por su olivar de secano y montaña. Se vende en garrafas(PET) de 5 litros o también en botellas de: 100, 250, 500 y 750 mL
Disponemos de una página web: www.hoyadedonmiguel.com donde se muestra un ejemplo del producto. Al ser propietarios del olivar y de la empresa, podemos ajustar bastante los precios. Hay que tener en cuenta, que los productos ecológicos, son más costosos, por su elaboración, que los convencionales. Al mismo tiempo, podemos personificar tanto el envase como el etiquetado, hacerlo a gusto del consumidor.
72050
Aceites
Other
Filipinas
Otras aceites
2015-07-15
2013-08-30

Descripción

: Organic virgin coconut oil - cold pressed
60642
Aceites
Other
Ucrania
Girasol
2014-06-10
2013-08-05

Descripción

: Organic sunflowerseed oil
certified by ETKO
71260
Aceites
Other
Tunez
Otras aceites
2015-03-03
2013-07-08

Descripción

: Bonjour Notre société qui sera implantée bientôt en Tunisie spécialisée dans la production d'huile de figue de barbarie (Opuntia ficus Indica) recherche ses premières clientèles intéressées par cette huile naturelle obtenue par première pression à froid pour le démarrage de l'activité pour lesquelles on procédera à l'exportation de notre productionLa matière première qu'on utilise pour l'extraction d'huile est de qualité supérieure, elle est récolté de la région de Kasserine&Thala (centre ouest de la Tunisie). Nous vous assurons un traitement sans aucun additif chimique et 100% naturelle et biologique Notre produit sera soumis au contrôle de l'organisme Ecocert Greenlife pour la certification huiles Biologique et naturelles.
71235
Aceites
Other
Espana
Oliva
2015-12-10
2013-07-01

Descripción

: Almazara 'As Pontis' produces and manufactures respecting the environment, which is a priority in our new projec. Almazara 'As Pontis' is one of the most advanced oil factory with milling technology in Spain

Almazara 'As Pontis' began its activity in November,2008 with the clear objective of producing a high quality Extra Virgin Olive Oil. That is not all, besides with the aim that all phases of production process repect the environment.

Pomace: it is transported to olive-pomace extraction factory where is processed.

Olive pit: : it is used like raw material in our bio-mass boiler

Sewage water and "alpechin": thery are processed in our sewage treatment plant, using the clean water to wash the olives and sewage sludge that is dried and used like fertilizer in our olive grove.
60461
Aceites
Ecocert
Espana
Oliva
2014-02-10
2013-07-01

Descripción

: Aceite de oliva virgen extra ecológico, disponible en botella de 500 ml. y garrafa de 5 litros.
71175
Aceites
Sativa, Desenvolvimento Rural Lda
Portugal
Oliva
2015-03-10
2013-06-26

Descripción

: Organic Olive Oil PDO - Acushla:
- Bottle 250ml - Box of 12 units
- Can 500ml - Box of 24 units
- Bag in a Box 5L - Box of 4 units

The olive oil Acushla presents a yellowish-green color, smell and fruity aromas with notes of fresh grass, green spike and almond, enveloped by the feeling bitter and spicy, with its long and persistent end.

Year:2012
Processing type: First Cold Crushing
Olive Varieties:Cobrançosa, Cordovil, Madural, Negrinha, Verdeal
Origin: Alto Douro - Vila Flor, Trás-os-Montes - Portugal
Cultivation type: Organic
Classification:Protected Designation of Origin Beira Interior Region
Flavor & Fragance: Olive oil greenish yellow color, smell and taste fruity and spicy. Presents an end of mouth elegant and persistent
Validity: 2 years
Acidity level (% oleic acid < 0.8 ): 0.1%
Peroxides index (mEq O2/kg) Max 20 : 3 meq O2/Kg
62991
Aceites
Other
Great Britain (UK)
Otras aceites
2014-07-20
2013-05-27

Descripción

: Organic Extra virgin coconut oil
60144
Aceites
Comité Andaluz De Agricultura Ecologica (caae)
Espana
Oliva
2014-12-30
2013-05-27

Descripción

: Cold First Press
Main Varieties: Picudo and Picual
Certified by CAAE

With our range, specially organic one, we pretend to back to traditional taste , aroma, colour and physical-chemical properties from past times.
60012
Aceites
Consejo Regulador Agroalimentario Ecológica De Extremadura
Espana
Oliva
2014-11-23
2013-05-23

Descripción

: Quality
Our Extra Virgin Olive Oil Organic, from organic farming, is authorized by C.A.E.X. (Ecological Agriculture Board Extremadura) and has received the stamp of Organic Agriculture at the international level.
Max. acidity 0,3º

BIOFACH AWARDS 2010: ONE OF THE BEST OLIVE OILS


The Production

The quality of extra virgin olive oil mainly depends on the quality of the fruit before processing. For the best quality olive oil, olives need healthy, freshly harvested, only the tree, and a point of optimum maturity.
Collection

Harvesting is done completely handmade, by the time the fruit is the optimal for obtaining the highest quality oils. From plantation family, the fruits are sent to the mill, where begin the oil extraction under the maximum quality control.
60013
Aceites
Consejo Regulador Agroalimentario Ecológica De Extremadura
Espana
Almendra
2014-11-23
2013-05-23

Descripción

: Almonds silvers:
Slices of almonds:
Almond diced:
Raw Almond (Conventional or Organic) -
Blanched Almond (Conventional or Organic) -
Almond flour (Conventional or Organic) -
Chocolate Almond (Organic) -
Caramelized Almond (Organic) -
Pines (Organic) -
Walnut (Organic) -
Dry figs( Organic) -
(Organic) Dried Apricots -
Blossom Honey (Organic) -
Delicias de Almendras.-
ORGANIC NATURAL CASHEW -
ORGANIC HAZELNUTS -200g -
59672
Aceites
Ecocert
Francia
Otras aceites
2015-06-12
2013-05-21

Descripción

: Huile Vierge de Colza Biologique (Certifié Ecocert)

L'huile vierge de colza est issue de graines provenant de l'agriculture Biologique.
Notre agrément Ecocert vous certifie l'authenticité de l'appelation Bio.
Cette belle huile de couleur jaune offre un goût prononcé de céréales. Elle s'accommode
particulièrement bien avec les salades de pommes de terre et les crudités. Elle est naturellement très riche en Oméga 3.
70316
Aceites
Other
Tunez
Otras aceites
0000-00-00
2013-05-10

Descripción

: nous produisons l'huile de pépin de figue de barbarie BIO
70035
Aceites
Organic Crop Improvement Association (ocia)
Canada
Otras aceites
2015-02-23
2013-04-22

Descripción

: Fats :
Shortening, margarine, palm shortening, cacao butter, mango butter (in development), shea butter ( in development) ...
Vegetable oils :
Olive (Morocco, Tunisia, Greece, Argentina, Spain, Italy, California, ...), canola, corn, avocado, soy, flax seed, palm kernel, castor, rice bran, hempseed, safflower, borage seed, ...

Nut oils :
Sunflower, sesame, almond, pumpkin, peanut, macadamia, rapeseed, walnut, wheat germ, apricot kernel, argan, sweet almond, cashew, kukui (in development), brazil nut, hazelnut, neem, pistachio nut, ...

Tropical Oils :
Jojoba, coconut, palm, ...

Format :
250 ml, 750 ml, 1,5, 20 or 220 liters, totes, drum, tank ...

Availability :
Annual, in season, upon contract,...

Certification :
OCIA, Oregon Tilth, QAI, Ecocert, Kosher,...
59071
Aceites
Comité De Agricultura Ecológica De La Comunidad De Madrid
Espana
Oliva
2014-12-31
2013-04-22

Descripción

: Aceite de Oliva Virgen Extra Ecologico y Convencional procedente de Los Montes de Toledo. Uno de los mejores de España según las últimas ferias y catas realizadas. Mejor calidad-precio del mercado.
Envasamos en cristal 250, 500 y 750 ml.
Envasamos en PETS de 2 litros y 5 litros.
Tambien a granel.