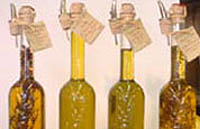 buy_x
Ofertas de venta
Para obtener la identificación de la empresa, haga clic sobre el número de la oferta
Oferta n°
Categoría
Certificación
País de origen
Producto
Validez de la oferta
Fecha de actualización
76464
Aceites
Other
Paquistan
Nuez
2019-07-20
2017-12-11

Descripción

: Certified Organic Cold Pressed Walnut Oil
93878
Aceites
Other
Iran
Nuez
2019-10-10
2017-12-11

Descripción

: Dear Sir/Madam
Ebrahimi trading group with two years experience in field of exporting medicinal plants,herbal products, Dried fruits, dates, seeds, and other relevant products of Iran tends to supply your required goods.
90134
Aceites
Control Union
Francia
Otras aceites
2019-01-01
2017-03-06

Descripción

: Coconut oil
Packaging 150/250/500/720/1000
Cold pressed high-grade oil
Oil from Sri Lanka
Certified organic coconut oil
Unrefined virgin coconut oil not deodorized
78417
Aceites
Other
Tunez
Nuez
2018-01-01
2017-01-16

Descripción

: Je suis interessé par un partenaire pour la productin d huile d olive Bio
89495
Aceites
Other
Singapur
Otras aceites
2018-11-21
2017-01-09

Descripción

: VIRGIN COCONUT OIL ORGANI
77753
Aceites
Ecocert
Francia
Oliva
2019-10-10
2017-01-09

Descripción

: Aspect liquide huileux fluide
Couleur jaune doré à verte
Odeur caractéristique d'olive
Toucher gras.
Si vous souhaitez améliorer sa pénétration dans la
peau, mélangez-la avec une huile plus pénétrante
( Kukui, Macadamia, Noisette,... )
66935
Aceites
Ecocert
Marruecos
Otras aceites
2019-10-01
2017-01-09

Descripción

: Hola,

Somos una empresa experta marroquí especializada en la producción y exportación de aceite de argán prensado en frío y puro para uso cosmético.

Nuestro aceite de argán es orgánico certificado por ECOCERT y agencias del USDA.

Esperamos poder ampliar nuestro negocio a otros mercados y estamos buscando un socio serio para promover nuestro producto.

Estamos interesados ??en la exportación a granel y estamos muy abiertos a una relación de negocios sólida en serio.
76466
Aceites
Other
La India
Otras aceites
2018-10-10
2017-01-09

Descripción

: Your search ends here… professional services in custom sourcing of all natural and organic products and ingredients to the pharma, nutraceutical, cosmoceutical, distributors, retailers etc.
At GrassRoots we are attempting to impact lives of consumers , farmers and the eco system as a whole.
78549
Aceites
Other
Espana
Oliva
2018-12-12
2017-01-05

Descripción

: Andalucian factory, we provide Extra Virgin Olive Oil, including Organic EVOO. First Cold pressed. Certified organically grown olives. Personal control upon the olives because the product is local. Bottling option : glass bottles, PET, tin. We are able to provide EVOO in bulk as well.
Quality and excellent taste guarantee.
78761
Aceites
Other
Sri Lanka
Otras aceites
2018-03-01
2017-01-05

Descripción

: Organic Virgin Coconut Oil: As the name has it. It is Organic and you will just feel it with the nice aroma, the moment you open the bottle. It definitely indulges you. It is ideal for cooking specially good to control the level of cholesterol. Not only that it will give nourishment to your hair and protects your scalp. For skin it will do wonders to make it wrinkle free soft supple skin.
60144
Aceites
Comité Andaluz De Agricultura Ecologica (caae)
Espana
Oliva
2018-12-30
2016-11-21

Descripción

: Cold First Press
Main Varieties: Picudo and Picual
Certified by CAAE

With our range, specially organic one, we pretend to back to traditional taste , aroma, colour and physical-chemical properties from past times.
88700
Aceites
Other
La India
Otras aceites
2018-11-21
2016-11-07

Descripción

: We deal with Organic and Fairtrade Extra Virgin Coconut Oil

We are certified in accordance with NOP, USDA, EU organic- regulation 834/2007 , Rainforest Alliance, UTZ and FLO-CERT the fair-trade standard.
79615
Aceites
Other
Madagascar
Otras aceites
2018-01-29
2016-11-07

Descripción

: Huile de palme certifiée bio
50612
Aceites
Associazione Italiana Per L'agricoltura Biologica
Italia
Oliva
2018-02-10
2016-11-07

Descripción

: Excellent olive oil extravierge typical of Monti Iblei with a special flavour, green+yellow color, in bottled of 50 cl. E.
Derived from secular tree with a natural cultivation, no chemical applied, harvest with hand directly to the tree and immediately processed. Oil without treatment only phisical extraction and perfect conservation without plastic contenitor. Only iron and glass. Availability of only 2.000 bottled of 50 cl. Hig quality certified. Please send me a request for free sample of 25 cl. to taste the better quality oil of Sicily. From Ragusa.
59071
Aceites
Comité De Agricultura Ecológica De La Comunidad De Madrid
Espana
Oliva
2018-12-31
2016-10-11

Descripción

: Aceite de Oliva Virgen Extra Ecologico y Convencional procedente de Los Montes de Toledo. Uno de los mejores de España según las últimas ferias y catas realizadas. Mejor calidad-precio del mercado.
Envasamos en cristal 250, 500 y 750 ml.
Envasamos en PETS de 2 litros y 5 litros.
Tambien a granel.