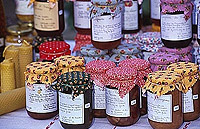 Find sellers of organic Grocery products
The Greentrade Directory
Click on the offer number to view the company's information.
To obtain the company's e-mail addresses you need to subscribe our services or please contact us at Tel.: +33 1 47 50 02 73
Fax : 33 1 47 50 28 67
Offer N°
Category
Certification
Product
64986
Grocery products
Ecocert
Soy and soy derivatives (seeds, sprouts, sauces, d

Description

: fèves de soja
huile de soja
tourto de soja
63994
Grocery products
Consejo De Agricultura Ecológica De La Región De Murcia
Tomato sauce

Description

: Estimado Sr,


Mi nombre es Salvador Sánchez, export manager de Probica, s.a., nos dedicamos a la fabricación de conservas ecológicas y convencionales de vegetales, frutas, salsas, etc. desde 1.990, nos gustaría intentar entrar en su mercado, ya que, tenemos una buena gama de productos en cantidad y calidad para afrontar el reto de entrar en una red comercial como la de Usted.

Disponemos de una amplia gama de productos tanto biológicos como convencionales , como le he comentado , destinados a la hostelería, uso doméstico y comercio, podemos destacar, gazpacho, mermeladas, ketchup, salsas, tomate frito, néctares y zumos, y un nuevo producto que hace más fácil el comer sano sin tener que estar todo el día en la cocina, un producto semi-preparado, y tan nacional como la paella en sus distintas variedades.

También comentarle que teniendo en cuenta nuestras flexibles lineas de producción también podríamos tratar de hacer algún producto que usted tuviese en mente en cuanto a mermeladas, conservas, nectares, ect.
63471
Grocery products
Other
Other grocery products

Description

: We cater Certified Organic farm products and Certified Organic Food The Product is directly sourced from Farm at Uttarkhand,Thus Eliminating Major Supply Chain to reduce Price. Products - Organic sugar, Org. Honey, Org. Jaggery, Org. Soybean, Org. Wheat,four, Org. Yellow Corn, Org. Rice, Org. Spice,etc.
63467
Grocery products
Other
Other grocery products

Description

: Kelkar Canning Pvt. Ltd. is the Private Limited Company, which is promoted by members of Kelkar family. Kelkar Canning Pvt. Ltd. is the part of 'Kelkar Group' which represents quality Konkan food products in food industry. The company having multi fruit processing unit at Nevare ( Ratnagiri) in Maharashtra, which is commenced from May 2010.
Of the different varieties of mango the Ratnagiri Alphonso Mango is the most highly appreciated in India for its delicious taste and the quality of those grown in Western Ghats of Konkan in Maharashtra has been attributed to the peculiar combination of climate and soil. Pulp from this variety is now available as a long life product.
Currently, company producing canned Ratnagiri Alphonso Mango Pulp, variety of Pickles, Jams, Syrups and range of 18-20 Konkan food products and supplying to Maharashtra, Karnataka, Kerala and Gujarat. The two-acre plant set up is semi automated and has production capacity 2 tonnes per hour. The indigenous canning factory in Konkan region (West Coast of Maharashtra, India) to have gone beyond processing of mangoes to standardizing its manufacturing process with international food safety certifications. Company has been awarded by 'KOSHER' and 'HALAL' food certifications, and manufacturing premises approved ISO 22000:2005 (TUV). For the consistent availability of the raw material (mangoes) Kelkar Group planted over 4000 Alphonso Mango orchards.
Originally, M/S. Kelkar Canning established in 1976 as proprietary unit and since producing quality "Ashok Ratnagiri Alphonso Mango Pulp and range of Konkan food Products'. To meet the increasing demand and to open the international market, 'Kelkar Group' has set up newly multi fruit processing plant in the name of 'Kelkar Canning Pvt. Ltd.' with international standards and regulations.
63186
Grocery products
Other
Soy and soy derivatives (seeds, sprouts, sauces, d

Description

: We are Bulk Supplier of Organic Soybean,Feed and Food Ingredients.
62491
Grocery products
Icea Instituto Mediterraneo Di Certificazione
Tomato sauce

Description

: The Conserve Manfuso Tomato Canning Company was founded in 1983 and sells its products to the most important grocery chains and catering companies in Europe and America. Our production is certified by UNI EN ISO 9001:2000 standard and BRC standard.
In recent years the Manfuso Company has produced organic tomato products to satisfy the increasing demand for healthy and uncontaminated foods for public and school canteens, supermarkets and shops.
All organic tomatoes are certified by the ICEA that checks the tomatoes at the harvest and during the canning process of the product.
Thanks to the collaboration of the ICEA that guarantees the quality of organic tomatoes and our traditional method of production, which we have used for generations, we make high quality preserves an essential part of the Mediterranean diet.
The Conserve Manfuso company produces peeled tomatoes, chopped tomatoes, mashed tomatoes, tomato paste and cherry tomato in different can sizes:
3.400 gr – 3.000 gr. – 1.000 gr. – 500 gr.
Moreover we have a regular demand for a typical and craftmade product that marks the family character of our company. We produce our tomatoes in glass jars of 520 gr.
Our excellence product is the Tomato King: we produce the famous San Marzano DOP tomatoes
Our motto is:"Eating Healthy Means Being Healthy"
62437
Grocery products
Other
Other grocery products

Description

: Wide range of certified organic products.
62267
Grocery products
Control Union
Baby foods

Description

: Frozen young Thai coconut meat. No additives, no chemical. Certified organic. Ideal for further processing for diary free ice cream or baby food.
25699
Grocery products
Control Union
Other grocery products

Description

: We are one of the leading organic food processors in India, known as Sresta Natural Bio Products Pvt.Ltd., head quarters in Hyderabad, India. \" SRESTA\" the ubiquitous symbol of excellence in providing its customers wide range of high quality natural & organic food products.

Our product range includes fresh fruits & Vegetables, Staples, Processed Products, Grocery, Bakery and confectionery. We are the bulk producers of Cashew, Basmati rice, Soyabean, Wheat, Spices and organic ingredients. In order to ensure the consistent quality and availability we have vertically integrated facilities from farm level to finished product. Our products have been well accepted by domestic customers and receiving good response & appreciation from overseas markets under the brand name of " 24 Lettered Mantra" through our superstores. Sresta's superstores are India's 1st and only superstore chain offers exclusive organic range of products.

All our products are sourced from our own / managed farms spread in more than 5000 acres of land across India. The selected farms are monitored closely by our qualified supervisors from soil to sowing to harvesting. The farm grown fresh products are meticulously graded ,cleaned and packed.

Our production practices prohibit the usage of pesticides and chemicals as well as genetically modified organisms ( GMO's). All our organic projects are certified by SKAL ( Netherlands), ECOCERT ( Germany) and confirm to international organic standards including Euro 2092 / 91 , USA NOP. At the moment we offer more than 500 products to cater the needs of domestic market through our superstores.
60187
Grocery products
Ecocert
Tomato sauce

Description

: All tomato products. For consumers, catering or food industry.
60185
Grocery products
Other
Soy and soy derivatives (seeds, sprouts, sauces, d

Description

: Textured Vegetable Protein from soya beans.
Could be used for food inductry to replace meat.
5688
Grocery products
Ecocert
Pasta

Description

: organic pasta from Italy or France.
Available in catering size too.
59948
Grocery products
Other
Other grocery products

Description

: Naturally Healthy Foods is a full service import export company that focuses its attention on providing the best priced organic and natural products to everyone who wants them
59854
Grocery products
Ecocert
Spreads and pastes

Description

: A specialist in chestnuts, CONCEPT Fruits introduces its new chestnut creams flavoured with all natural ingredients without colourings or preservatives to preserve the authentic taste of the chestnut.
59680
Grocery products
Soil Association Certification Ltd
Muesli, flakes

Description

: Available as sugar or juice infused, with no artificial additives,
they provide a versatile real fruit solution for adding value and
interest across a wide range of applications, including cereals &
cereal bars, cheese, dairy, confectionery, bakery & snacks.