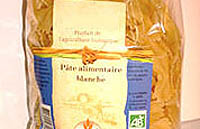 Find sellers of organic Delicatessen products
The Greentrade Directory
Click on the offer number to view the company's information.
To obtain the company's e-mail addresses you need to subscribe our services or please contact us at Tel.: +33 1 47 50 02 73
Fax : 33 1 47 50 28 67
Offer N°
Category
Certification
Product
40875
Delicatessen products
Ecocert
Pizzas, pies

Description

: pies for pizza
39865
Delicatessen products
Ecocert
Pre-cooked dishes

Description

: Lasagnes,Hachis Parmentier
37195
Delicatessen products
Instituto Biodinamico
Other delicatessen products

Description

: Organic Preserved Heart of Palm.
Glass containers, 520 g, 300 g drained weight.
Produced with mineral water.
Two species:
Pupunha: sweat and soft.
Açaí: strong and firm.

CABRUCA Heart of Palm is planted in organic agro-forestry systems, designed to conserve soil and climate, and even recover degraded areas.
37047
Delicatessen products
Organic Trust Ltd
Soups

Description

: Raw materials Chicken, Lamb, Fish available for soup manufacturers.
34021
Delicatessen products
Bios Coop Srl
Other delicatessen products

Description

: The company covers an area of 200 hectars dedicated to the organic and integrate production of fruits and vegetables. Tre Case follows the production from its own raw product to the finished one. The result is: preserves and jams, fruits in syrup, pickled vegetables also in Olive Oil, sweet and sour sauces, vegetable spreads and bruschette. All is done without any colorants or preservatives, with complete tracebility from the origin. Site: www.trecase.com
33955
Delicatessen products
Other
Fresh pasta, ravioli

Description

: Nowadays, we cover a full range of natural and organic Asian pasta (Japanese-style), Instant noodle, Soybean noodle, Spaghetti, Edible oils and Agricultural raw material along with other environmentally friendly products.
USDA and JAS organic
33784
Delicatessen products
Other
Pre-cooked dishes

Description

: DE-VAU-GE GESUNDKOSTWERK GMBH has over 100 years' skill and experience in producing vegetarian deli specialities. "Ovo-lacto" (containing dairy and eggs) vegetarian products and vegan (entirely plant-based) products are manufactured as an alternative to meat and sausage.

Our broad selection of products can be divided into five groups: tofu products, sausages, schnitzel, burgers and patties, and spreads and various pasta sauces.

As well as tofu of various flavours, our sausages include several varieties, from traditional German-style sausage to various other types of sausage.

Our breaded tofu schnitzel and nuggets, along with our various burgers, are real meat substitutes with all the pleasure of eating meat. What makes these products really special is that their succulent texture is hardly distinguishable from that of meat products.

A large number of vegetarian spreads made from healthful dietetic yeast, grains, vegetables, and yoghurt round off our range. These spreads make a delicious alternative to spreads containing meat.
Some of these products are offered as chilled, with several months' shelf life, and some are provided in ambient format.
32435
Delicatessen products
Other
Soups

Description

: Organic vegetable soups
32427
Delicatessen products
Okop
Other delicatessen products

Description

: cheese, vegetables in glass, olive oil, vinegar, serrano ham, lomo, chorizo, dulce de membrillo, jam
26836
Delicatessen products
Ecocert Belgium Sprl / Bvba
Other delicatessen products

Description

: natural, organic goat's cheese and cured ham from porc .
26834
Delicatessen products
Ecocert Belgium Sprl / Bvba
Patés

Description

: dry cured, natural ham with only organic porc and sea salt as ingrdients. minimum 9 - 16 month of age.
24124
Delicatessen products
Other
Other delicatessen products

Description

: Dried Morels - Morchella Conica, Morchella Esculenta
Mushrooms. This is a certified organic delicate food product and we do possess legal certification, quarantine certification, phytosanitary and export certification from the Government of Pakistan.
Please visit, www.himalayantraders.biz
23491
Delicatessen products
Other
Other delicatessen products

Description

: Organic ricecakes in several different flavours.
22632
Delicatessen products
Agriquality
Other delicatessen products

Description

: Specialty Gourmet Honey products ranging from 200ml Honeygar and comb honey sections to 250g NZ native honeys such as Manuka, Pohutukawa, Tawari, and Rewa Rewa. Visit our website: www.beesonline.com to view our full range.
19631
Delicatessen products
Australian Certified Organic
Soups

Description

: ORGANIC & GLUTEN FREE FRUIT SPREADS -Fig, Strawberry, Orange, SAUCES - Satay, Chilli & Garlic, Spicy Tomato, BBQ,CREAMY DRESSINGS - Avocado, Garlic. OIL FREE DRESSINGS - French, Italian, PASTA SAUCES - Tomato & Basil, Spring Vegetable. FRESH CHILLED SOUPS- Tomato, Minestrone, Pumpkin. All lines are available in retail and Food Service Sizes. Private Label manufacture available.